Percussion Festival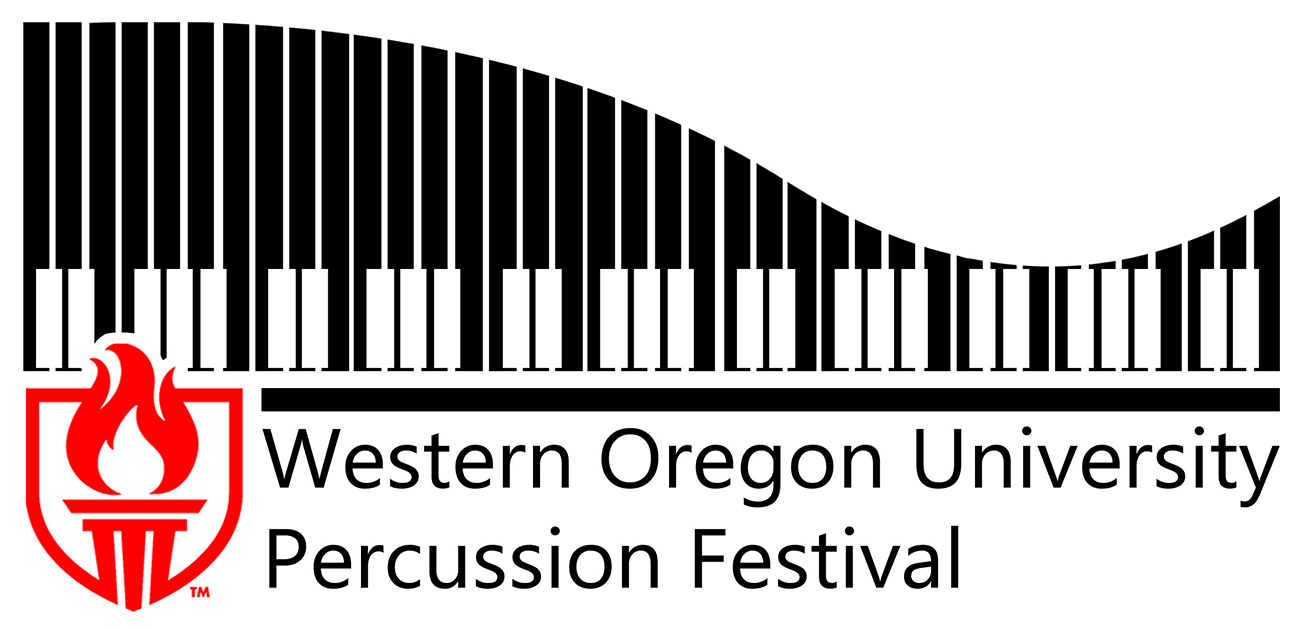 March 17, 2018
[fruitful_tabs type="vertical" width="100%" fit="false"]

[fruitful_tab title="Home"]
2018 Western Oregon Percussion Festival
The Western Oregon Percussion Festival takes place on
Saturday, March 17, 2018
.  This day-long event will give attending schools an opportunity to perform in a clinic setting and to receive feedback from our guest clinician, Professor Jonathan Ovalle, along with Professor of Percussion at WOU, Dr. Christopher Whyte.  Professor Ovalle is currently head of the percussion department at the University of Michigan.  Each ensemble will be allotted approximately 45 minutes (pending the number of ensembles in attendance) of performance and clinic time.  Both soloists and ensemble performances are encouraged and will receive feedback from the clinicians.
The day will also include a 60-minute percussion clinic by Professor Ovalle, and a performance by the WOU Percussion Ensemble!
Fee to attend is $150 per school
We encourage all ensembles in attendance to plan to attend the entire day to support all of the performances!
[/fruitful_tab]
[fruitful_tab title="Schedule"]
SCHEdule
March 17, 2018
9:00am: WOU Percussion Ensemble Performance
9:30am – 12:00n: Ensemble Performances/Clinics
12:00pm: Lunch
1:00pm: Clinic by Professor Jonathan Ovalle
2:00pm: Ensemble Performances/Clinics
4:00pm: Giveaways and Wrap-Up
[/fruitful_tab]
[fruitful_tab title="Adjudicators"]
Adjudicators
Jonathan Ovalle (b.1976) is a percussionist whose concerts and collaborations feature an array of musical aesthetics. As a performer, he is both a committed interpreter of contemporary art music as well as an inspired jazz/world percussionist and drummer. Ovalle has performed and presented masterclasses in North America, Europe, and Asia, and most recently served on the faculty of the International Percussion Institute in Aberdeen, Scotland in August 2017. He has been a featured artist at the Percussive Arts Society International Convention, has served as a judge for the Thailand Drumline Competition and has also been a featured clinician at the Ohio, Tennessee, Quebec, and Emory University Days of Percussion.
Along with percussionist, Neeraj Mehta, he is currently one half of the chamber duo, PERCUNOVA. The duo gave its international concert debut in July 2014 at the Thailand Brass and Percussion Conference in Bangkok, Thailand, followed by a concert/clinic tour of India. The duo's current work is focused on concertizing and developing a body of new repertoire, which stands at the nexus of contemporary chamber percussion music and Afro-Cuban percussion traditions.
Ovalle has performed with the Sarasota Opera, Detroit Symphony Orchestra, Fort Wayne Philharmonic, Brass Band of Battle Creek, New Music Detroit, and the Detroit Chamber Winds. As a drumset and world percussion artist, he has shared the stage with artists such as Jon Hendricks, Vic Juris, Roland Vazquez, Ann Hampton Callaway, David Hazeltine, Phil Markowitz, Harold Danko, Stephanie Nakassian, Tim Whalen, is the drummer for the Bobby Streng House Big Band, and frequently leads his own trio/quartet featuring him as a drummer and composer.
As a composer/arranger, his percussion arrangements for the production of Ballroom with a Twist, have received performances by symphony orchestras across the United States and Canada including: Kansas City Symphony, San Diego Symphony, Minnesota Orchestra, Jacksonville Symphony, Fort Wayne Philharmonic, Winnipeg Symphony, and the Calgary Philharmonic. His marching percussion experience includes previous success as both a front ensemble and battery arranger for Bands of America Grand National Championship and WGI finalist (scholastic & independent world class) ensembles. His concert percussion music is published by Tapspace Publications and Living Sound Triangles.  
Ovalle is currently an assistant professor at the University of Michigan School of Music, Theater & Dance where he serves as a director of the University's famed percussion ensemble and is a faculty associate in the department of Latina/o studies. His research interests include: kinesiology/motor coordination; utilizing the body's natural physics to create greater efficiency and more depth of tone; snare drum performance; and pedagogy as a vehicle to developing universal technique on all percussion instruments, as well as memory organization and learning processes and their role in effective practicing. A sought-after educator, he is inspired by the unique puzzle each student presents and finds motivation in helping them overcome both technical and mental roadblocks-unlocking each students' full potential.
Born in Mexico City, Ovalle grew up in Houston, TX and is a graduate of the University of Michigan where his former teachers included Michael Udow, Julie Spencer, Salvatore Rabbio, Gerald Cleaver, Michael Gould, as well as additional studies with vibraphonist Ted Piltzecker.
Ovalle has previously served as the director of Percussion Studies at the University of Toledo and as the director of Percussion at the Plymouth Canton Educational Park and is a proud artist/endorser with Pearl/Adams, Zildjian, Remo, and Innovative Percussion.
Percussionist Dr. Christopher Whyte has emerged as one of the Pacific Northwest's most engaging performers and educators.  He is currently Assistant Professor of Music and Director of Percussion Studies at Western Oregon University.  He is co-founder of the Portland Percussion Group, a contemporary percussion quartet based in Portland, Oregon which strives to foster and promote percussion performance through engaging concerts and educational outreach. The Portland Percussion Group is active in developing relationships with new composers and the commissioning of new works throughout the Northwest region. To date, the PPG has aided in the creation of over sixty new works for chamber percussion ensemble. Whyte is also co-director of the Portland Summer Percussion Academy, a residential summer camp for high school percussionists focusing on a broad range of western and non-western percussion styles, as well as a founding member of the International Percussion Institute which takes place each summer at the University of Aberdeen, Scotland.
He performs frequently in the Portland area as a freelance percussionist and timpanist with The Oregon Symphony, the Portland Opera Orchestra, Oregon Ballet Theater, Third Angle Contemporary Ensemble, FearNoMusic, The Bach Cantata Choir, The Portland Symphonic Choir and the Portland Gay Men's Chorus. Additional performance credits include the Vancouver Symphony, Oregon Bach Festival, Astoria Music Festival, Atlantic Symphony, the New Bedford Symphony, the Eugene Symphony, the Newport Symphony, ALEA III contemporary music ensemble and the Boston Civic Symphony. The Boston Musical Intelligencer called Whyte's playing "a striking diversity of styles and spirit." He has worked closely with composers William Kraft, Pauline Oliveros, Allen Strange, Stephen Taylor, Michael Johanson, Mendel Lee and Gabriela Lena Frank, among others. Chris has works published through Tapspace, MSC, Matrix, and Bachovich publishing companies, and can be heard on recordings from Pentatone Classics.
Whyte is active in the Percussive Arts Society, having served as a member of the Percussion Ensemble Committee since 2015.  He has also presented or performed at CMS, the Northwest regional NAfME conference, and the Midwest Clinic.
Whyte has performed solo recitals and given masterclasses throughout the United States, UK and China, and has a true love of sharing his knowledge of the percussion field with students at all levels.  Whyte earned degrees at the University of Oregon as a student of the late Charles Dowd, and completed the Doctor of Musical Arts in Percussion Performance from Boston University, where he was a student of Boston Symphony Principal Timpanist Timothy Genis. Chris is a Yamaha Performing Artist, and proudly endorses Vic Firth Drumsticks, Remo Drum Heads, Zildjian Cymbals, and Blackswamp Percussion Instruments.
[/fruitful_tab]
[fruitful_tab title="Online Registration"]
Online registration

[/fruitful_tab]
[fruitful_tab title="Directions to WOU"]
DIRECTIONS to WOU
Map to Campus
WOU's picturesque campus is located in Monmouth, 20 minutes from the state capital of Salem in the heart of the Willamette Valley. About an hour from Portland, Eugene and the Pacific Coast, Monmouth has a population of approximately 8,000 residents.
Directions to campus
Interstate 5 Northbound:
Take Exit 249 (Commercial Street). Follow Commercial into Salem, and as you near downtown, Commercial will curve to the right and become Liberty Street. Stay on Liberty until you reach Marion Street. Turn left, cross the Marion Street Bridge on to Highway 22, and follow the signs marked "Dallas/Ocean Beaches." Stay on Highway 22 until you reach Highway 99W. Take exit 16 on the right side of the overpass that puts you on Highway 99W. Go south about six miles to Monmouth. Take a right onto Main Street at the stop light. Follow Main Street west to Monmouth Avenue and turn right.
Alternate Northbound Route:
Take Exit 228 and follow route 34 west towards Corvallis. After crossing the Willamette River into Corvallis, turn right at the second light onto scenic highway 99W. Continue north about 20 miles until you reach Monmouth. Turn left at the first stop light, onto Main Street. Follow Main Street west to Monmouth Avenue and turn right.
Interstate 5 Southbound:
Take Exit 260A (Salem Parkway). Follow the Parkway into Salem. The Parkway will curve to the left and become Commercial Street. Stay on Commercial until you reach Marion Street. Turn right, cross the Marion Street Bridge on to Highway 22, and follow the signs marked "Dallas/Ocean Beaches." Stay on Highway 22 until you reach Highway 99W. Take exit 16 on the right side on the overpass that puts you on Highway 99W. Go south about six miles to Monmouth. Take a right onto Main Street at the stop light. Follow Main Street west to Monmouth Avenue and turn right.
[/fruitful_tab]
[fruitful_tab title="Campus and WUC map"]
Campus map
click on the photo above to enlarge
[/fruitful_tab]
[fruitful_tab title="Parking Information"]
Parking information
Buses may drop students off near either Rice Auditorium or Smith Hall in Lot B. Bus and car parking will be available in Lot G on those days.
[/fruitful_tab]
[/fruitful_tabs]
---
CONTACT US
Music Department
503-838-8275
 | or
e-mail:
music@wou.edu
 |
Location:
Smith Hall