History Alumni Mentors
History Department Alumni Mentors 2019
This spring term members of the History faculty welcomed History alumni mentors to two classes: History 301 Introduction to Historical Research and History 499 Senior Capstone. The mentors shared their experiences with graduate studies and jobs and offered support and advice about history courses and capstone work.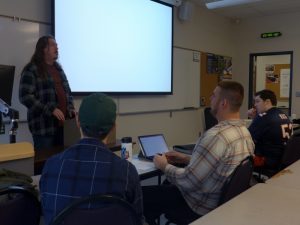 On April 10, James Masnov (History, B.A., 2017) attended the HST 499 Senior Seminar class, which focused on the development of an effective introduction and thesis statement for the seminar papers being completed through the class. James will begin a Master's program in History at Portland State University this fall. At the beginning of the class, James shared his own thesis-writing experience with the students and described how his introduction and thesis statement had been the result of extensive editing and revision. He then fielded some questions from the class regarding his experiences in HST 499. James participated in the rest of the class meeting, which was a peer-review workshop in which students took turns presenting a draft of their introduction (including a thesis statement) on the projection screen using the document camera. James is a natural mentor and offered constructive and thoughtful feedback to the class. James made a second visit to the HST 499 class on May 22 to help give feedback to students practicing their Academic Excellence Showcase presentations.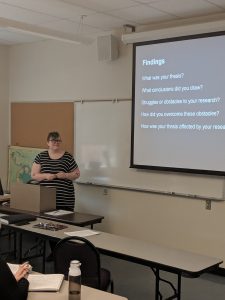 Sarah Johnson (History, B.S., 2015) visited the HST 499 Senior Seminar on Monday, May 13.  She is currently finishing her MAT through the WOU College of Education and is student teaching in a Social Studies class at Central High School in Independence. She joined the second half of the class during her lunch break. The HST 499 students present their seminar projects in oral presentations at the Academic Excellence Showcase on May 30 and at an end of the year event for families, faculty, students and staff on June 8, so this class session focused on how to develop an effective presentation that also incorporated PowerPoint slides. For the class, Sarah prepared a brief PowerPoint presentation that illustrated how she had organized her oral presentations for these events. She shared strategies that she had used to practice her presentation and explained how she made the difficult choices of what to include and exclude from the presentation. During the discussion that followed, Sarah made the interesting point that she continues to use the same techniques on a daily basis as a student teacher when preparing oral presentations and lectures for her class at Central High School. She added that the strong content of the History major had given her a strong foundation for teaching Social Studies. Sarah also provided helpful career advice by sharing her experience of making the transition from graduating as a History major to making the decision to pursue a MAT to become a high school teacher.
Sarah Hardy Stevenson (History, B.A.,2010) joined students in Professor Elizabeth Swedo's History 301 Introduction to Research course on May 28th via Webex at the WOU Salem campus. Stevenson holds a Master's in Library Science from Emporia State University and is a Research and Instructional Librarian at George Fox University in Newberg. Stevenson conversed with students about her path to Western Oregon University. She had a great conversation with Professor John Rector and decided to come to Western and major in History. She shared her experiences working on her senior thesis, requesting documents from the archives, and working on the Oregon Century of Action project 1912-2012. Stevenson discussed her decision to pursue graduate studies in library science. Students asked questions about her current position and she explained that her work included a great deal of teaching. As an instructional librarian she engages one-on-one and with classes. Another part of her job involves event planning and public outreach to showcase student and faculty research. Students appreciated her mentoring visit, especially in her discussion about thinking about how to research just as they were completing their final research papers for class.
History faculty member express appreciation to Kathy Cassity, Dean of the College of Liberal Arts and Science who suggested this type of alumni mentoring program, and Adry Clark, Director of the Service Learning and Career Development Program and Emily Lafon, Alumni Relations Coordinator, for their support with alumni mentors.