Narasingha (Ram) Sil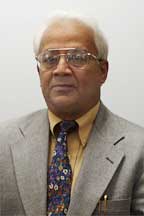 Narasingha Sil
I studied at the University of Calcutta , India , where I earned a Masters Degree in Modern History. I also have earned Masters Degrees in History and Education from the University of Oregon . My latest degree also came from the University of Oregon , where I earned a Ph.D. in History. My father encouraged me to pursue an education (he was a lawyer in truth, if not in practice) and I fell in love with History. I have two areas of special interest: the political culture of 16th century England and the cultural history of 19th century India .
Some courses I have developed and am developing are: Constitutional History of England , Seminar in Tudor England , History of West Africa , South Asian Nationalism, History of the Modern Middle East . My teaching style includes lecture and writing (lots of writing). In my seminars, though, I like to mix the lecture with class discussion. I believe that communication through writing is one of the most important assets a college student can learn.
For more information, contact Professor Sil at siln@wou.edu.