Why Study French
Why study French?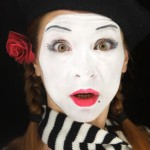 Pourquoi???
Academic reasons
Studying 2 years of French satisfies the language requirement for a B.A.
Many graduate schools require a Foreign Language
Improve your English by studying French. You will learn the structure of your own language and a lot of vocabulary (40 % of English vocabulary comes directly from French)
International Studies: obviously
Philosophy: Rousseau, Voltaire, Sartre, Camus, Lévi-Strauss and Barthes all wrote in French
History: From Roman amphitheaters to Versailles, France is a great place for history fanatics
Dance: ballet vocabulary is already French, get past "tendu/plié".

Professional reasons
Many fields of study benefit from studying French, including:
Business: Africa is the next big consumer market after Asia, and French is the most widely spoken language in Africa and is widespread in Canada and Europe.
Teaching: bilingual and immersion schools in French, although not as popular as in Spanish, are expanding in the US, and each year the French government recruits American students to teach English in French public schools.
Political science: French is one of the two official languages of the U.N. The European Union capital is in Brussels, a French-speaking city.
Humanitarian action: the Peace Corps always wants to recruit French speakers to work in French-speaking Africa.
Media studies: France is the 5th movie producing country behind India, the US, China and Japan.
Whatever your field, a study abroad experience in a non-English speaking country (besides being the highlight of your university career) will tell volumes to your prospective employer about your ability to take risks and solve problems.
Other reasons
Global Language: French is spoken on all continents.
Language of the future: French is predicted to become the most widely spoken language in the world within 50 years due to the economic and population growth in Africa.
Hispanics: already a fluent Spanish speaker? Studying French will be fairly easy, and will turn you into a trilingual person and a true global citizen.
Culture: French literature, movies and music are much better enjoyed in the original version. (France has won 17 Nobel Prizes in literature (more than the U.S.) and has a strong movie industry) – the latest one in 2014, Patrick Modiano.