Services
WOU KEY AND LOCK SHOP
The Western Oregon University Key and Lock Shop serves the academic side of campus. We support students, staff, and faculty to create a safe, secure, and functioning learning and working environment. We are located in the facilities building/physical plant on the west side.
___________________________________________________________________
Key Request Procedure
To request a key or fob, you must submit a key request form to the Key Shop. 
Print off the form, then fill it out. Make sure you have the form filled out completely including the index number, building and department signatures, and adequate information of all the access needed. Then bring it to the Key Shop, located at the Physical Plant on campus. You can also fill out the form and email it to keyshop@wou.edu.
The Key Shop staff will contact you when your keys/fobs are ready to be picked up. You should receive an email or call within 72 hours after dropping off your form, letting you know that your items are ready to be picked up.
Keys and fobs can be picked up or returned from 8:00am to 4:00pm. Please bring your WOU card or other photo ID to pick up your keys/fobs.
When you move positions, jobs, or access you are required to return your keys and fobs associated to the WOU Key Shop within 2 weeks of changes. You can drop it off during open hours to shop staff, send it in via postage mail, or through campus mail.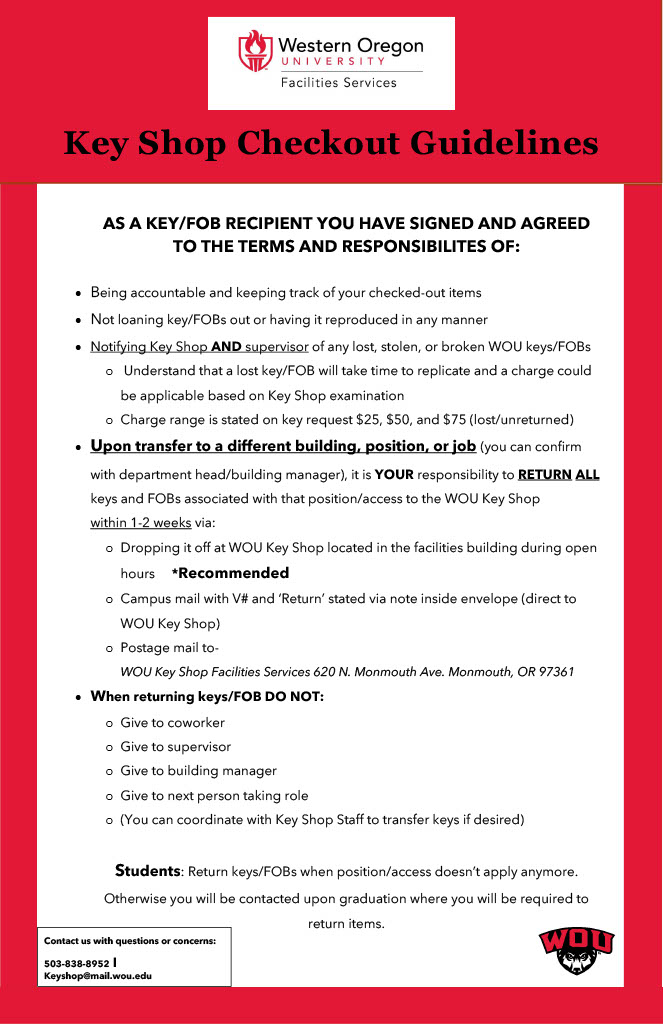 Contact Information
Hours:  Monday- Friday      8am-12pm & 12:30pm-4pm
   Phone: 503-838-8952             E-mail: Keyshop@wou.edu   Address: 620 N. Monmouth Ave. Monmouth, OR 97361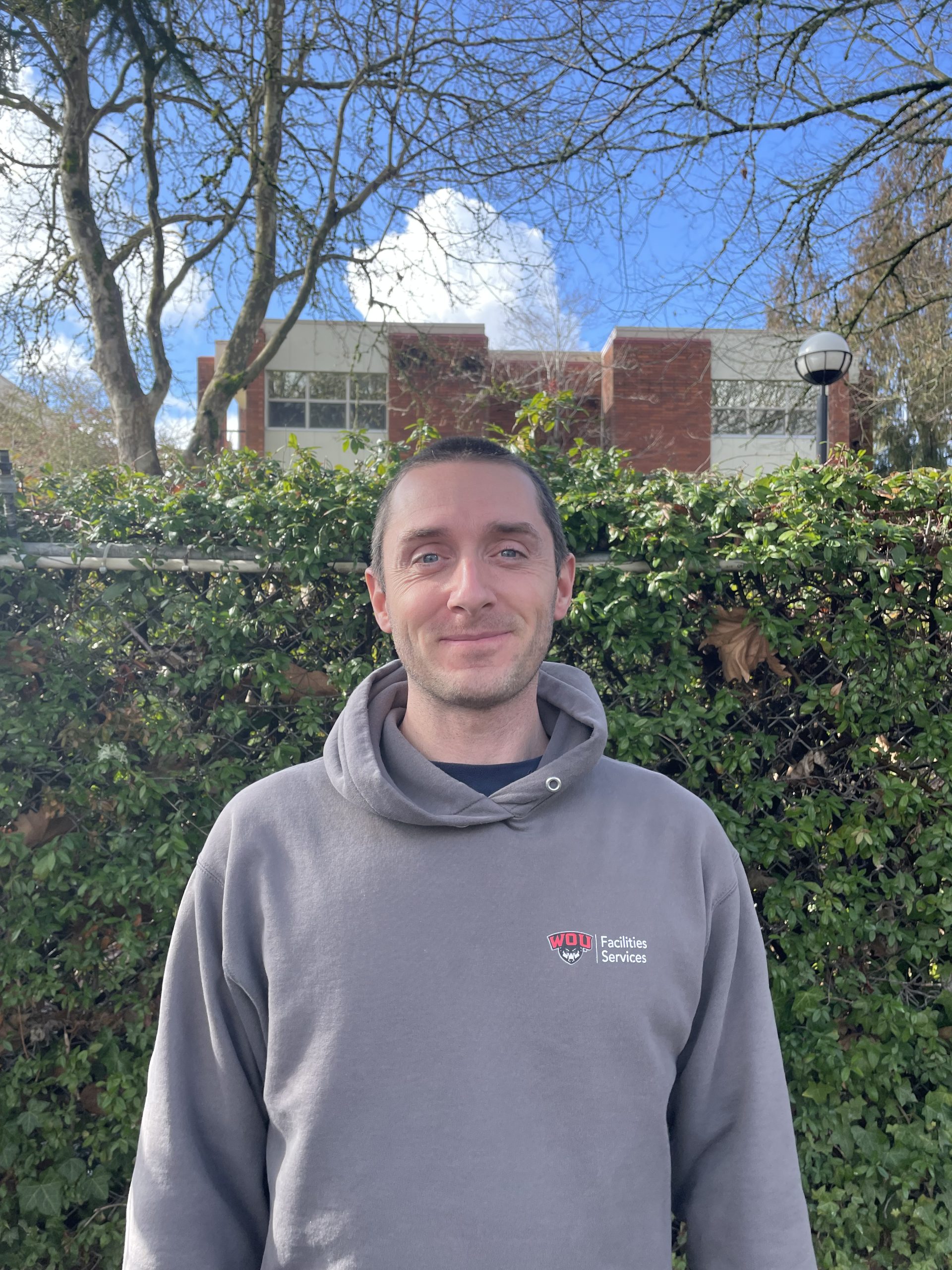 William Prescott
Locksmith, Facilities Services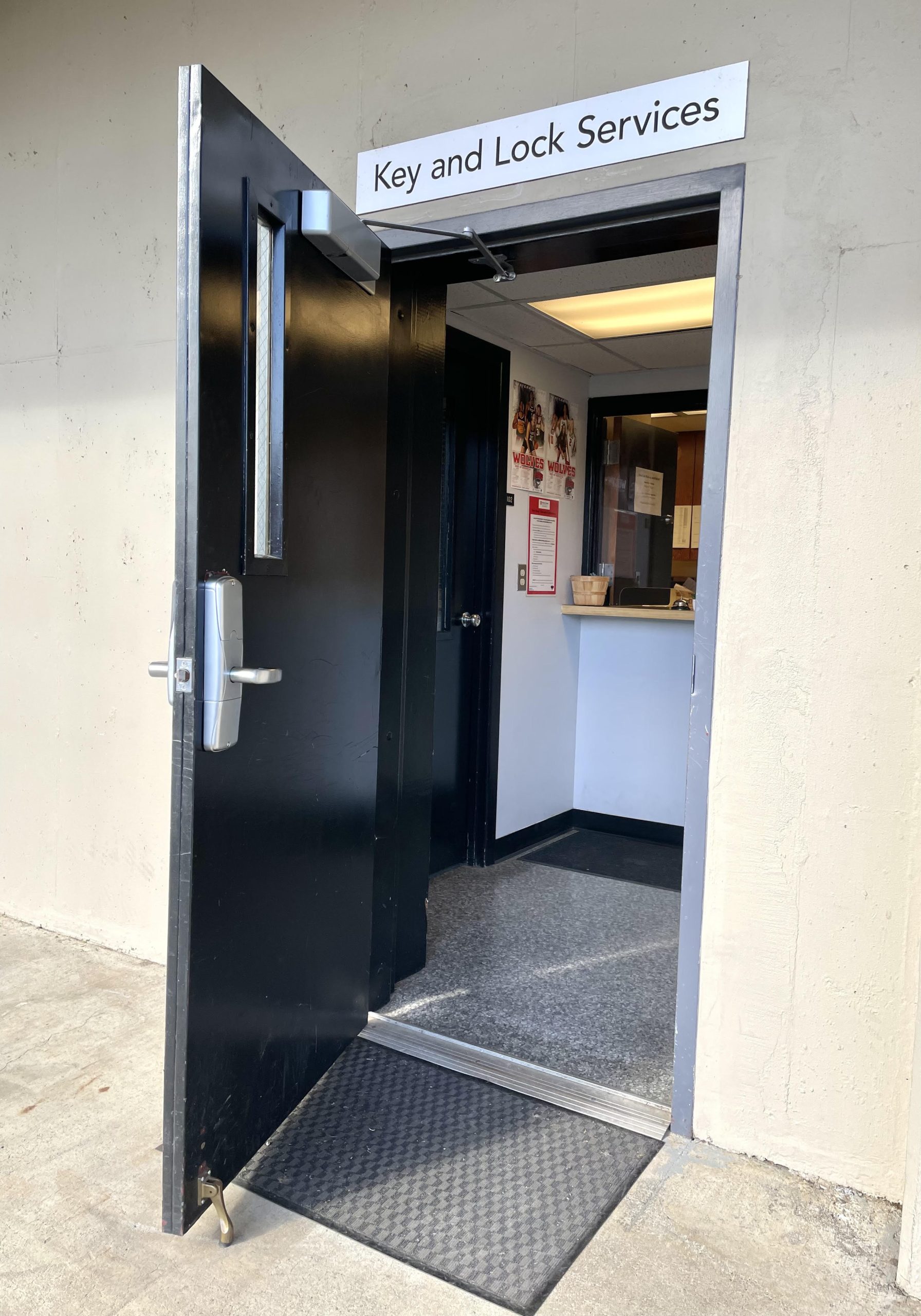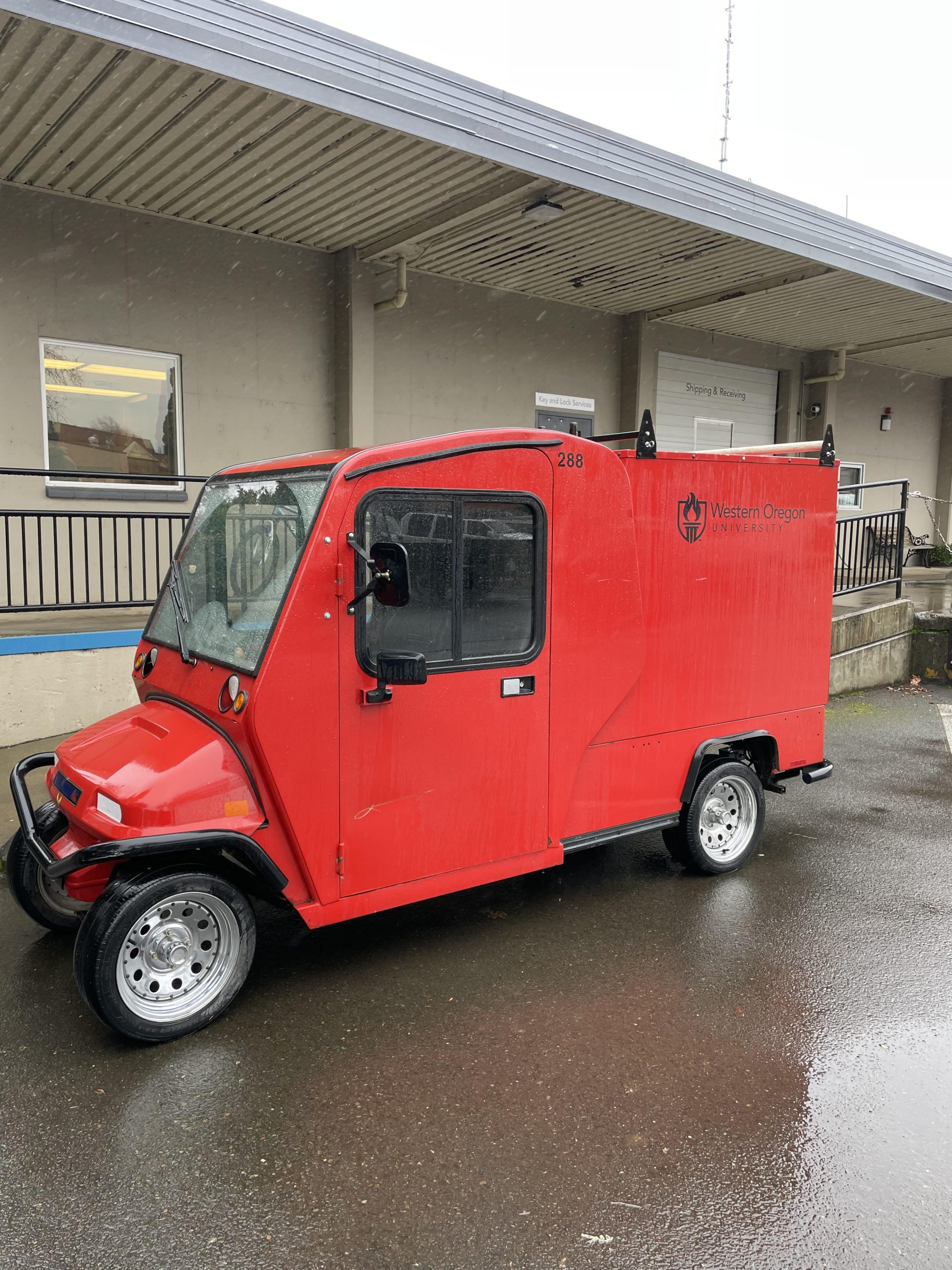 Questions & Answers
I need access to a room or building what do I do?

As a staff member/student worker:

Reach out to your department head and or building manager to work together to submit a key request.

For events:

Reach out to WOU Reservations/ASTRA to put on an event using a building/room and they will coordinate with us to have it open.

In emergencies:

Contact Public Safety 505-838-8481 and during Key Shop hours give us a call.
A door or building is locked/unlocked when it isn't suppose to be what do I do?
We program electric locks with time zones in collaboration with building and department heads. Send us an email/call after confirming an issue with supervisors.
An electric lock isn't opening for me when it is suppose to what do I do?
First, double check that you are swiping your fob in the correct location, then give us a call or email. Sometimes the batteries, fobs, time zones, or locks have issues that we are happy to work with you to fix. In an emergency reach out to Public Safety.
I lost, broke, or got my key/FOB stolen what do I do?
Keys and fobs wear down with time. If your key/fob breaks, bring it to us to confirm and we can work on a replacement often without charging. If you lose your key/fob let us know immediately so we can take proper safety precautions, a charge may be applicable as stated on the key request. If you key/fob is stolen, notify us and Public Safety so we can take proper safety precautions. We can work on replacing your set.
Who do I contact when I can't reach the Key Shop?
Contact the Facilities Services Front Desk

503-838-5239.

How do I get support for residential key/lock issues?
You will want to reach out to the RSC and or put in a housing maintenance request.
Where can I find the building manager for the key request?
Reach out to us via phone or email and we can provide that information. Your department head should know as well.