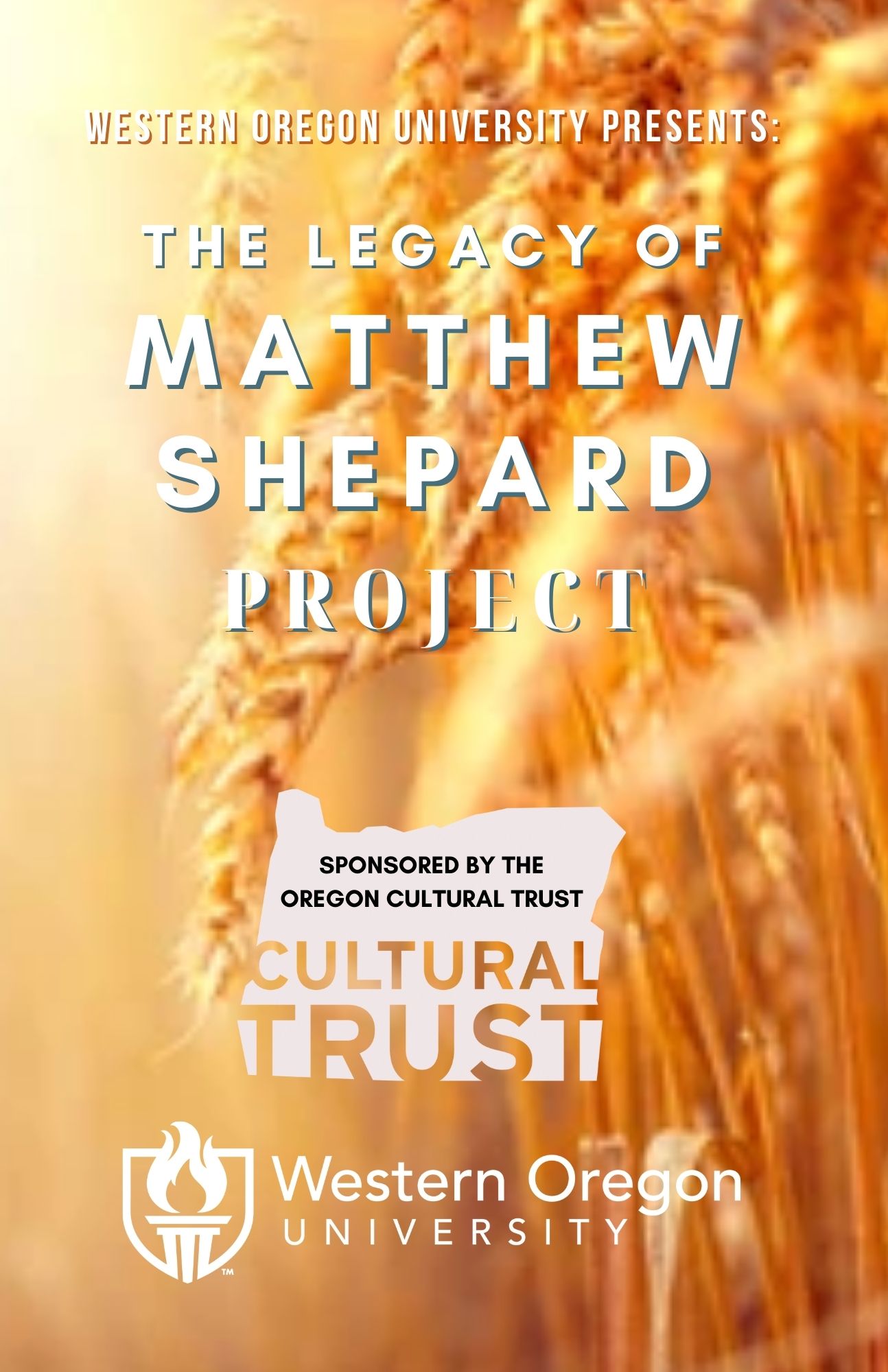 The Legacy of Matthew Shepard Project 
In October 1998, Matthew Shepard was kidnapped, beaten, and left to die in Laramie, Wyoming. A most brutal act of violence, it is known as one of America's most egregious anti-gay hate crimes. As we approach the 25th anniversary of this tragedy, the Western Oregon University (WOU) Music, Theatre, Dance and Visual Art Departments will each present creative works commemorating the story and legacy of Matthew Shepard, a legacy that honors the experiences of all LGBTQIA+ youth.
For more information contact: Dr. James Reddan  503-838-8802 reddanj@wou.edu
March 2, 4, 8, 9, 10: The Laramie Project, 7:30 pm, Rice Auditorium & March 5th, 2:00 pm, Rice Auditorium
March 3 and 11: Considering Matthew Shepard (Oregon premiere of a Fusion Oratorio telling his story), 7:30 pm, Rice Auditorium. Featuring the combined choirs of Western Oregon University and Chemeketa Community College. 
March 6: Matthew's mother, Judy Shepard, speaks on "The Legacy of Matthew Shepard", 7:30 pm, Rice Auditorium FREE to the public. First come first served seating.
March 7: Remembering Matthew Shepard (a new commissioned work), 7:30 pm, Maple Hall
February 22-March 24: Catalyst: Art Exhibit in Cannon Art Gallery (and other areas on campus)
This project is supported and funded in part by the Oregon Cultural Trust.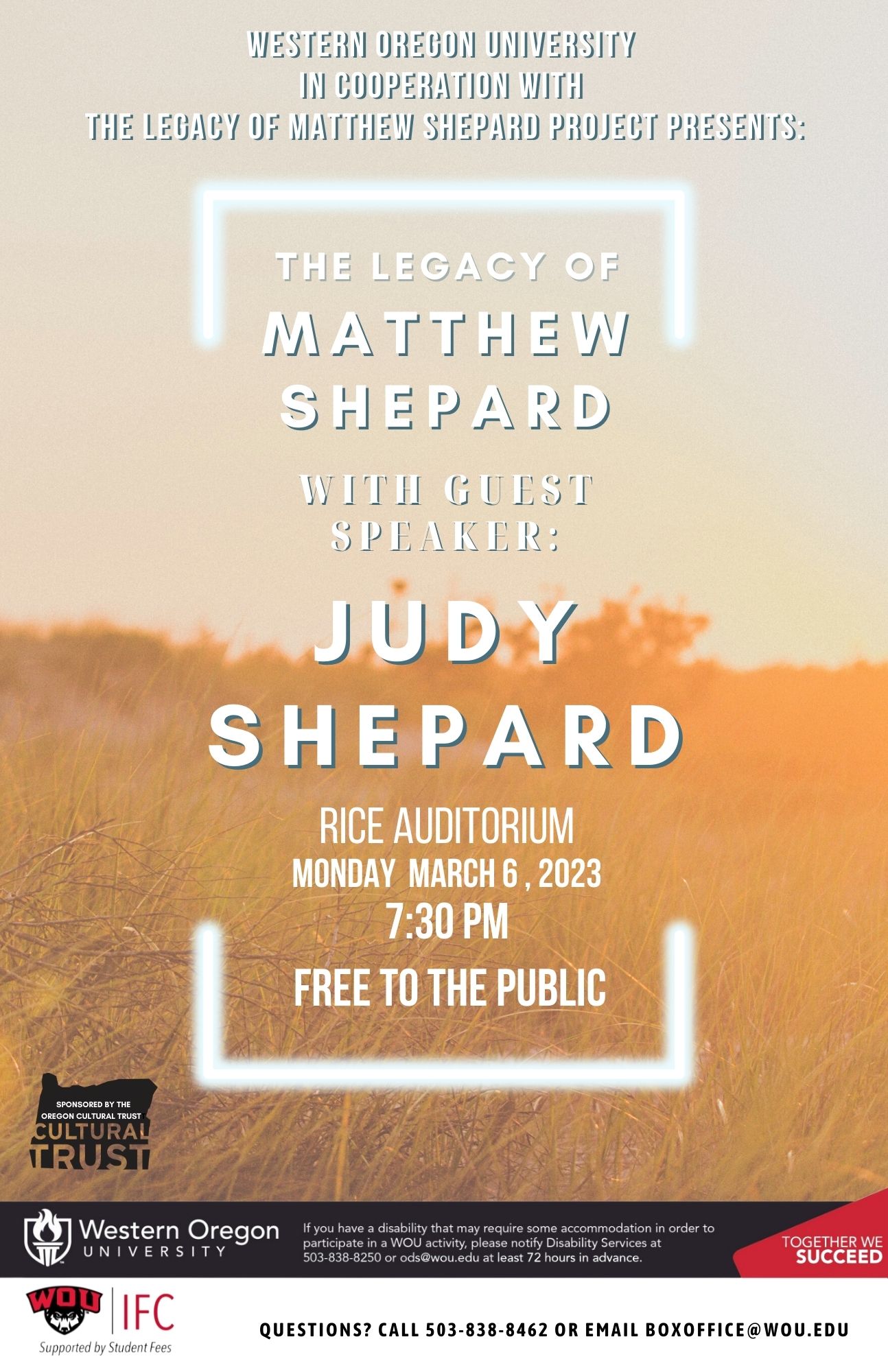 Seating is general admission and first come first served!
Presented by Western Oregon University:
Judy Shepard draws from personal tragedy to promote a greater understanding of LGBTQ issues and empower audiences to embrace human dignity and diversity through outreach and advocacy in their own communities.
In 1998, Judy lost her son Matthew to a murder motivated by anti-gay hate that shocked and captivated the nation. Turning tragedy into a crusade for justice, this leading voice in the LGBTQ rights movement has since established The Matthew Shepard Foundation to carry on her son's legacy. Later, she spearheaded The Matthew Shepard Act, which expanded the federal hate-crime law to include crimes based on gender and sexual orientation.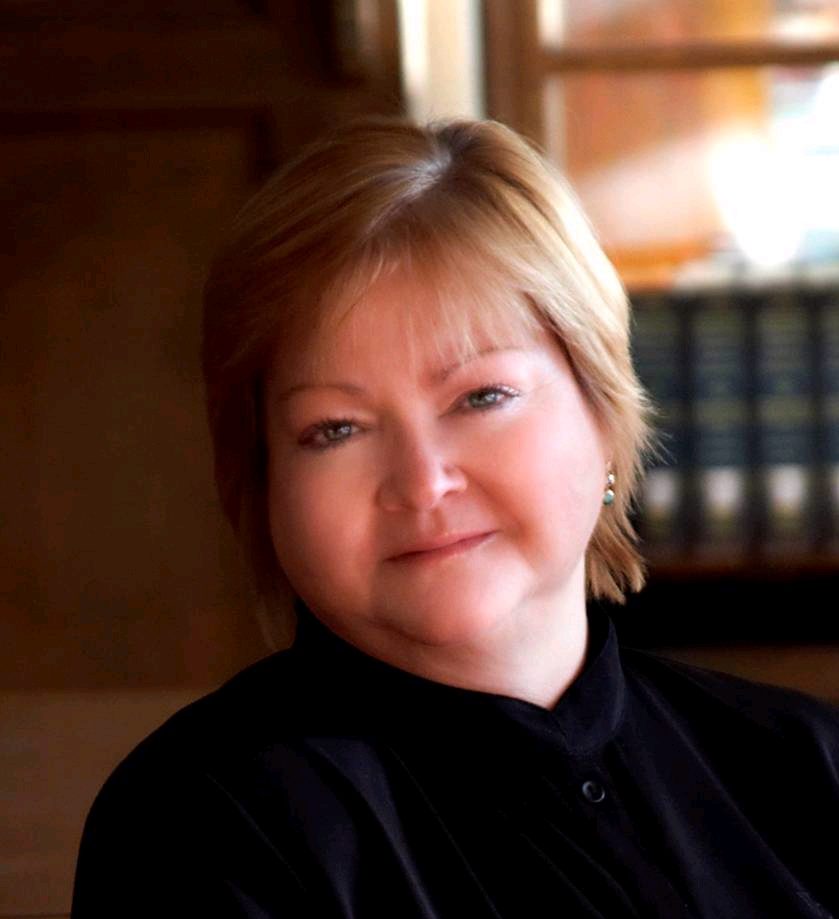 Judy Shepard
The author of the best-seller, The Meaning of Matthew, Judy offers an intimate look at how her life and the entire fight for equal rights changed when her son was killed. With a name now synonymous with activism and equal rights, Judy and her husband Dennis leave an indelible imprint with their words, compassion and raw honesty as they urge audiences to make their schools and communities safer for everyone, regardless of race, sex, religion, or gender identity and/or expression.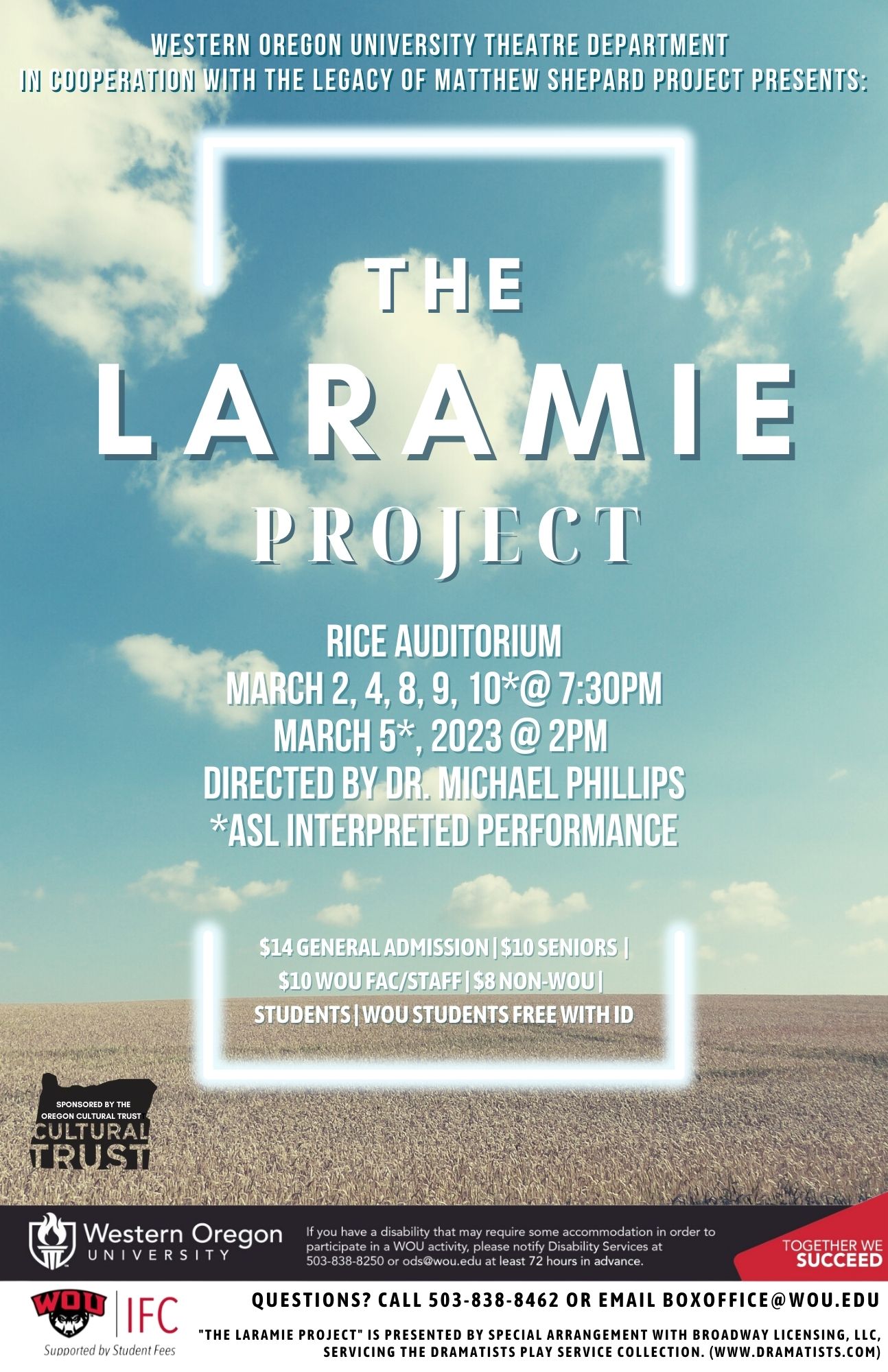 Presented by The WOU Theatre Department:
Moisés Kaufman and fellow members of the Tectonic Theater Project conducted more than 200 interviews with the people of the town, after the Passing of Matthew Shepard. The Laramie Project is a breathtaking collage that explores the depths to which humanity can sink and the heights of compassion of which we are capable.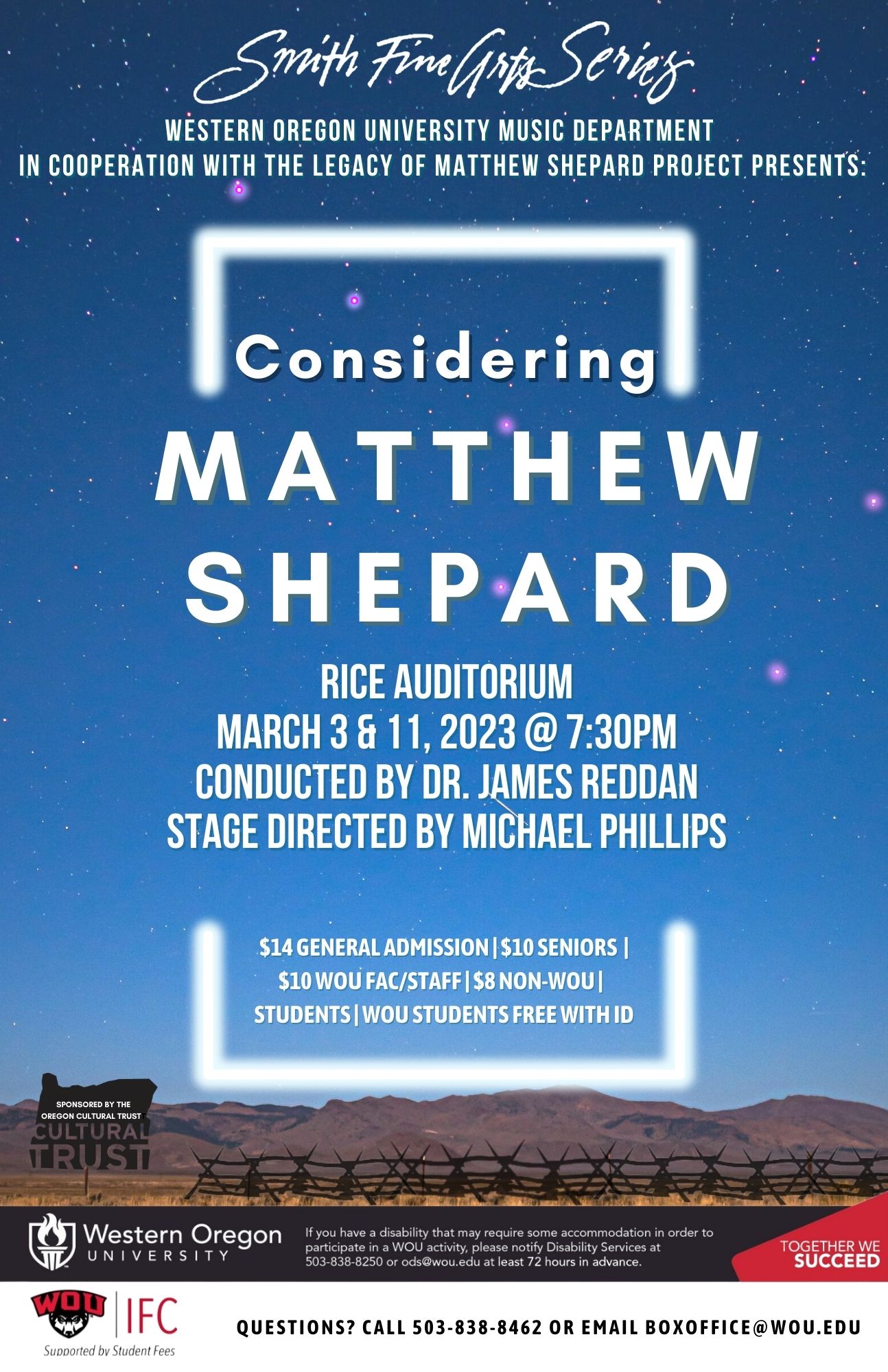 Presented by The WOU Music Department and The Smith Fine Arts Series:
Considering Matthew Shepard is a Grammy-nominated three-part oratorio composed by Craig Hella Johnson. The work is an evocative and compassionate musical response to the murder of Matthew Shepard.
This event will feature the combined choirs of Western Oregon University and Chemeketa Community College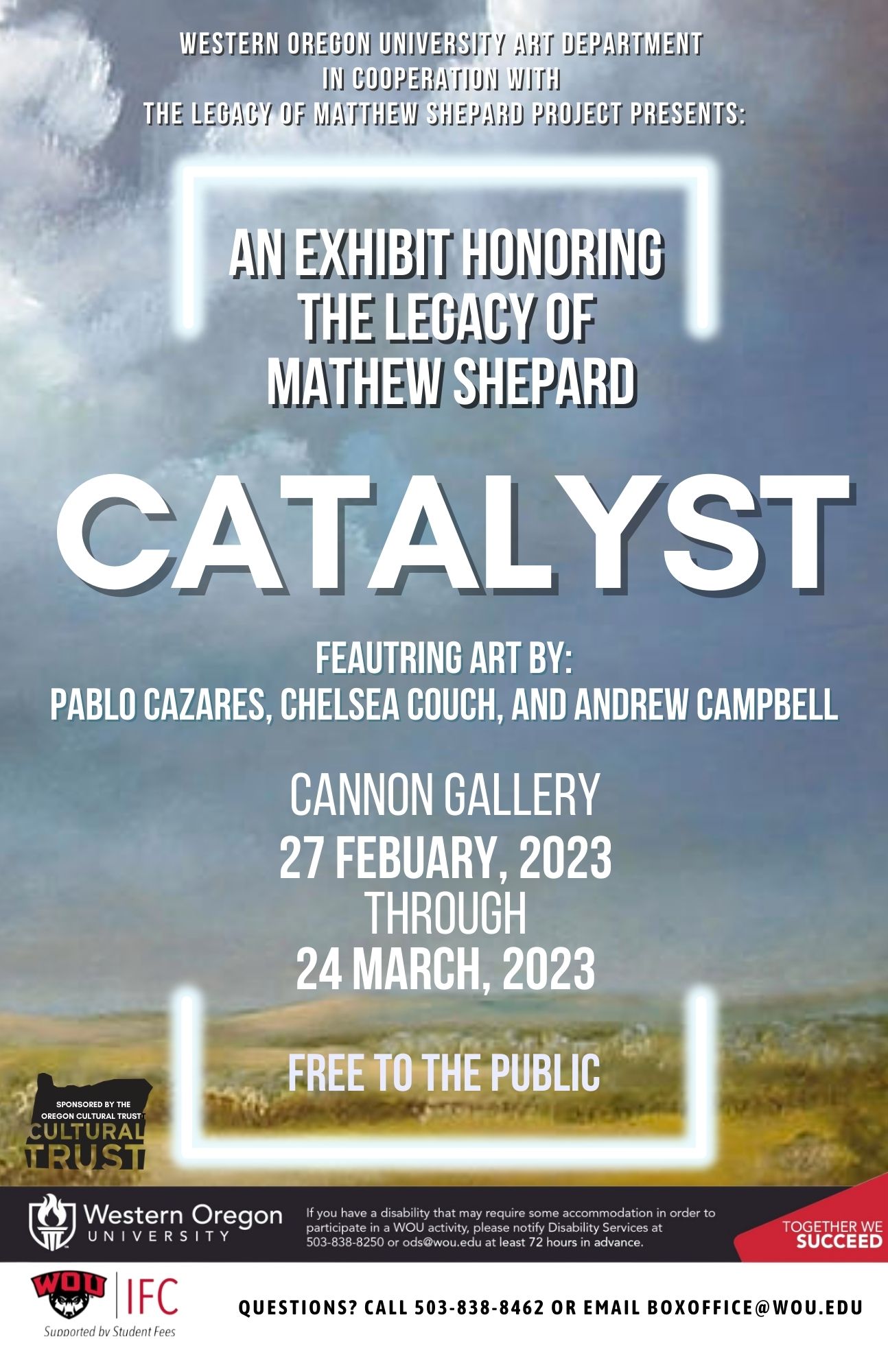 Presented by The WOU Art Department:
The Cannon Gallery of Art presents Catalyst: An Exhibit Honoring the Legacy of Matthew Shepard. The exhibit consists of painting, drawing, mixed media and installation work by three Oregon artists: Pablo Cazares, Chelsea Couch and Andrew Campbell. While each artists' work is completely different, each piece touches on the themes of LGBTQIA+ youth, LGBTQIA+ life in rural communities, or around the story of Matthew Shepard specifically.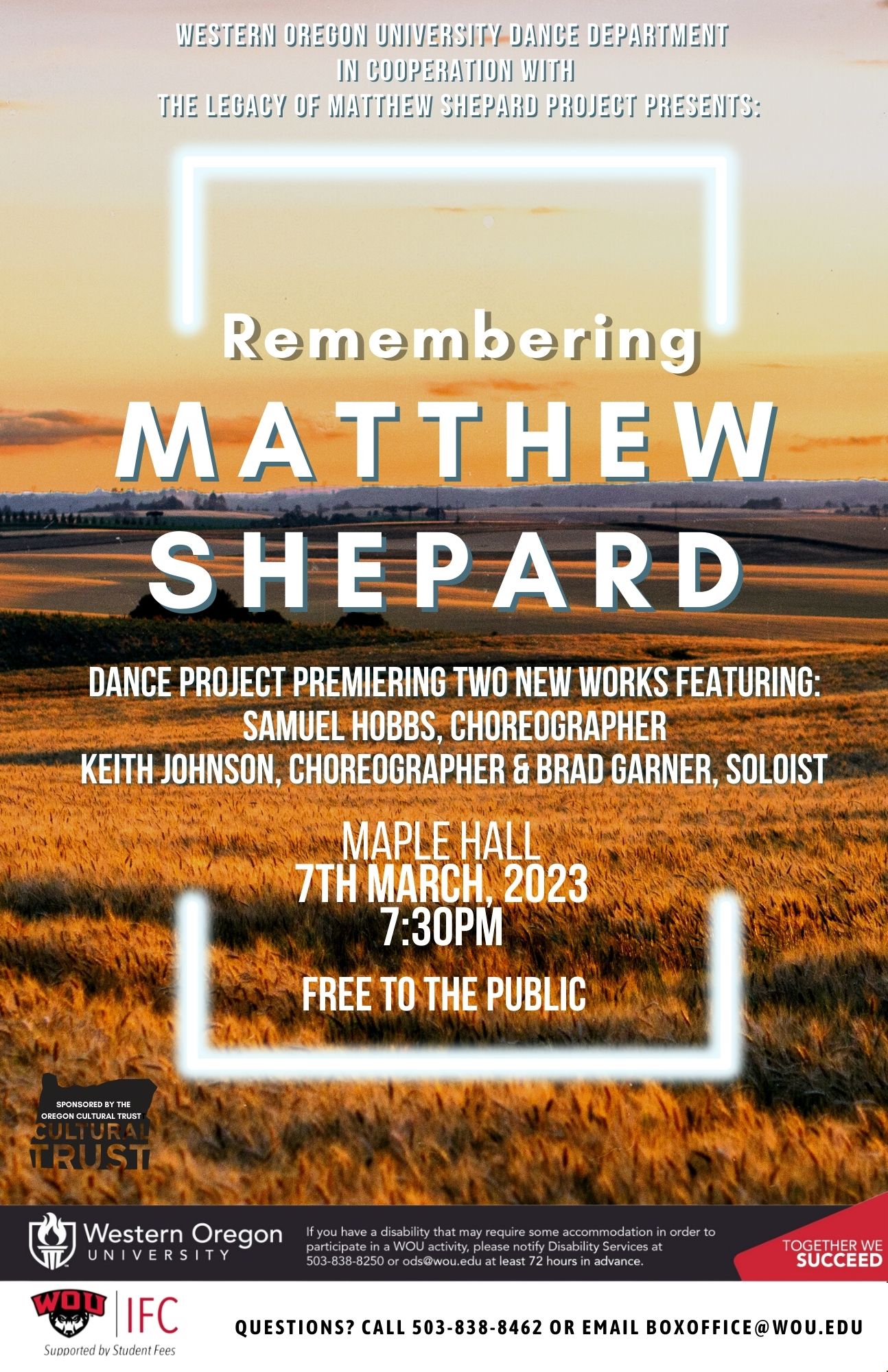 Presented by The WOU Dance Department:
Premiering two new works by
Samuel Hobbs, Choreographer
with the Western Oregon University Dancers
and
Keith Johnson, Choreographer
with Brad Garner, Soloist