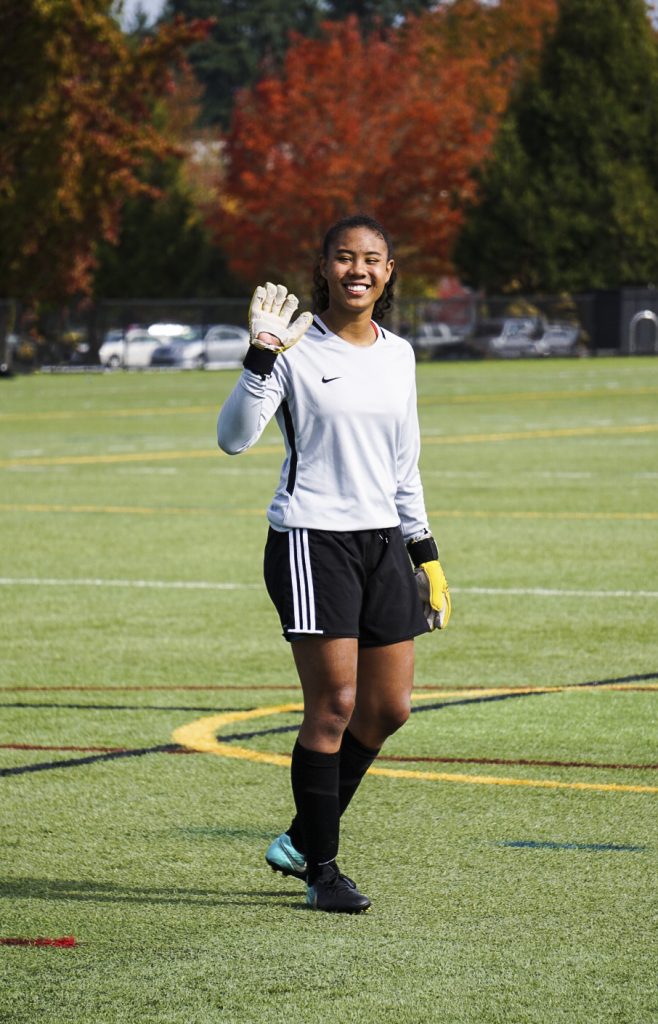 Hannah Greene  |  Sports Editor
D-Dré Wright, of Women's Club Soccer and Women's Rugby, has left flames wherever she steps down. Not only is Wright a two-sport athlete that participates in multiple recreational sports, Wright also refs sporting events around campus and works on campus in the mailroom.
Wright is currently a senior looking to finish with a major in Chemistry and move on to medical school to become a surgeon. Outside the walls of classes and libraries, Wright is breaking tackles to score and blocking opponents to protect the goal — a force to be reckoned with in any sport she tries.
In winter of 2018, Haylie Shinsato started the Women's Club Soccer team, marking the start of Wright's career on the soccer field. Having never played before — let alone as goalie — she took on one of the most important and demanding positions in the game. Wright stepped up to the challenge and welcomed it with arms open wide, ready to do whatever she had to to be successful and help her teammates out.
Throughout Wright's time with the Women's Club Soccer team, she has gained a lot of valuable attributes to add to her resumé. 
"As a person, it solidified my discipline and time management skills, as well as continuously instilled a hard work ethic, which I use in everything I do," said Wright about her development through soccer. Wright also said that it "provides an amazing support system and long lasting friendships with my teammates."
When asked about how the goalie position has impacted her life, Wright had only positives to say about it.
"Believe it or not, but it helps me with split second decisions and working under pressure," she said. 
The goalkeeper is the last line of defense on the field, holding a lot of responsibility and pressure on the shoulders of anyone in goal — because goalies are the last line of defense, they see "everything" and can use this to their team's advantage. 
"It has helped me with my communication skills," Wright said about playing keeper and having to step up and talk to her teammates throughout gameplay.
Fall of 2019 marked Wright's debut onto the Women's Rugby team — another first for her, but having a lot of flag football experience to propel her in understanding and playing the game. Wright has been a firecracker on the team, being a key ingredient to their success. 
"Similar to soccer, I use my work ethic and positive attitude to make up for what I lack in experience," said Wright about her triumphs on the field of rugby. 
With Fall Term coming to a close and Women's Club Soccer fall season ending, Wright is in full throttle with the Women's Rugby team, excited and amped to play in more games. Don't be fooled by her bright smile, Wright has more than a few tricks up her sleeve.
Contact the author at hgreene18@wou.edu
Photo by Hannah Greene