Got a question? We've got answers
Sometimes, students who are new to the ins and outs of college struggle with making a decision on a school. Or, they have a hard time visualizing themselves on a college campus. It's understandable—college is a big deal. We hope these common questions and answers will help put your mind at ease.
How do I decide which college to attend?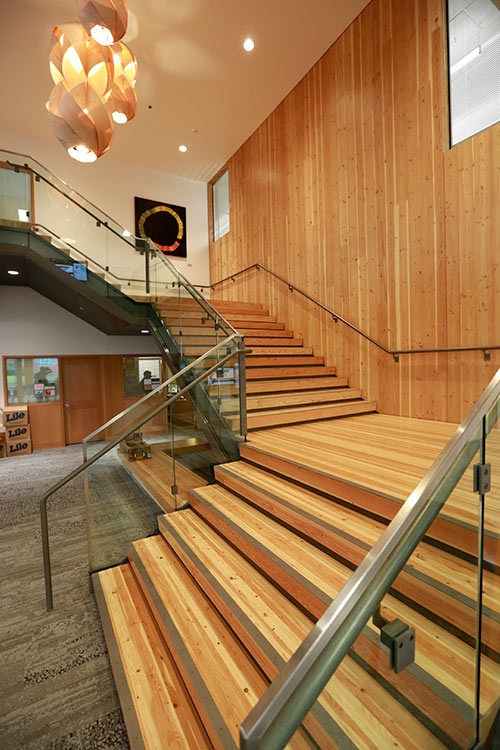 There are a lot of things to think about when choosing a college or university. The three main factors are academic programs, cost and location. You want a university that offers the major you want, or, if you are undecided on a career, a university that offers a broad enough range of programs that you can explore until you find the your best fit. Cost is always a huge factor, and only your family can know the best choice for you when expenses and financial aid are figured in. As far as location goes, some students want to be close to home, and some want to be farther away. What will be most comfortable for you?
Why should I start at a four-year school instead of starting at a community college and transferring?
Again, only you and your family can make this choice, but there are a lot of important advantages to being on the same campus for four years. You can find our list of Top 5 Reasons a Four-Year University is the Ideal Place to Earn a Degree on our website.
I've heard a lot about student debt. How can I make sure I don't owe a lot when I graduate?
Because WOU is a public university, it is much more affordable than other options. Plus, WOU offers financial assistance to nearly everyone enrolled. Still, if you want to keep your student debt to a minimum, you should plan to apply to as many scholarships as possible every year, work on campus while you are a student and find ways to minimize expenses. Student debt can be a serious concern, but it should not scare you away from attending college.
What happens if I struggle in a class?
Our faculty and staff want every student to succeed. That's why we offer so many free tutoring centers, lots of support programs and hire award-winning advisers. We are all in this together, and with hard work, you will be graduating!
I see freshmen are required to live in residence halls. What are the dorms like?
The friendships you develop when living in the residence halls will likely last a lifetime. Plus, students who live on campus do better in their classes. You'll probably have a roommate, whom you can choose in advance if you like, and you'll eat in the dining hall most of the time. Every hall has a Resident Assistant to help you as needed, so you'll always have a support person nearby. You can even choose a hall where all the residents are interested in the same topic, such as outdoor pursuits, sustainability or global communities.
Is it safe on campus?
Yes! Our Campus Public Safety office works hard to ensure the safety of everyone on campus. Plus, Monmouth was just named the fourth safest city in Oregon.
What if I get sick?
The staff of professionals at the Student Health and Counseling Center is ready to help with any of your physical health, mental health or other needs. Many services are free or have a minimal charge.
How long will it take me to graduate with my degree?
If you attend WOU straight through and take an average of 15 credits per term, you should graduate in four years. If you take any terms off, transfer from another university or take a lighter credit load, it will likely take you longer to graduate.
I am excited about college, but my parents are worried about me living "far away." What can I tell them?
It is understandable that parents are concerned about you moving out to attend university. However, you can tell them you will be preparing for a career and gaining independence. They worked hard to help you be independent—this is the next step in that process. Many of our students say their parents were a major motivating factor for earning a degree because the students wanted to use their career to help their parents who have already done so much for them. Just as your hometown and family formed your community in the past, now you will be building a community on campus.
What are my chances of getting a job after I earn my degree?
Depending on your degree and the connections you make during college, chances of having a job lined up even before you graduate are good. WOU's academic programs yield practical degrees, ones that can be put to use quickly after graduation. Our teachers, business students, gerontology students and many others are equipped to work right away, while many other programs encourage students to attend graduate school for more advanced learning.
How is college different from high school?
There are a lot of differences, but a main one is that you don't attend classes from 8 a.m. to 3 p.m. You may have one class per day or four classes. There may be a three-hour break between your classes (a good reason to live on campus, so you can return to your room during the lull). No one is going to make you go to class; that is your responsibility. However, missing sessions could lower your grade, and your professor might message you asking where you were. You are responsible for managing your time so that you can get to class, do your homework, study, work and still have time for hanging out with friends. Also, you have to buy your own textbooks (WOU has a rental program, though).
I can't picture myself at college. How do I know I'll fit in?
Attending college is a major step toward "adulting," and it can be intimidating. However, as long as you devote yourself to the process, it will be great. First of all, you'll fit in immediately because you'll have a roommate and residence hall friends from the very first day. You'll be able to find student clubs or organizations that match your personal interests, and your advisers and professors are ready to help. Many WOU graduates tell us "I really came out of my shell at WOU because I knew everyone had my back."
What do students do on weekends?
Lots of different things! Many remain on campus or in town and work, study or attend sports events. Others explore all our region has to offer such as mountains, the beach and the big city. Some take road trips or go hiking with the Outdoor Recreation program. Some just hang out with friends, watch movies and go out for pizza.
What's the food in the dining hall like?
Campus Dining has lots of options, including coffee shops, grills, sushi, burrito bowls, salad bars and much more. Valsetz Dining Hall has several "stations," each of which serves a different kind of food. Students have no problem finding meals they like on campus.
What if I get homesick?
Lots of students miss home, especially during fall term of their first year. But once you get into the swing of things and meet new friends, it becomes a lot easier to establish your own home on campus. Remember, all new things are challenging at first, but your education is important, and you're in it for the long haul. You can text or call your friends and family back home, but it won't be like it was in high school because you aren't the same as you were in high school. The key is to power through that first term, and then it will be easier.