Answers to the questions swirling in your head
Just as leaving home to attend college is a big step for teens, it is also a huge change for parents. You may wonder how your student is spending his or her time or why the phone isn't ringing. It's totally understandable that you are a bit worried about the whole process and have a lot of questions. We've compiled this list of tough questions that parents likely have when their students are choosing a college.
How do I

help

my student decide which college to attend?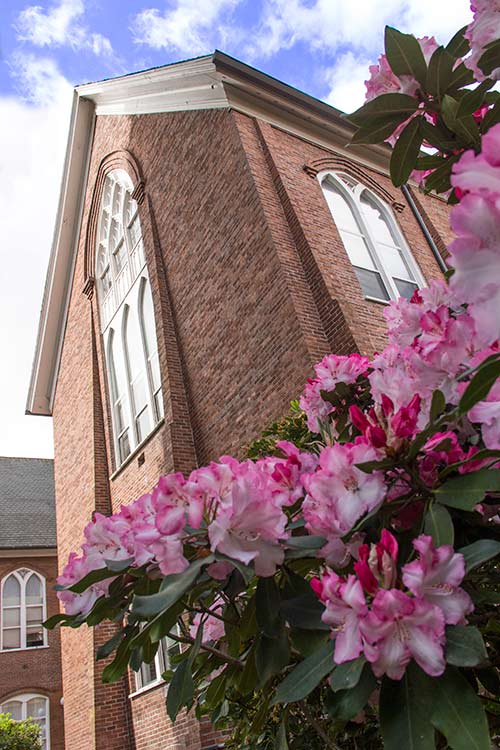 There are a lot of things to think about when choosing a college or university. The three main factors are academic programs, cost and location. The best choice will be a university that offers the major your student wants to study plus a broad enough range of programs that he or she can explore multiple options. Cost is always a huge factor, and only your family can know the best choice after expenses and financial aid are figured in. As far as location goes, WOU is "laundry distance" from home, meaning it's far enough away from many Oregon cities that students can establish their own communities on campus but close enough that a students can go home once in a while to catch up on laundry.
Should my student start at a four-year school or at a community college?
Again, only the family can make this choice, but there are a lot of important advantages to being on the same campus for four years. You can find our list of Top 5 Reasons a Four-Year University is the Ideal Place to Earn a Degree on our website. Many students feel that community college is the more economical choice, but transferring to a four-year university can add terms or years to a student's time in college, which can cancel out any initial savings. Plus, WOU offers lots of financial aid opportunities that make a four-year degree much more accessible and affordable.
How can we reduce the cost of college for our student?
There are many different ways to get money for college: money from the federal government, money from the state government, money from community organizations, jobs on campus, student loans, parent loans, scholarships and more. Families who are serious about saving money on college treat the process of finding financial assistance like a job; they work hard at exploring all opportunities.
What if my student struggles with classes?
Faculty members are invested in your student's success, so they are the first point of contact if trouble arises. But there are also multiple free tutoring services on campus such as the Writing Center, the Science Center, the Math Center and the Advising department. Ultimately, though, your student will be responsible for seeking help and achieving success.
My student is looking for a rigorous college education. Do you have anything that can help?
Our Honors Program is for students who desire a more in-depth undergraduate experience. Those who choose Honors are "dedicated, friendly, and highly motivated students who pursue a variety of majors and extracurricular activities, ranging from creative arts to community service and study abroad." Students must apply to be in the program, and each cohort develops a learning community dedicated to scholarly inquiry, achievement, and growth.
How do I know my student will be safe on campus?
Campus Public Safety has multiple officers who maintain a safe environment for everyone. For students living in the residence halls, Campus Public Safety is just steps away if needed. All the residence halls have locking doors, so people can't just wander in and out. In addition, Monmouth was just named the fourth-safest city in Oregon!
What happens in the residence halls?
Commonly known as "dorms," the residence halls are where freshmen and members of other classes live, study and socialize when they are not in classes. There are four residence halls exclusively for freshmen, which provides students with a community of people just like them. All roommates are same-sex, and halls are organized by gender. Each hall has a Resident Assistant who helps the residents and makes sure everyone is accounted for. The dining hall is nearby with plenty of meal options. Friendships made in the dorms often last a lifetime.
Should I bring my student to campus for a visit and tour?
Absolutely. It is helpful for students to picture themselves on campus and get a feel for what it would be like to be enrolled. In a recent poll of first-generation students, 73 percent of them said they wish their parents had taken them on a tour of campus. The WOU campus is beautiful, and students feel right at home here.
I'm worried my student will be different when he or she comes home for breaks or the summer.
Students are different after time in college, but that's the idea! You send them to the university to prepare for the future, to grow and to become independent. After all, you don't want to support them forever! In order to help them build new friendships and relationships for the future, you have to give them the space at college to do so. We bet that the son or daughter who comes home for breaks is a more self-sufficient version of the student you sent to college!
What if I find I suddenly can't pay the college bill?
The financial aid department and business office will work with you to find a path forward. Some costs can be rolled forward a term. It is important that your student avoids "taking a term off" if at all possible, because students who take a break sometimes never make it back. Remember, there is an end goal in mind: a degree. It might be financially difficult sometimes, but staying on track is important to your student's long-term success. Being proactive about solution is better than "just not looking at" bill.
What if my student gets sick?
The staff of professionals at the Student Health and Counseling Center is ready to help with students' physical health, mental health or other needs. Many services are free or have a minimal charge.
My student wants to play intramural sports, study abroad and participate in research. Are all these extra activities a distraction from her studies?
Activities like these are so important to your student's growth! Not only will they teach her to manage her time, they also will create a well-rounded college experience for her. Sports teach discipline and teamwork. Study abroad teaches empathy and adaptability. Research teaches students how to work with professors and how to communicate their findings to lay people. All these skills will be vital for creating an outstanding resume and getting a job after college.