First-Year Writing
Welcome to First Year Writing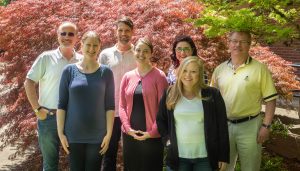 Western Oregon University recognizes the key role that writing plays in your success, both in college and your future career. To promote your long-term development, WOU is a writing-intensive campus, which means that you will be writing in most of your classes. With this in mind, we view your time in WR 121 and WR 122 as just a beginning: our instructors will help you to develop writerly habits of mind, which will support you as you tackle a range of writing assignments you will be given in your major and minor.
Program Goals
It is our hope that by the time you finish WR 121 and WR 122, you will have developed a strong foundational understanding of the theory and practice of writing in the following ways:
in your theoretical and practical knowledge of key concepts from writing studies
in your ideas about writing and how it works in the world
in your understanding of the communal and conversational nature of academic research
in your understanding of writing as a social activity
in your ability to articulate and assess the effects of your language and structure choices
in your understanding of the reasons behind conventions and citation systems
in your development of writerly habits of reflection
in your ability to transfer your writing knowledge to other contexts
NOTE: We recommend completing WR 121 and WR 122 within your first year at WOU and prior to enrolling in upper-division writing-intensive courses. Ideally, these courses are taken in consecutive quarters.
What Can I Expect to Learn in WR 121?
The foundation of this course is reading about writing and writing about writing. As writing scholars Adler-Kassner and Wardle argue, writing is not only something people do but also something people study. By examining writing as an object of study, this course creates opportunities for students to understand their writing as situated within a variety of contexts—personal, professional, academic, and civic—and invites students to consider the identities and practices they adopt within those contexts. The reading and writing tasks students encounter in this course will help them examine the role writing plays in their lives and the many functions it serves. 
In the process, students will navigate familiar and unfamiliar writing processes, analyze and practice strategies for writing in varied situations and genres, develop new habits of mind and reflective practices as writers and learn how best to help themselves when writing challenges emerge for them in college, professional, and even personal contexts.
This course partially fulfills the general education foundation skills writing requirement with a C- or better.
What Can I Expect to Learn in WR 122?
Building on the concepts of writing emphasized in WR 121, this writing course delves further into the work that writing and research do in the world and includes the completion of an original inquiry project. Students are expected to ask difficult questions and explore them using appropriate research methods and source material. These inquiry projects involve both primary and secondary research and challenge students to examine the ways writing, rhetoric, and/or literacy/language functions within a particular community (academic or nonacademic). Throughout this project, students are invited into the research conversation on their topic and are asked to carefully consider what others have said before they begin crafting their own original contribution. 
In the process, students will learn how to find, evaluate, and read difficult material. They'll learn how to use this material to frame their own research question, and how to integrate this material carefully into their own arguments.  
Prerequisite: WR 121 with a grade of C- or better or demonstrated competency.
This course partially fulfills the general education foundation skills writing requirement with a C- or better.
How Is My Placement Determined?
Students are initially placed into the appropriate first-year writing class using the placement chart below. However, there are other ways for students to demonstrate competency.
NEW SAT

Reading/Writing

OLD SAT

Reading/Writing

ACT

English

Smarter Balance
Essential Skills Retest
AP

Composition & Language

Enroll in WR 121
0-550
0-490
1-20
2583-2681
(Level 3)
4
Enroll in WR 122
560-800
500-800
21-30
2682-2795
(Level 4)
Not Eligible
3 or Higher
Demonstrating Competency
There are two ways to demonstrate competency:
Transfer credit: Students can transfer in appropriate, equivalent courses from other institutions to fulfill either WR 121 or WR 122.
Writing Challenge Exam: Students can schedule a time to take a two-hour timed exam where they write an argument essay, addressing tasks similar to those encountered in first year writing. 
To demonstrate competency or discuss your first-year writing placement, contact Dr. Leigh Graziano, the Director of First-Year Writing. 
What is the First-Year Writing Award?
Students are encouraged to submit their outstanding writing projects from their WR 121 and WR 122 sections for consideration. Four awards are given each spring, and the winning papers receive a monetary prize. In addition, the students and their papers are featured in Unbound: An Anthology of First-Year Writing.
Eligibility
All first-year students enrolled in WR 121 or WR 122 who have completed no more than 45 credit hours.
Process
Students may submit any one writing project from their WR 121 or WR 122 course for consideration.

The student should submit a title page with their paper that includes their name, contact information, the course number, and the term the paper was produced.

Nominations can be made each term; winners are announced spring term.
A committee from the English Studies Department will blind-read the papers and rank them
Deadline
Submissions should be turned in by the student to Dr. Leigh Graziano by noon on Friday of finals week each term.
What is First-Year Writing Unbound?
Each year, the First-Year Writing program publishes a new edition of First-Year Writing Unbound. This digital anthology includes a variety of outstanding essays written by students in our WR 121 and WR 122 class. These essays can be any genre (narrative, researched essay, multimodal composition, etc). Students that submit an essay to be considered for publication will be automatically entered in a contest for a monetary award for the Best Essay in First-Year Writing. (see information above on the First-Year Writing Award). To submit an essay for consideration, email your paper to grazianol@wou.edu.