Advising
Roadmap to Graduation
The Roadmap to Graduation is a document you fill out during your first term at WOU. The intent of this document is to give each student a precise plan in order to visualize the path to graduation term by term.
Step 1: Fill in your Major Courses
The first step to creating your Roadmap to Graduation is to fill in your classes for your major.  Your first term will be the classes you are taking currently. To fill in the rest, open up the current degree plan for your major. These will be the courses that you need to take in order to complete your major. Pay special attention to the catalog year, as required courses can change from year to year.  If you are unsure of which catalog year to use, refer to Degree Tracks. Your academic year will be listed in each of the red header sections.
Open the WOU Course Catalog for prerequisites so you can make sure to schedule courses in the correct order.
Consult the course offerings by term document so that you can schedule the courses in the term that they are taught.
Step 2: Fill in your General Education Courses
The final step of completing your Roadmap to Graduation is to plan out your General Education courses. This can be more general.
Use your Degree Track or the General Education Program to determine what General Education courses you still need to take.
Schedule these courses on your Roadmap to Graduation, like the example below.
Scheduling this way leaves flexibility to chose classes each term to fit the category.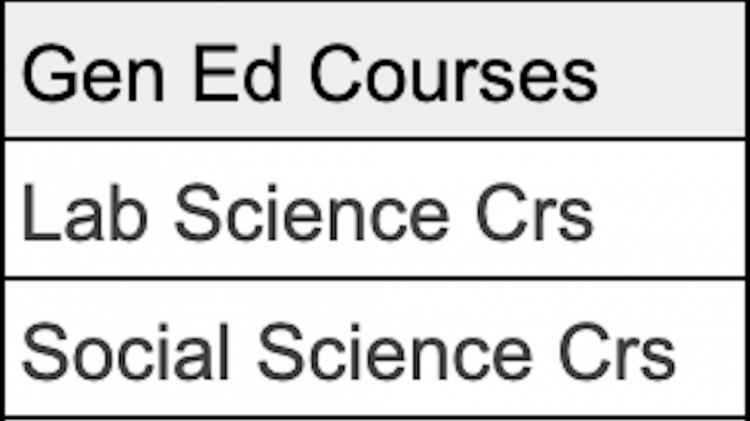 Resources and Examples
Computer Science
Information Systems
Need an advisor? Contact Tracy Boyson, M-F 8-12, 1:00-5:00 • boysont@wou.edu • ITC 310B • 503/838-8987