Hannah Greene |  Sports Editor
COVID-19 put a temporary end to all athletics; NBA, soccer, baseball and more. On May 9 the Ultimate Fighting Championship 249 was held in the VyStars Veterans Memorial Arena in Jacksonville, Florida — the first sport to come back during the pandemic. 
Many changes had to be made to ensure COVID-19 would not intervene with the event, including testing the fighters and their corner team before allowing them to travel and fight; no mingling of any sort was allowed and daily temperature readings and symptoms checks were also imposed. The fight was televised so fans were able to view it, but physical presentation was not allowed, making a different atmosphere for the fighters to have to compete in — especially for athletes who feed off of the crowds reactions.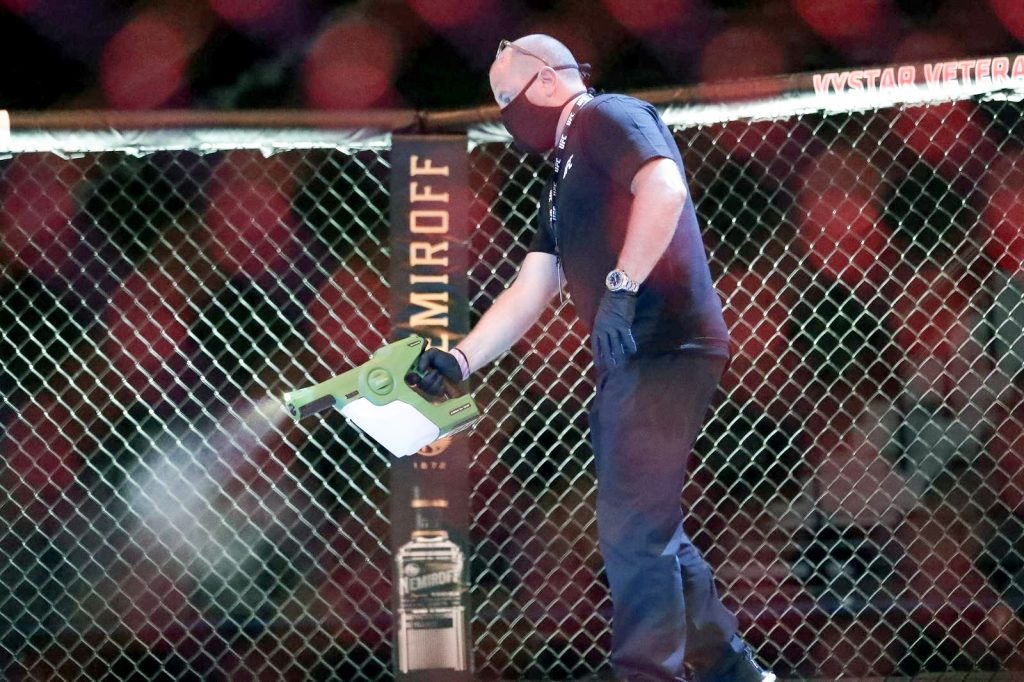 To start the card was Ryan Spann versus Sam Alvey in the Light Heavyweight bout, followed by Bryce Mitchell versus Charles Rosa in the Featherweight bout. In the Welterweight standoff between Vincente Luque and Niko Price, Luque took home the win with a TKO — a technical knockout where the referee has to step in due to a fighter not protecting themselves. Following the Welterweight came the women's Strawweight bout where Carla Esparza fought Michelle Waterson, with Esparza winning by decision. Four more fights took place after the women's match before the final three events — Aleksei Oleinik versus Fabricio Werdum, Anthony Pettis versus Donald Cerrone, Greg Hardy versus Yorgan de Castro, and Jeremy Stephens versus Calvin Kattar. The next match, Heavyweight, where Francis Ngannou knocked out Jairzihno Rozenstruik in the first twenty seconds of round one. Afterwards the Bantamweight Title was on the line, where Henry Cejudo took the title with a TKO against Dominick Cruz during the second round. For the final match of the card and fight of the night, Tony Ferguson fought Justin Gaethje for the Lightweight Interim title — temporary — due to Khabib Nurmagomedov, the current Lightweight title holder, being stuck in Russia. During the fifth round Gaethje finished Tony Ferguson by TKO, winning the main event of the night. Although Gaethje defeated Furguson to win the Interim title he will now face Nurmagomedov for the Lightweight supremacy. 
Contact the author at hgreene18@wou.edu
Photos courtesy of John Raoux Photography