Fall in love with this pumpkin bread recipe
Allison Vanderzanden | Lifestyle Editor
There are few things better than a warm baked good fresh out of the oven, especially as the weather begins to cool. To celebrate the start of fall and embrace the new season, try this moist pumpkin bread recipe with a sweet chocolate addition.
CHOCOLATE CHIP PUMPKIN BREAD
Start to finish: 1 hour 15 minutes
Servings: 1 loaf
1 ¾ cups all-purpose flour
1 teaspoon baking soda
2 teaspoons ground cinnamon
1 teaspoon pumpkin pie spice
¾ teaspoon table salt
2 large eggs, at room temperature
¾ cup granulated sugar
½ cup packed brown sugar
1 ½ cups pumpkin puree (canned or fresh)
½ cup vegetable oil, canola oil or melted coconut oil
¼ cup orange juice (milk can substitute)
⅔ cup semi-sweet chocolate chips
HOMEMADE PUMPKIN PIE SPICE SUBSTITUTE
¼ teaspoon ground nutmeg
¼ teaspoon ground cloves
¼ teaspoon ground ginger
Adjust the oven rack to the lower third position and preheat the oven to 350ºF. Spray a 9×5-inch loaf pan with non-stick spray. Set aside.
In a large bowl, whisk the flour, baking soda, cinnamon, nutmeg, cloves, ginger and salt together until combined. In a medium bowl, whisk the eggs, granulated sugar and brown sugar together until combined. Whisk in the pumpkin, oil and orange juice. Pour these wet ingredients into the dry ingredients and gently mix together using a rubber spatula or wooden spoon. There will be a few lumps. Do not overmix. Gently fold in the chocolate chips.
Pour the batter into the prepared loaf pan. Bake for 60–65 minutes, and loosely cover the bread with aluminum foil halfway through to prevent the top from getting too brown. The bread is done when a toothpick inserted in the center comes out clean with only a few small moist crumbs; begin checking every five minutes at the 55 minute mark.
Allow the bread to cool completely in the pan on a wire rack before removing and slicing. Cover and store leftover bread at room temperature for 3–4 days or in the refrigerator for up to about 10 days.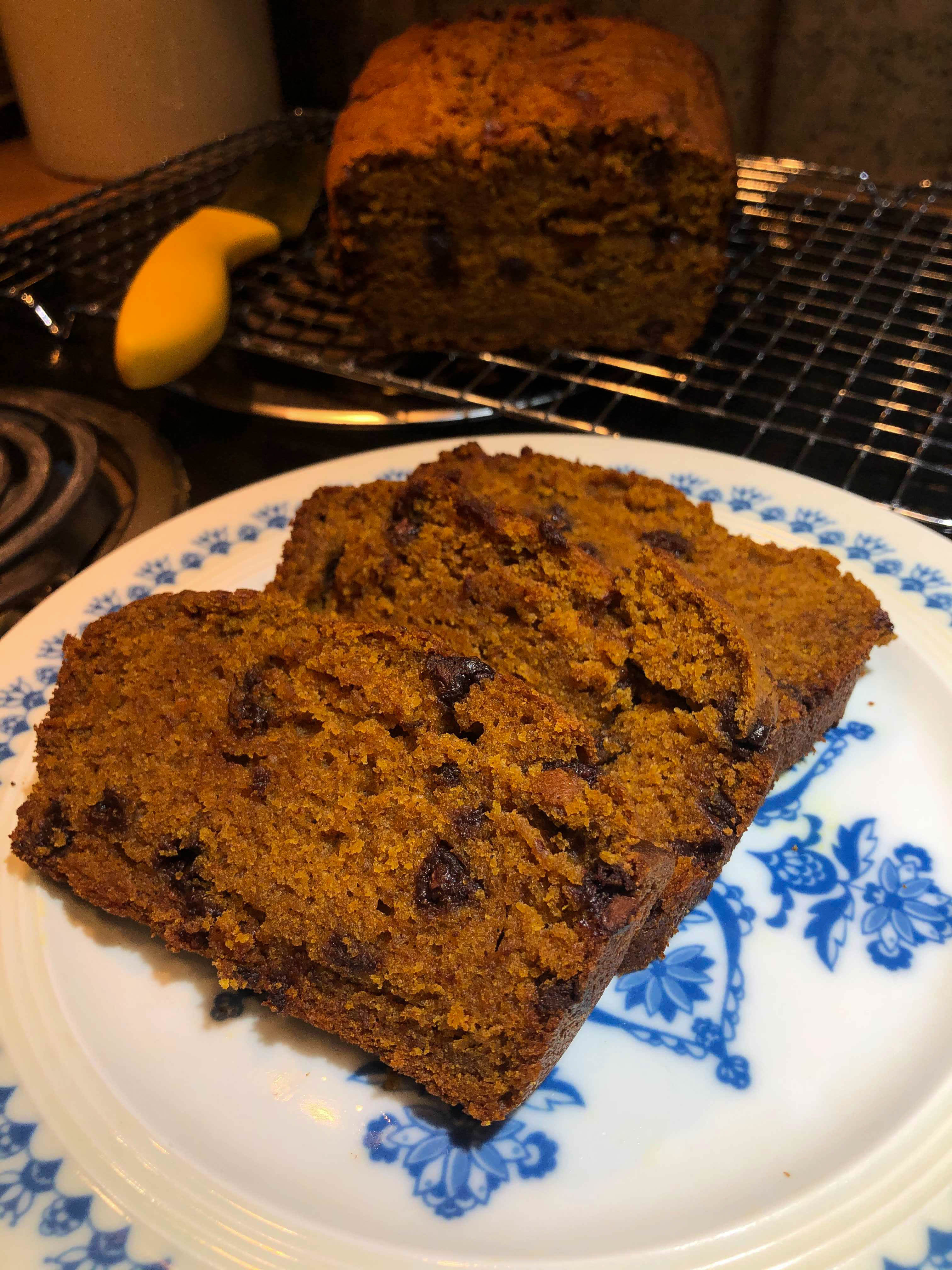 Recipe from sallysbakingaddiction.com

Contact the author at avanderzanden19@mail.wou.edu