Check out these outdoor and online events at Western
Natalie‌ ‌Dean‌ ‌|‌ ‌Entertainment‌ ‌Editor‌ ‌ ‌
Now that the days are longer and the sunshine is here to stay, it's time to look out for the latest events happening at Western. Whether it is from home, in person or over Zoom, there are quite a few clubs and organizations that are hosting engaging events for everyone to explore. Ranging from free art kits and activities, to a movie night and outdoor games, here are a few activities to kick off May: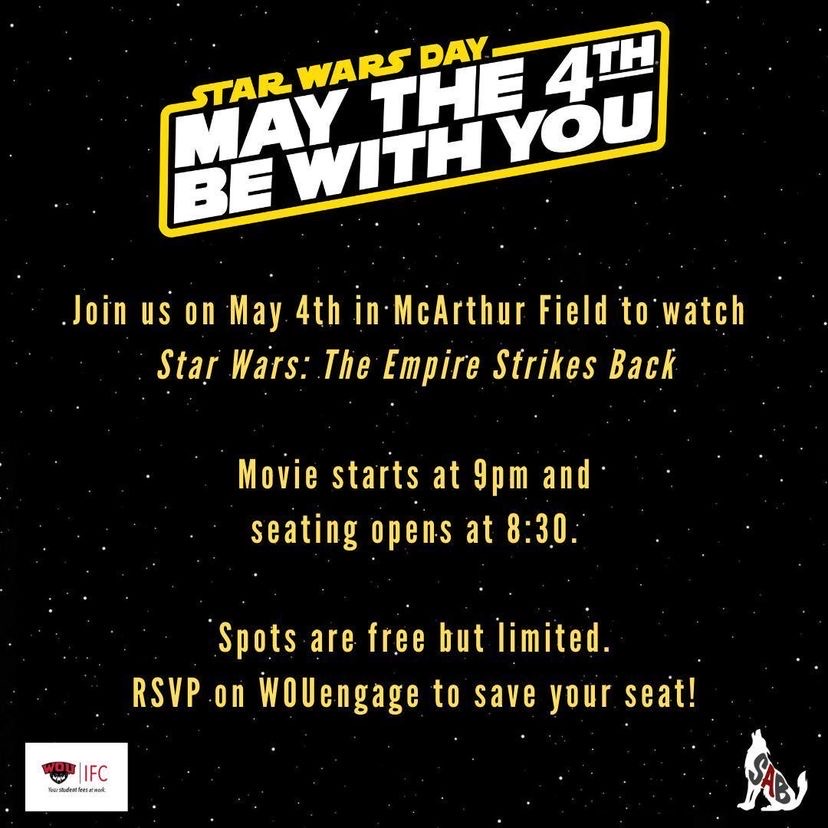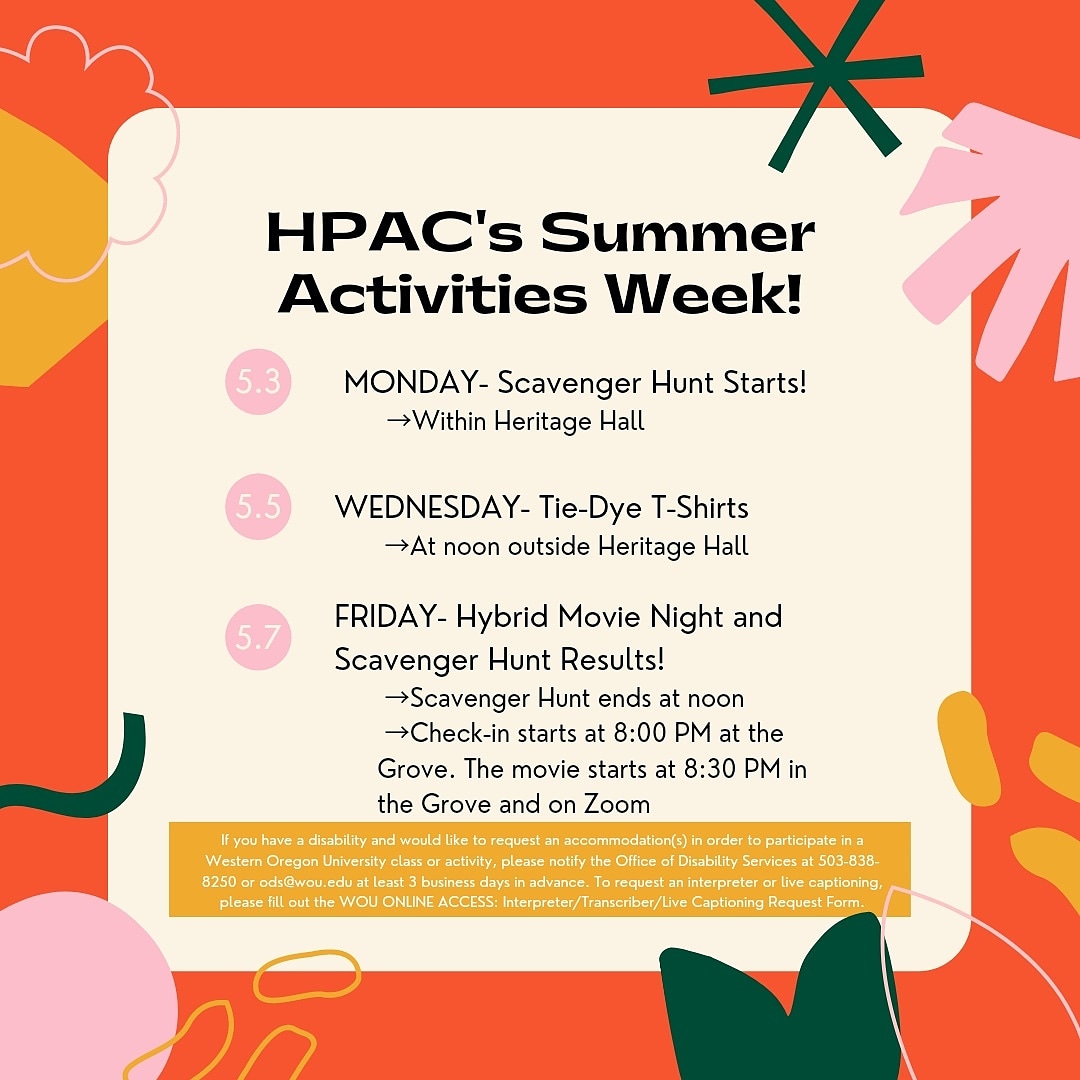 String Art Kit ⏤

Presented by Student Engagement, pick up a kit in the Werner University Center or have it shipped. The kits include wood, a hammer, nails and string. There are five available designs, which include a sun, star, flower, pineapple or a tree. RSVP on Engage to pick it up between May 3 at 9 a.m. and May 7 at 5 p.m. 

"Star Wars" Movie Night ⏤

Presented by the Student Activities Board, RSVP on Engage to catch this showing of "Star Wars" on May 4 at 9 p.m. at McArthur Stadium.

Summer Activities Week ⏤

Presented by the Heritage Programming and Activities Committee, they will be hosting a Tie-Dye Shirt activity between 12 p.m. to 6 p.m. on May 5 outside of Heritage Hall. There will also be a movie night of "The Goonies" at 8:30 p.m. on May 7 at the Grove and over Zoom. Additional details can be found on Instagram @hpac.wou.

The Oregon Students of Color Conference ⏤

 Presented by the Oregon Students of Color Coalition and the Oregon Student Association, this year's theme is "Holding Hands, Holding Space." A free conference with limited slots, register

here

for May 7 through 9.  

Ceram-IT ⏤ 

Presented by the Residence Hall Association, get creative by painting ceramic objects ⏤ such as teeny dinosaurs, a pineapple or an elephant piggy bank ⏤ or get involved with socially distanced outdoor games supplied by Landerman's Activity Committee on May 12 from 12 to 4 p.m. at the Grove. 

#Adulting: Relationships! ⏤

 Presented by Student Success & Advising, join this weekly Zoom meeting to explore a workshop-style series on "adulting" skills and tips that anyone can learn from. For spring term, it will run from weeks two through nine on Thursdays from 2 to 3 p.m. The Zoom link Meeting ID is 825 3799 5799.

The Northwest Passage ⏤ 

Submit art or written work to The Northwest Passage, Western's own literary and fine-arts magazine. The deadline for the spring 2021 issue is May 14. Email submissions to

northwestpassage@wou.edu

. 

Submit art to be displayed on campus ⏤

Presented by the Student Enrichment Program, they are creating a window installation for student artwork ⏤ which will be showcased outside of Campbell Hall ⏤ and have prepared illustration boards for people to use. Visit SEP's weekly newsletter to sign up, the artwork will be due on or before May 31.

Contact the author at ndean17@wou.edu