Kicking off this year's National Hispanic Heritage Month the right way
Mirella Barrera-Betancourt | Staff Writer
National Hispanic Heritage Month in the United States runs from Sep. 15 to Oct. 15, a time that honors the history, cultures and traditions of Hispanic Americans. With their food being one of the many contributions to this nation, it's no surprise that Hispanic food has become integrated into the American lifestyle and cuisine. What better way to celebrate this year's Hispanic Heritage Month than with some of these tasty Latin American dishes.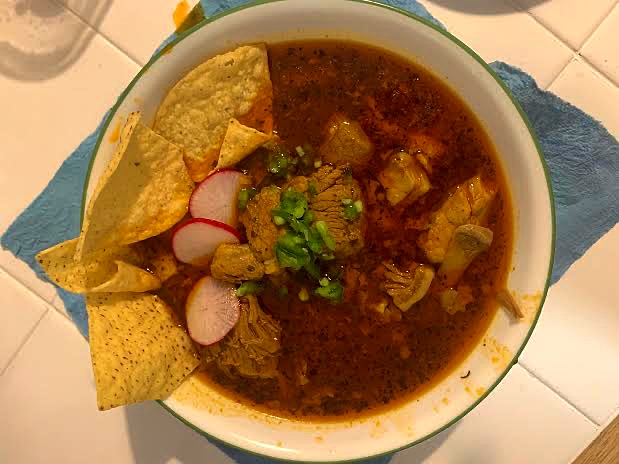 RED PORK POZOLE
Start to finish: 5 hours and 20 minutes
Yields: 6 to 8 servings
¾ cup of dried chiles de árbol
4 or 5 dried ancho chiles
6 cloves garlic, 2 smashed, 4 finely chopped
Kosher salt
2 pounds boneless pork shoulder, trimmed and cut in half
2 teaspoons ground cumin
2 tablespoons vegetable oil
1 large white onion, chopped
8 cups low sodium chicken broth
1 tablespoon dried oregano, preferably Mexican
1 bay leaf
Three 15-ounce cans white hominy, drained and rinsed
Break the stems off all the chiles and shake out as many seeds as possible. Put the chiles in a bowl and cover with boiling water. Use a plate to keep the chiles submerged and soak until soft, about 30 minutes. Add the chiles, 1 ½ cups of the soaking liquid, smashed garlic and ½ teaspoon of salt to a blender. Blend until smooth. Strain through a fine mesh sieve into a bowl, pushing the sauce through with a rubber spatula; discard the solids.
Rub the pork all over with the cumin and ½ teaspoon of salt; set aside. Heat the vegetable oil in a dutch oven or pot over medium heat. Add the onion and cook, stirring occasionally, until soft, about 5 minutes. Add the chopped garlic and cook for 2 minutes. Increase the heat to medium high. Push the onion and garlic to one side of the pot; add the pork to the other side and sear, turning, until lightly browned on all sides, about 5 minutes.
Stir in 2 cups of water, chicken broth, oregano, bay leaf, ½ teaspoon of salt and ½ cup to ¾ cup of the chile sauce depending on personal taste. Bring to a low boil, then reduce the heat to a simmer. Partially cover and cook, turning the pork a few times until tender, about 3 hours.
Stir in the hominy and continue to simmer, uncovered, until the pork starts falling apart, about 1 more hour. Remove the bay leaf. Transfer the pork to a cutting board; roughly chop and return to the pot. Add some water or broth if the pozole is too thick. Season with salt. Serve with assorted toppings and the remaining chile sauce.
Recipe from Food Network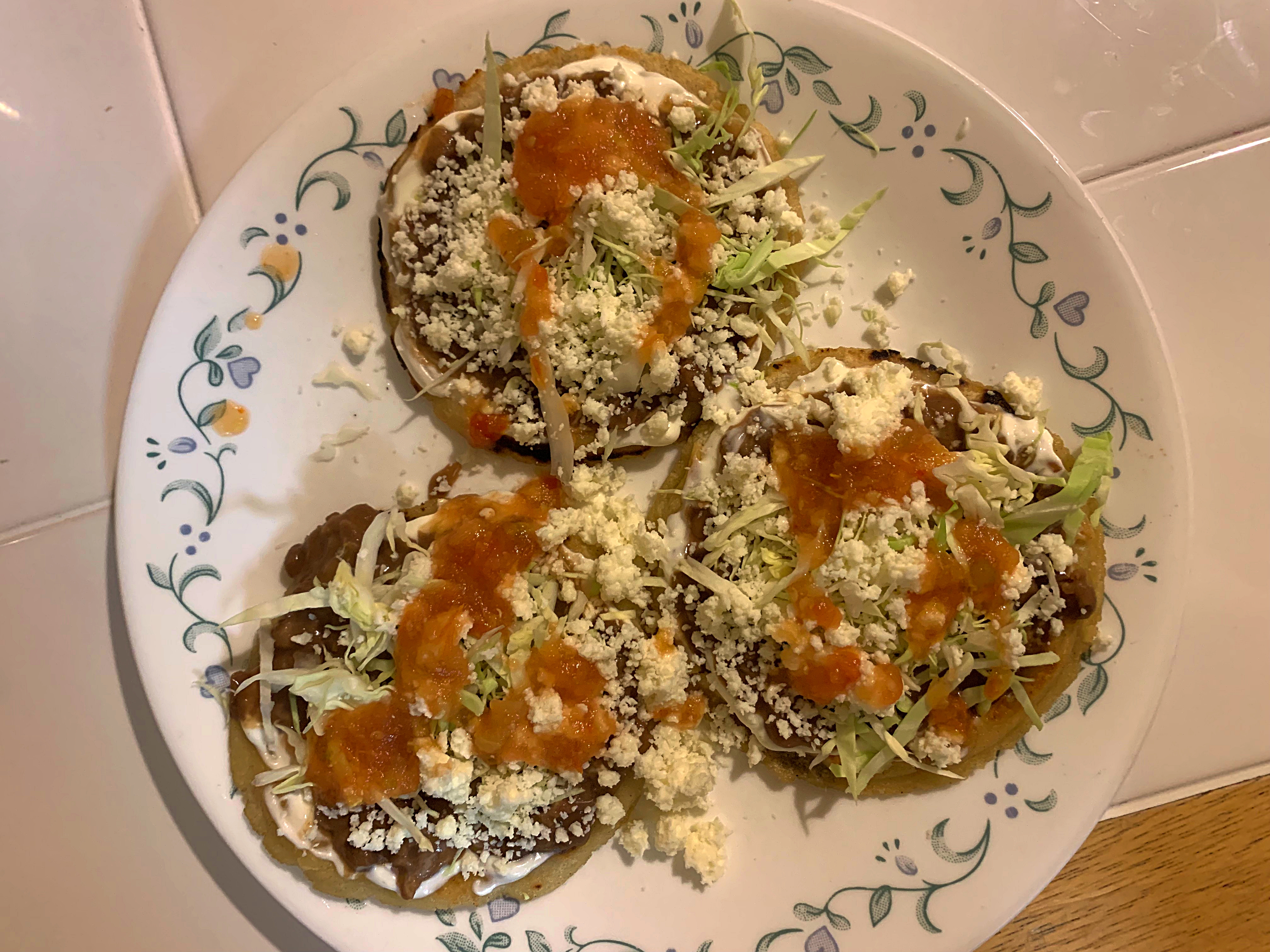 GORDITAS
Start to finish: 30 minutes
Yields: 4 gorditas
2 cups Maseca corn flour
½ tablespoon salt
2 cups water
10 ½ ounces ground pork rinds
Mix the Maseca with the salt and water until it makes a soft uniform dough. Make small balls and flatten them slightly. Put the pork rinds in the middle and form the gordita.
Heat some oil in a pan and fry the gorditas until they are golden brown. Put them on a paper towel to absorb the excess oil.
To serve, open the gorditas in the middle and accompany them with onion, lettuce, cilantro and sauce as desired.
Recipe from Mexipes.com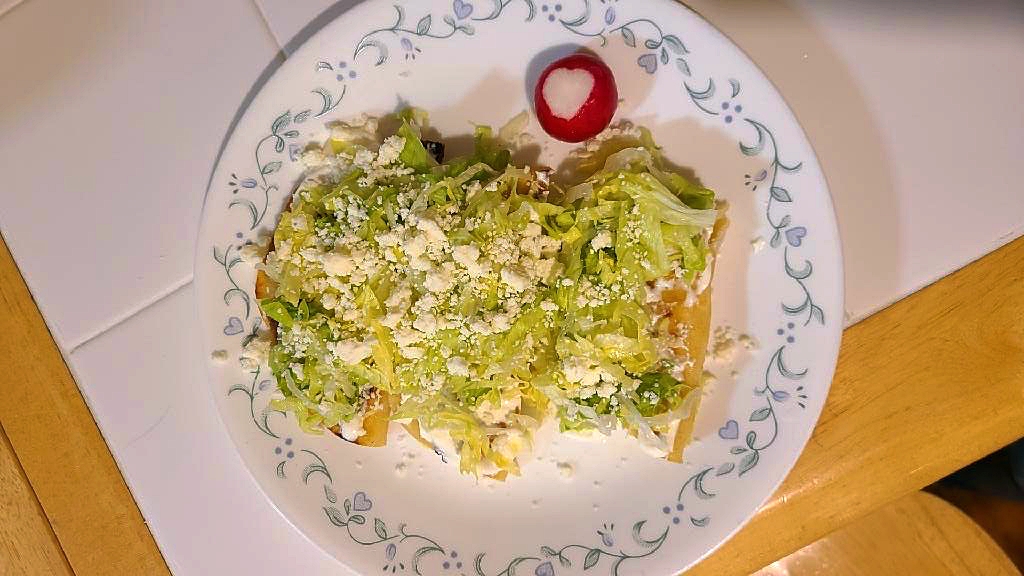 DOBLADAS
Start to finish: 30 minutes
Yields: 10 servings
1 cup farmer cheese, queso fresco or queso de capas
1 small red bell pepper, finely chopped
1 small onion, finely chopped
½ teaspoon pepper
½ teaspoon salt
¼ cup olive oil
¼ teaspoon garlic powder (optional)
10 flour tortillas
Mix cheese, pepper, onion, black pepper, salt and garlic powder together.
Put 1 heaping tablespoon of the cheese mixture on the lower half of a tortilla and fold over to make a half-moon shape. Press lightly.
Heat oil in a skillet on medium high heat and fry until crisp and golden on both sides.
Drain on paper towels and serve warm. Serve with salsa if desired.
Recipe from Hispanic Food Network

Contact the author at staffwriter@thewesternhowl.com