Analyzing the National Cheer Association's College Daytona performances from Navarro and Trinity Valley
Jude Bokovoy | Lifestyle Editor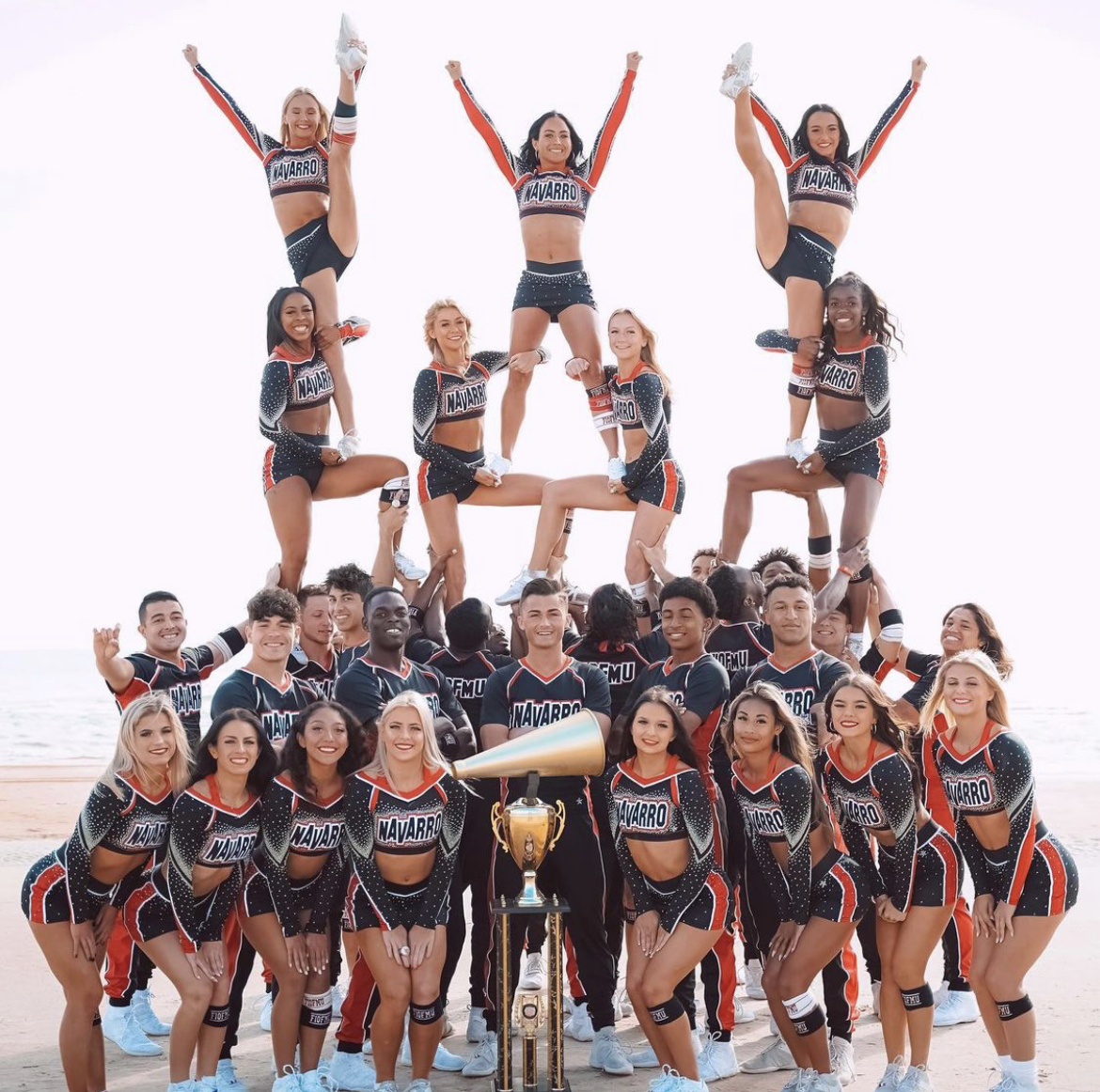 Contact the author at howllifestyle@wou.edu
This article contains spoilers for competition results and season two of "Cheer."
Navarro cheer team is one of the most well known collegiate cheerleading teams in the U.S. Navarro can be easily recognized by their sparkly red and black uniforms, incredible stunting abilities and team spirit. In 2020, Netflix released a documentary about Navarro's road to reach the National Cheerleaders Association National Championship in Daytona Beach, Florida, called "Cheer." The show and the team's execution of their routine was a major success. Navarro was named the 2019 National Champion in Daytona's advanced large coed junior college division. 
Daytona is NCA's Collegiate Dance and Cheer Competition. To be able to participate in Daytona, each team needs to qualify by either getting bid on at an NCA camp or approved by sending in a video. Cheerleading teams come from all over the country to experience and compete in the notorious Daytona.
This January, the second season of "Cheer" was released that included their rivals, Trinity Valley Community College. Throughout the season, they went back and forth showing how each team prepared for Daytona, as well as the ups and downs throughout the season. Both teams were incredibly talented and had viewers on their toes, wondering who was going to be the 2021 National Champions. TVCC ended up placing first, stealing Navarro's national title. 
Although both of these teams are located in Texas, they couldn't be more different. Days before Daytona, many competing teams performed a showcase of their routines for their friends, families and fans. At TVCC's Daytona showcase, the camera crew made it clear that they were only focused on certain individuals, by exclusively filming certain cheerleaders as they were executing their skills. Their routine was extremely tumble heavy leaving viewers in awe, however it seemed they were more focused on the individual spotlight rather than working as a team. It didn't go unnoticed that many of them did not smile during the duration of their performance. 
The Navarro routine was team-based. Everyone had a smile on their face and they were energetic while performing their fluid routine. Navarro's baskets and transitions were jaw dropping. As always, their choreography lit up the mat. What these two teams had in common were the high magnitude of tumbling, stunts and ambition. 
This year TVCC decided to enter into the advanced small coed division, meaning that they did not end up competing against Navarro. During the weekend of April 6 – 10, NCA's Daytona provided each team two days to perform their routine twice in hopes of taking home a trophy. 
Throughout TVCC's day one performance, their tumbling was clean but the stunts were not. There were many shaky dismounts, two stunts needed to be saved and the center group for their main pyramid fell. TVCC made a comeback on day two; their team jump combo was level throughout the team, the baskets were very high and the center tumbler had lots of energy. Unfortunately in the same middle stunt group, the flyer slipped during the pyramid. While making their final exit on day two, each member of the team did actions towards the crowd of an "I'm the best" mentality, iconic of the individualistic mindset that is rampant in TVCC.
On the other hand, Navarro blew it out of the park for both days' performances. On day one, their beginning tumbling sequences were intense, all of their pyramids were executed well and included elaborate transitional stunts. On day two, all of their one-man stunts were solid; they nailed their first jump combo of a toe touch to a b-twist and they performed choreography with enthusiasm. The only notable flaw from Navarro was during one of their pyramids in which well known athlete Gabbi Butler slipped but regained balance while doing the choreography. When Navarro left the mat on day one and two they all hugged each other and exited as a supportive team.
At the end of the day, both TVCC and Navarro executed their intense routines very well. Both included elaborate baskets, jump combinations, tumbling and pyramids; because of their determination and skill Navarro and TVCC went home as the 2022 National Champion for their respective divisions.