Spooky snacks and sweets to prepare this Halloween
Allison Vanderzanden | Lifestyle Editor
Halloween means it's time for treats. Candy is great, but homemade goodies allow for more creativity. Check out these appetizers and sweets to make for oneself, friends, roommates or family.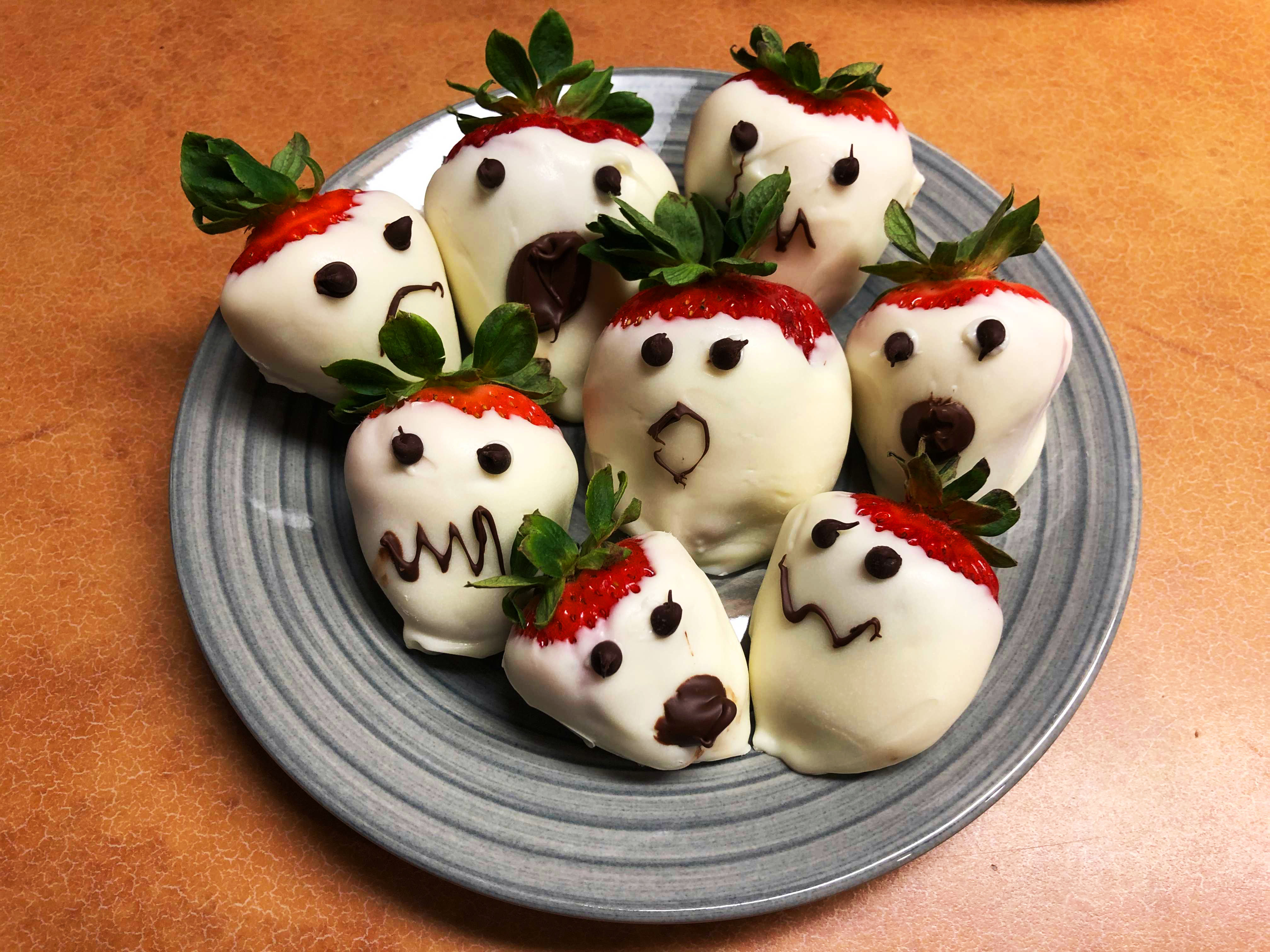 STRAWBERRY GHOSTS
Start to finish: 20 minutes
Yields: approximately 16 
2 cups strawberries
1 ½ cups white chocolate, melted
1 teaspoon coconut oil
¼ cup mini chocolate chips
1 cup chocolate chips, melted
Line a small baking sheet with parchment paper. In a large bowl, combine melted white chocolate and coconut oil and stir until combined. 
Dip strawberries into white chocolate, then place two mini chocolate chips on the top half of the strawberries for eyes. Place strawberries on prepared baking sheet and let harden in the refrigerator for about 10 minutes.
Place melted chocolate chips in a plastic sandwich bag and pipe mouths on the strawberries. Let cool again in the refrigerator for five minutes before serving.
Recipe from delish.com
GRAVEYARD BROWNIES
Start to finish: 1 hour
Yields: approximately 20 
1 box of brownie mix (plus additional ingredients listed on the box)
20 Milano cookies, cut in half
2 cups crushed Oreo cookies
3 cups sugar cookie icing, green and black
20 candy pumpkins
Bake brownies as directed, and let cool completely before slicing into squares. If using homemade icing, color half the batch green and the other half black. Load each into a pastry bag with a small round tip or into a sandwich bag with a small hole cut in one corner. Frost squiggly pumpkin vines on the top of each brownie square with green icing. Crumble crushed Oreos on top of the green icing. 
Pipe letters onto the halved Milano cookies with black icing to create headstones. Adhere Milano cookie to the brownie with some black icing. Add a dab of green icing to the bottom of the candy pumpkin and place one on each brownie.
Recipe from adventuresofmel.com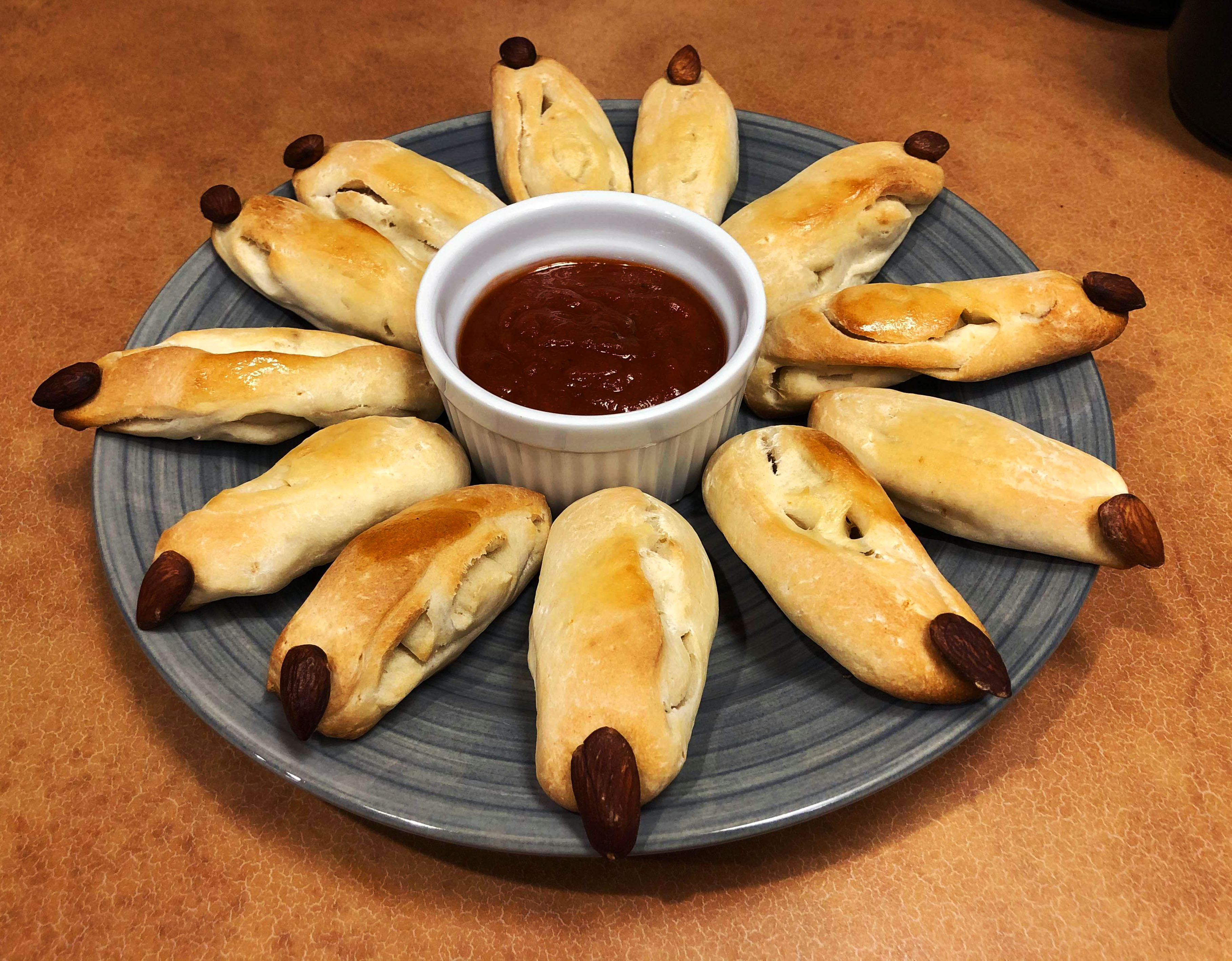 WITCH'S FINGERS BREADSTICKS
Start to finish: 25 minutes
Yields: approximately 15
1 roll refrigerated soft breadsticks dough
Marinara or pizza sauce
Sliced almonds, or…
1 bell pepper
¼ cup cream cheese
Line a large baking sheet with parchment paper, and preheat the oven to the temperature indicated on the breadstick dough packaging.
Unroll the breadsticks onto a large cutting board, and using a pizza cutter, slice each breadstick to be about 3 to 4 inches long and ½-inch to 1 inch wide. Roll the dough around a bit to form a finger shape, and use the pizza cutter to press a few horizontal lines in the middle to resemble a knuckle. Transfer breadsticks to the baking sheet.
Indent the more narrow end of the breadstick for the fingernail bed. If using sliced almonds, press one into the bed before baking. If using bell peppers and cream cheese, adhere them after cooking. Bake according to package instructions or until puffy and browning at the top.
Let breadsticks cool completely on a wire rack. Now for the bell peppers: slice them into narrow triangles, add a dab of cream cheese to the tip and stick the pepper on. Serve the finished breadsticks with some marinara or pizza sauce.
Recipe from kitchentreaty.com
PUMPKIN DEVILED EGGS
Start to finish: 35 minutes
Yields: 24
12 large eggs
½ cup mayonnaise
Juice of ½ lemon (about 1 ½ tablespoons)
1 ½ teaspoons Dijon mustard
Kosher salt
Black pepper
2 tablespoons paprika
4 chives, cut into small pieces
Hard boil the eggs by placing them in a single layer in a saucepan and adding enough water to cover them with 2 inches of water. Bring to a boil, then reduce heat and cook covered for 1 minute. Remove from heat and let sit, still covered, for 14 minutes. Then rinse and carefully peel shells off under cool running water. Halve eggs lengthwise. Spoon out yolks into a small bowl and place whites on a serving platter. 
Using a fork, mash the yolks, then stir in mayonnaise, lemon juice and Dijon, and season with salt and pepper. Spoon mixture evenly among egg whites and smooth the tops. Carefully dust paprika to completely cover the yolk mixture. Using a knife, make ridges down the paprika-dusted yolk to look like a pumpkin. Place chive slice above yolk mixture to resemble a stem and serve.
Recipe from delish.com

Contact the author at avanderzanden19@mail.wou.edu