Academic Affairs
Fall Kickoff 2021
Student Success  ·  Academic Excellence
Special Edition for Fall Kickoff
This is a special "Fall Kickoff" edition of the Academic Affairs newsletter, to help get everyone up to speed after (another) unusual summer! Our regular format and content will return later this fall in the Fall Term newsletter.
| | |
| --- | --- |
| Sept 27 | Fall Term begins |
| Sept 29 | Waitlist over – capacity overrides allowed |
| Oct 8 | Last day to Add |
| Oct 22 | Last day to Drop |
| Nov 12 | Last day to Withdraw |
| Nov 15 | Registration begins for Winter Term |
| Dec 3 | Last day of classes |
| Dec 14 | Grades due |
Click on any event to see more details. Visit the Fall Kickoff page for a calendar-style view of this event list!
FAQ About Fall Term and COVID-19
We've created a list of questions frequently asked by faculty about the upcoming term in the context of COVID-19—and answers to those questions! The list is housed in a Google Doc to allow for easy editing, so that we can add and update the information as the situation changes. The FAQs cover topics such as masks, air purifiers, and what happens if a student gets sick.
Reminder: Submit Your Vaccine Documentation
Don't forget to submit your COVID-vaccine documentation or exemption request to HR.
To do so, click the "Human Resources Form Submission" link in Portal: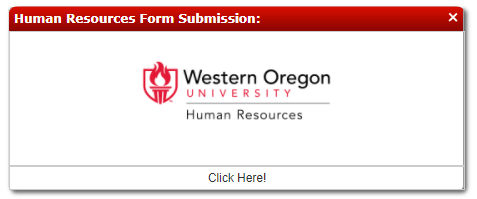 Then look for:
COVID-19
Vaccination Verification / Exemption
New Option for Online PRC Submission
Great news – by popular request, we've added another option for submitting PRC materials online, a system that uses Google Drive as its interface. Join us on Sept 21 to learn about this new option:
New Option for PRC Binders: Google Drive
Tuesday, September 21, 2021
1:00pm–2:00pm

This session will provide an overview of how the system works, how to request and use your submission folder, and provide some tips and tricks for crafting your submission. There will be an opportunity for questions.
CircleIn Update:
Pilot concluded; not implementing for Fall 2021
After evaluating the CircleIn pilot and reviewing the evaluation surveys submitted by students and faculty in Spring 2021, Academic Affairs will not be implementing CircleIn for Fall Term. In summary, the surveys indicated that CircleIn wasn't fulfilling it's academic purpose in the way we had hoped it would. Continuing CircleIn for Fall 2021 would incur an administrative cost to re-implement the tool, and continuing to subscribe to CircleIn would mean committing to a new ongoing cost for WOU. With the return to predominantly onsite learning at WOU, Academic Affairs has decided to close down the pilot and cease our contract with CircleIn. 
For more details, please see the IC-FYI email sent by Chelle Batchelor on September 14th.
Staff Change in the Provost Office
The Provost's Office was sad to say goodbye to our Administrative Coordinator, Jay Thompson, in August. Jay's partner, Jesse, finished law school in spring and accepted a public defense position in Baker City. This was a bittersweet change for Jay and Jesse as well: both are WOU grads who met at WOU and got engaged under the giant sequoia. We will miss Jay, and wish them all the best of luck in this next chapter!
While we are sad to lose Jay, we're happy to announce that we have a new Administrative Coordinator starting soon. We'll introduce them in the next Academic Affairs Newsletter!
Questions? Suggestions for future issues? Contact provost@wou.edu