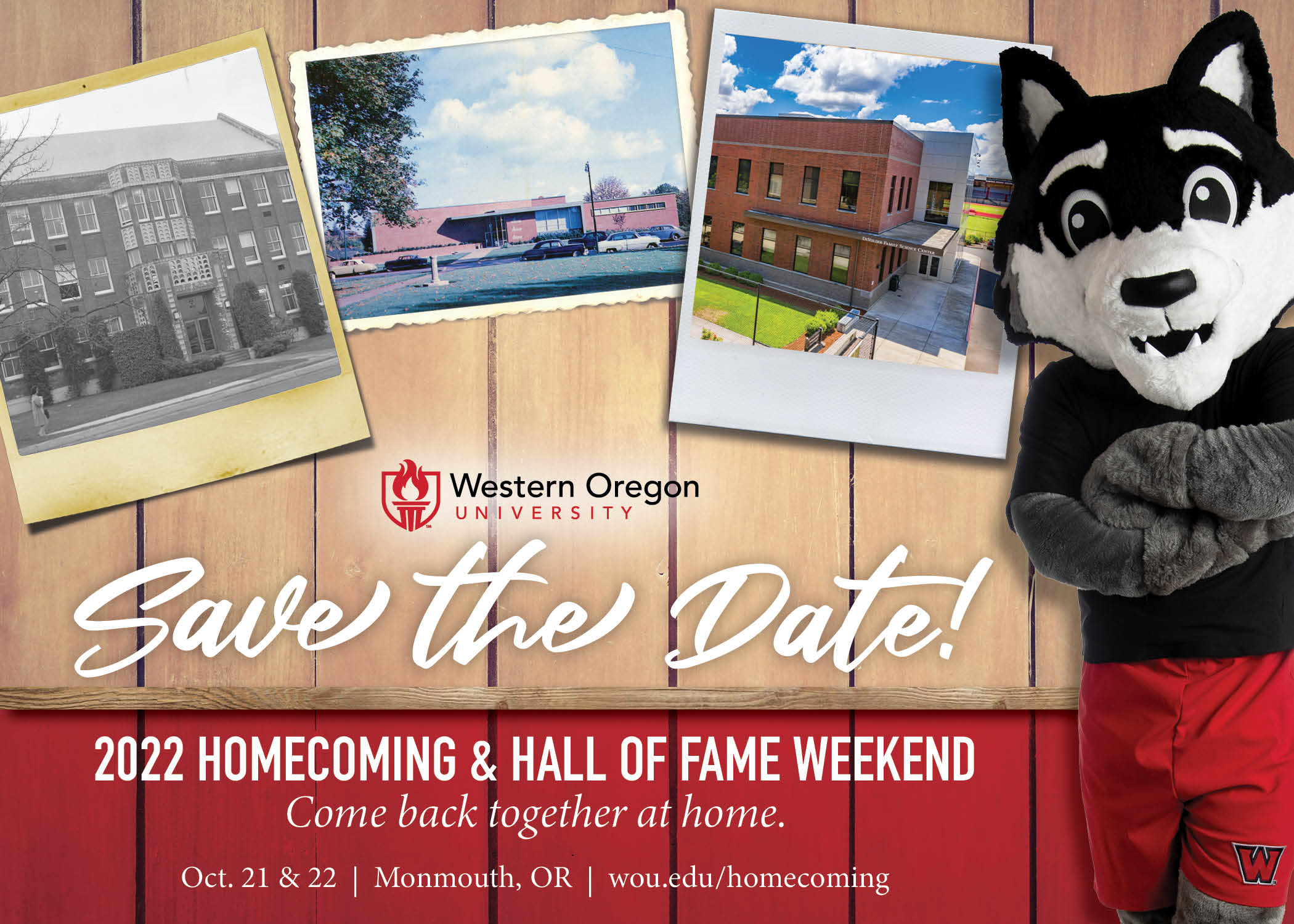 Friday, October 21
**All activities are open for all attendees. Open invite, inclusive to all. One low price gets you access to everything! 
Cost to attend all weekend: $25/person gives you access to all activities! Registration link
12 p.m. – 4 p.m. Check in and registration. 
 Location: Welcome Center
Come get your Homecoming shirt, campus map, events schedule and prepare for Homecoming weekend. 
Light refreshments and snacks will be provided!
WOU Baseball Alumni Golf Tournament 

First tee time is at 1 p.m. ALL PARTICIPANTS MUST REGISTER AHEAD OF TIME. Four person scramble format. Players will be assigned to teams if registering individually. 

Location: Cross Creek Golf Course 
Cost to play: $70/person includes carts, greens fees, bucket of range balls, snacks, etc. 
1 – 2 p.m.- Student led campus tours 

A lot has changed on campus since you graduated and much has also remained the same. On this walking tour you will enjoy conversation with a current WOU student and see the newest buildings on campus. 

Location: Meet at the Welcome Center Lobby. A Tour guides will take you on a walking tour of campus and answer your questions. 
2 – 4 p.m. – Happy Hour Welcome Reception with President Peters.  
Location: Willamette Room
Meet our new president, Dr. Jesse Peters, and enjoy seeing fellow classmates. Wine, beer, non-alcoholic beverages and appetizers will be provided!
 Special Homecoming events: 60th Anniversary Celebration of Earth Science at Western Oregon University 
Hosted by the WOU Earth Science Alumni Society for all attendees (everyone is welcome) 

3:30 – 4 p.m. – Check in and welcome, light refreshments will be provided! 
Location: Natural Sciences lobby 
 4 – 5 p.m. – Earth Science Guest Lecture (topic and guest speakers are TBA)- hosted by the WOU Earth Science Alumni Society
Location: Natural Sciences rm. 218
5:30 – 6:30 p.m. – Happy Hour/Cocktail Reception, hosted by the WOU Earth Science Alumni Society (open to all attendees!) 
Location: Willamette Room
6:30 – 8 p.m. – 60th Anniversary of Earth Science at WOU Dinner Honoring Emeritus Professor Ray Brodersen  
Location: Willamette Room 

A buffet dinner with drinks, special guests and quality time with one another. Open to all attendees.

 
6 – 8 p.m. – All athlete alumni reunion and Hall of Fame Inductee Celebration (open to athletics alumni) 
Calling all athletic alumni- former players, coaches, trainers, statisticians, equipment managers, etc. Come together for drinks, food, music, celebration and hear from coaches and AD Randi Lydum '90. We will meet our 2022 Hall of Fame inductees as well as enjoy appearances by special athletic guests. 
Location: Turf room under the stadium (McArthur Stadium)
Saturday, October 22
9 – 10:30 a.m. – Hall of Fame Induction Ceremony Brunch (open to all) 
Location: Pacific Room
Congratulations to the Hall of Fame class of 2022! Enjoy a buffet meal, mimosas, coffee, and help us welcome our newest members to the Western Oregon University Hall of Fame. The perfect way to start your Homecoming morning!
This year's inductees are: 
Cecilia Ward – Softball, 1977 
Jim Shaw – Men's Basketball, 1985 
Matthew "Melvin" Haynes – Men's Basketball, 1988
Monica (Smith) Barnhart – Women's Track & Field, 2005
Grady Wood – Baseball, 2012
9:30 – 10:30 a.m.- Earth Science Alumni Society coffee and pastries 
Location: Natural Sciences lobby 

Stop in for a cup of coffee and a treat to start your morning. 
11 a.m. – Wolves Tailgate (open to all) sponsored by Playground Sports!    
It's Saturday of Homecoming weekend which means it's football time! At this family friendly tailgate you will enjoy food, beverages, giveaways, visits from Wolfie, the cheer team, the band and more! This tailgate is open to everyone and is free to attend thanks to our sponsor Playground Sports!
Location: Alumni Tents in the McArthur Stadium parking lot
WOU football vs. Eastern New Mexico

Be sure to get your free Pendleton Whisky tastings during tailgating in the McArthur Stadium lot! Reps will be onsite giving out samples and swag! Thank you to John and Tiffany Robles for representing Pendleton!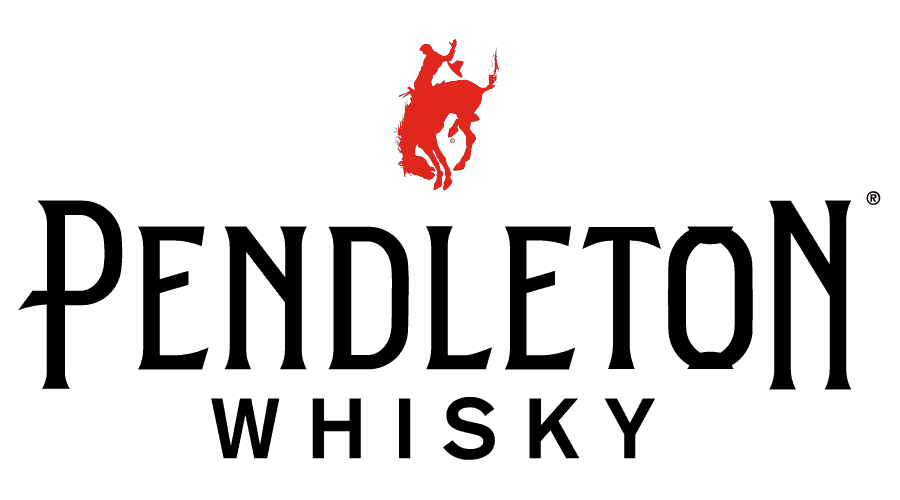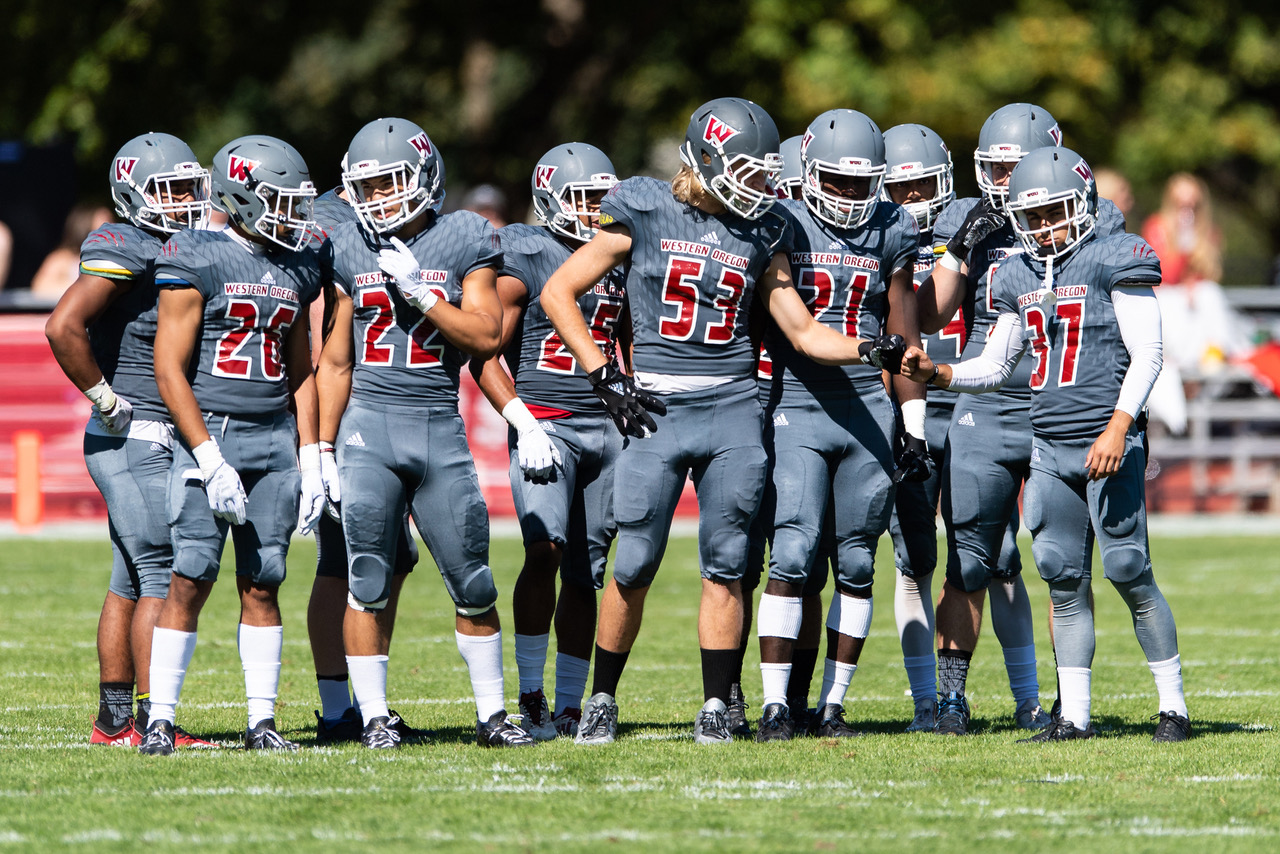 Monmouth and Independence have grown and changed over the years. If you're looking for other activities and things to do while in town, check out these places and things: 
Dinner, coffee, drinks at local eateries 
See the art exhibit at Campbell Hall 
Go on a wine tour. Ask Emily about how to get setup with a special tour! 
Take a self-guided campus tour 
Visit the Wolfstore to buy new gear- they even have OCE gear at times! Be sure to get your alumni card first to get your 10% discount