Student Organizations
Sigma Phi Omega (KEO) 
This is 
the international Gerontology Honor Society.
Kappa Eta Omega (KEO)
is our chapter at WOU! What can becoming a member of an Honor Society do for your career? Here are some benefits of joining our chapter: 
If you are interested in learning more, contact Dr. Melissa Cannon at 
cannonm@wou.edu
.
Western Oregon University Gerontology Student Association (WOUGSA)
Our club focuses on educating those who wish to learn more about aging as well as helping older adults in our community in various ways. We focus on engagement with older adults through numerous activities.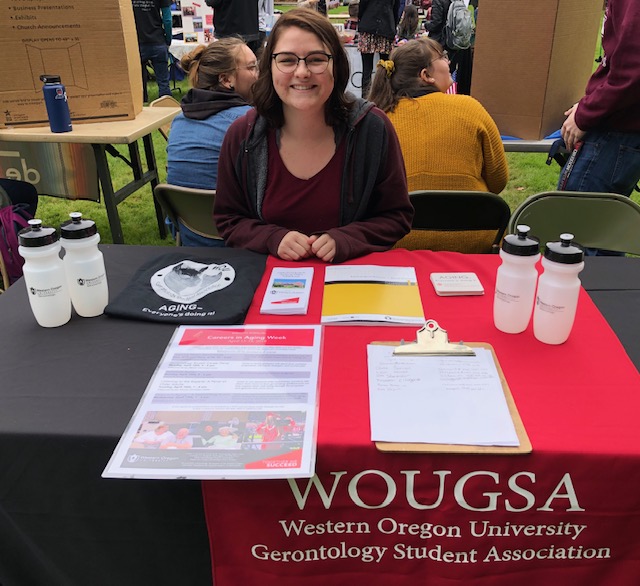 2022-2023 WOUGSA Officers:
Presidents: Kat Setter and Catie Jacks
Treasurer: Dawn Waddell
Membership Coordinator: Amanda Grentz
At-Large Officer: CJ Johnson
WOUGSA Advisor: Dr. Melissa Cannon
Other Membership Organizations
Here in Oregon, the Oregon Gerontological Association (OGA) works to improve the lives of older Oregonians by enhancing knowledge and cultivating a network of professionals and other individuals interested in the field of aging. Go here to learn more about the organization and how to get involved as a student: https://www.oregongero.org 
The Gerontological Society of America (GSA) is the oldest and largest interdisciplinary organization devoted to research, education, and practice in the field of aging. GSA has many opportunities for students to present research and volunteer at their annual meeting. In addition, GSA's Emerging Scholar and Professional Organization (ESPO) offers students many ways to be actively involved in the field of gerontology. Go here to learn more about the organization and how to get involved as a student: https://www.geron.org 
WOU is also a member of the Academy for Gerontology in Higher Education (AGHE). Go here to learn more about the organization and how to get involved as a student: https://www.aghe.org 
The American Society on Aging (ASA) is an association of diverse individuals bound by a common goal: to support the commitment and enhance the knowledge and skills of those who seek to improve the quality of life of older adults and their families. The membership of ASA is multidisciplinary and inclusive of professionals who are concerned with the physical, emotional, social, economic and spiritual aspects of aging. Go here to learn more: http://www.americansocietyonaging.com