Inclusive Study @ WOU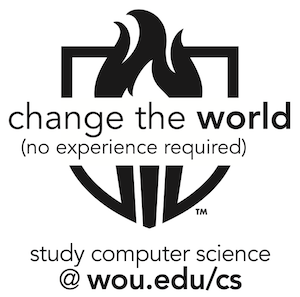 Why do we need Diversity and Inclusion?
Computer Science has been shown to have cultures that exclude women, non-binary folks, and people of color. There are also people who have preparatory privilege, having experience with CS before college, which is associated with attending K-12 in communities that are more affluent. At Western Oregon University the Computer Science division believes that we need to focus on a more inclusive and safe environment to allow all students to thrive.
Our Commitment to Students
Technology can change the world and we believe that it is imperative that a wide ranging and diverse population guide that change. As part of our commitment to this goal, we have partnered with the National Center for Women & Information Technology to implement strategies to improve our environment to be inviting to all students who want to pursue a degree in computer science. 
Code of Conduct
Western Oregon University Computer Science is committed to community, collaboration, and diversity. Accordingly, we have a Code of Conduct that applies equally to faculty, staff, and students.