CERT
      
  CERT confident
"Welcome! I hope you decide to attend one of our CERT Basic Training classes to learn more information on how to prepare yourself and your family for the unexpected events we could experience here in the NW.  We welcome anyone so If you want to take the training but are not ready to serve as a full-fledged CERT member, that is fine, the training will benefit you and your family.   I look forward to learning with you!"    
                                                                                                                                                           Susan Griffin, WOU CERT Team  
CERT Program Overview:
Community Emergency Response Team (CERT) program is free to anyone, students, staff, faculty, alumni, and community members. WOU CERT membership welcomes professionals from any of our community partners, Ham Radio groups, Neighborhood Associations, and any concerned resident interested in becoming certified by successfully completing the CERT Training.  You must be 18 years or older to attend, but 16 year olds may attend if accompanied by an adult.
The Community Emergency Response Team (CERT) program helps train people to be better prepared to respond to emergency situations in their communities. When emergencies happen, CERT members can give critical support to first responders, provide immediate assistance to victims, and organize spontaneous volunteers at a disaster site. CERT members can also help with non-emergency projects that help improve the safety of the community.
CERT Training will cover:
Disaster Awareness, Hazard Mitigation, and Community Emergency Response Team concepts
Utility Control, Fire Suppression, Hazardous Materials
Disaster Medicine — Triage and treatment of minor and life threatening injuries
Light Search and Rescue – Visual assessment of damaged buildings, search techniques, rescue techniques and patient transport
Team Response and Management
Terrorism and Community Response Teams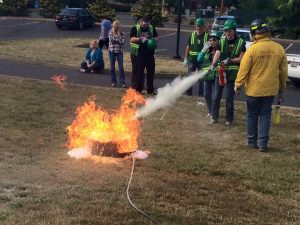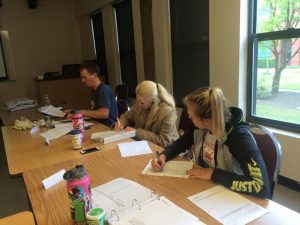 CERT training learned in the classroom and during exercises, CERT members can assist others in their neighborhood, workplace or school following an event when professional responders need assistance or are not immediately available to help.
CERT members are also encouraged to support emergency response agencies by taking a more active role in emergency preparedness projects in their community. 
CERT philosophy is based on the axiom, "Help yourself, help your family, help your neighbors, and help your community".
CERT is one of five organizations that operate under the Citizens Corps, the nationwide grass roots movement that encourages all Americans to help make their communities – and the nation – safer, stronger, and better prepared for all types of hazards and threats through active volunteerism.  Learn more by visiting the FEMA  CERT website.
Joining WOU CERT Team
To become a WOU CERT member, you will need to complete the Basic CERT training course. We will have this Basic CERT course available each term, and the regional CERT teams also provide training.  Once you have completed the Basic course, and if you are interested in joining the team or gaining further training please let us know.
Requirements to join the WOU CERT Team
Complete the Basic CERT course
Complete the WOU CERT Team Application Form
Additional training is available online to complete these courses:
If you attended a Basic CERT training course in the past and would like a little refresher from an online class, I found this class very helpful when I decided to become more involved in the Polk Co. CERT Program.   Here is the link to the IS 317