Updates on College Republican Club June 4 event
Links to statements regarding the event
Update: June 3, 2019
ASWOU's second statement, released June 3:
Students of WOU,
Since ASWOU's last letter to you all on May 30, 2019, the situation surrounding Tuesday, June 4th's controversial event has escalated. Third-party organizations not affiliated with WOU have begun targeting the WOU campus with calls to organize protests to the event. Also, WOU students have been targeted in social media posts from both supporters and protesters of this event.
Because of the aggressive nature of these supporters and protesters, ASWOU has serious concerns for the safety of any and all WOU students who attend either the event or it's associated protest. As such, it is our recommendation that all WOU students stay away from the Werner University Center on Tuesday, June 4th. We strongly encourage all club meetings. advising meetings, and other events on this day be moved to a different University building, rescheduled, or canceled. While we hope that Tuesday evening's event maintains an aura of basic civility, we cannot, in good conscience, advocate for any WOU student being in the vicinity of the WUC on Tuesday.
If you feel affected by this event, please utilize the services of the WOU Student Health and Counseling Center at (503) 838-8313. The Polk County Behavioral Health Monmouth office can be contacted at (503) 400-3550.
If at any point during Tuesday night you feel unsafe while traveling on campus, please contact Public Safety at 503-838-8481. If you witness an incident of bias on WOU's campus please report it using the Bias Incident Report Form (https://wou.edu/student/bias-incident-report-form/). This form is used to report an incident of bias if it is an act of conduct, speech, or expression that targets an individual or group based on their actual or perceived race/color, religion, ethnicity, national origin, gender, gender identity/expression, age, disability, or sexual orientation. Please contact the ASWOU President via the email address aswoupresident@wou.edu if you have any other questions.
In solidarity,
2018-2019 ASWOU Administration   
2019-2020 ASWOU Administration
A link to President Rex Fuller's official statement can be found here: President Rex Fuller's official statement
President Rex Fuller's Statement:
Dear Campus Community,
As you might know, the College Republicans, a registered student organization on campus, has invited Joey Gibson to speak on campus on June 4.
As an institution of higher education, Western Oregon University supports free speech and open inquiry, which are essential to a comprehensive university experience and for students to form their own viewpoints and perspectives. At WOU, all student clubs and organizations follow an approved protocol for bringing speakers to campus and reserving space, which includes a review of the event and a contract with the proposed speaker. As a public entity, WOU may not deny access to meeting space on the basis of viewpoint.
The University's obligation to the freedom of speech is animated not only by the First Amendment to the US Constitution, but the even-broader Article I, Section 8 of the Oregon Constitution. It states:
"No law shall be passed restraining the free expression of opinion, or restricting the right to speak, write, or print freely on any subject whatever; but every person shall be responsible for the abuse of this right."
This clause has been interpreted many times to require tremendous breadth in ensuring and upholding the freedom of expression in Oregon—a role a public university must embrace to remain relevant in our changing times.
Upholding core freedoms—including the freedom of speech—does not mean, however, the University must turn from its values. WOU's Strategic Plan outlines eight essential values that guide our practices and decisions. The Plan expressly includes: Diversity and Respect: Equity and inclusion; a fundamental basis in human diversity; appreciation for the complexity of the world; strength drawn from our variety of backgrounds, abilities, cultural experiences, identities, knowledge domains and means of expression.
Our values are who we are—we can be a place of diversity and respect, as well as a fierce defender of the freedom of speech and expression at the same time.
Thank you.
Rex Fuller, President
A link to ASWOU's statement can be found here:
Instagram: @aswou
Twitter: @ASWOU
ASWOU's statement can also be found below: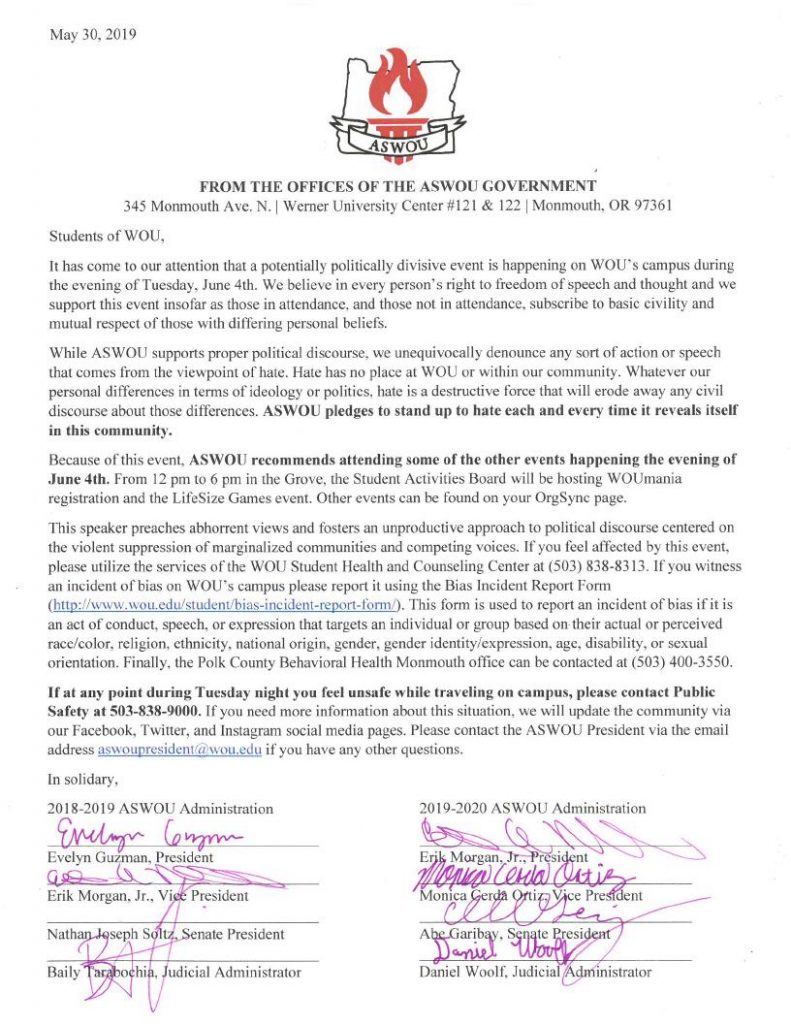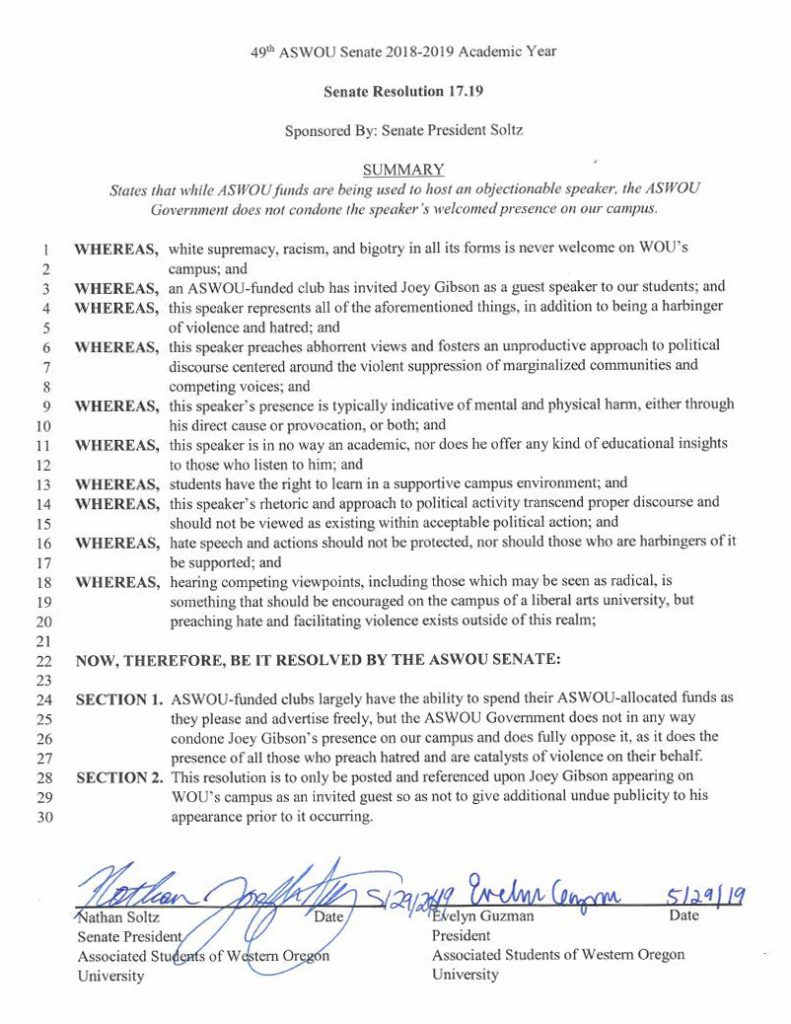 ASWOU's statement recommends students attend other events happening the evening of June 4. A full listing of events can be found on students' OrgSync accounts.
Link to College Republican Club's response to ASWOU statement — statement can be found in comments: @woucr
College Republican Club's response to ASWOU's statement:
"Our speaker is multiracial and our event is open to all people regardless of their race, gender, religion, or nation of origin. We encourage all students to challenge the information that is being spoken around campus by seeking out their own information. Search Joey Gibson on YouTube and you will find that he has never said a hateful or racist word. In fact, he preaches often about Unity and having Love in your heart for all people, even those you absolutely disagree with."
More updates from The Western Howl regarding this event will be coming soon.
Contact the editor at howleditor@wou.edu