Try these two recipes featuring in season spring produce
Allison Vanderzanden | Lifestyle Editor
Spring brings new, fresh produce, including tangy rhubarb and refreshing citrus fruits. Head to a local farmers market or grocery store and pick up some in season produce for these scrumptious spring recipes. 
RHUBARB CUSTARD BARS
Start to finish: 1 hour 15 minutes
Yields: 3 dozen bars
2 cups all-purpose flour
¼ cup sugar
1 cup cold butter
FILLING
2 cups sugar
7 tablespoons all-purpose flour
1 cup heavy whipping cream
3 large eggs, room temperature, beaten
5 cups finely chopped fresh or frozen rhubarb, thawed and drained
TOPPING
6 ounces cream cheese, softened
½ cup sugar
½ teaspoon vanilla extract
1 cup heavy whipping cream, whipped
In a bowl, combine the flour and sugar, and cut in the butter until the mixture resembles coarse crumbs. Press into a greased 13-by-9-inch baking pan. Bake at 350 ºF for 10 minutes.
For filling, combine sugar and flour in a bowl. Whisk in cream and eggs, then stir in rhubarb. Pour over the crust, and bake at 350 ºF until custard is set — about 40 to 45 minutes. Let cool.
For the topping, beat cream cheese, sugar and vanilla until smooth; fold in whipped cream. Spread over top, then cover and chill. 
Cut into bars, and keep stored in the refrigerator.
Recipe from tasteofhome.com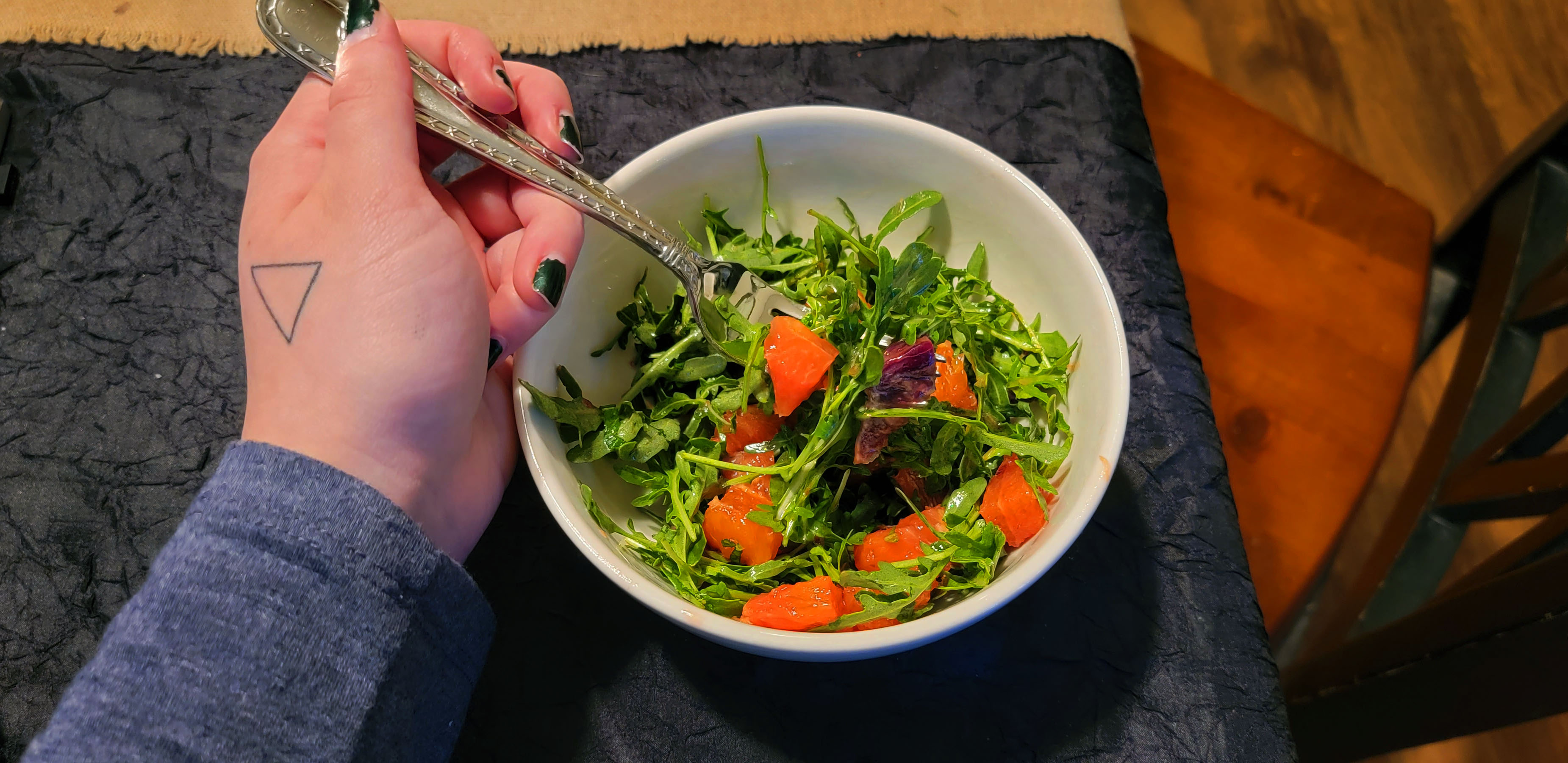 CITRUS SALAD
Start to finish: 15 minutes
Yields: 4 servings
2 cara cara oranges
2 navel oranges
2 blood oranges
2 ounces baby arugula
2 tablespoons fresh mint
CITRUS DRESSING
¼ cup citrus juices, set aside
2 tablespoons extra virgin olive oil
1 tablespoon honey
½ teaspoon vanilla extract
½ teaspoon sea or kosher salt
Remove the skin from the citrus fruits, then slice them into supremes by cutting along each membrane. Combine citrus supremes, arugula and mint in a large salad bowl. 
Squeeze the juice from the citrus membranes into a large measuring cup or jar. Add the extra virgin olive oil, honey, vanilla extract and salt, then whisk to combine. Drizzle half the dressing over the citrus salad, then toss to combine. Enjoy immediately. 
Recipe from oursaltykitchen.com

Contact the author at avanderzanden19@mail.wou.edu