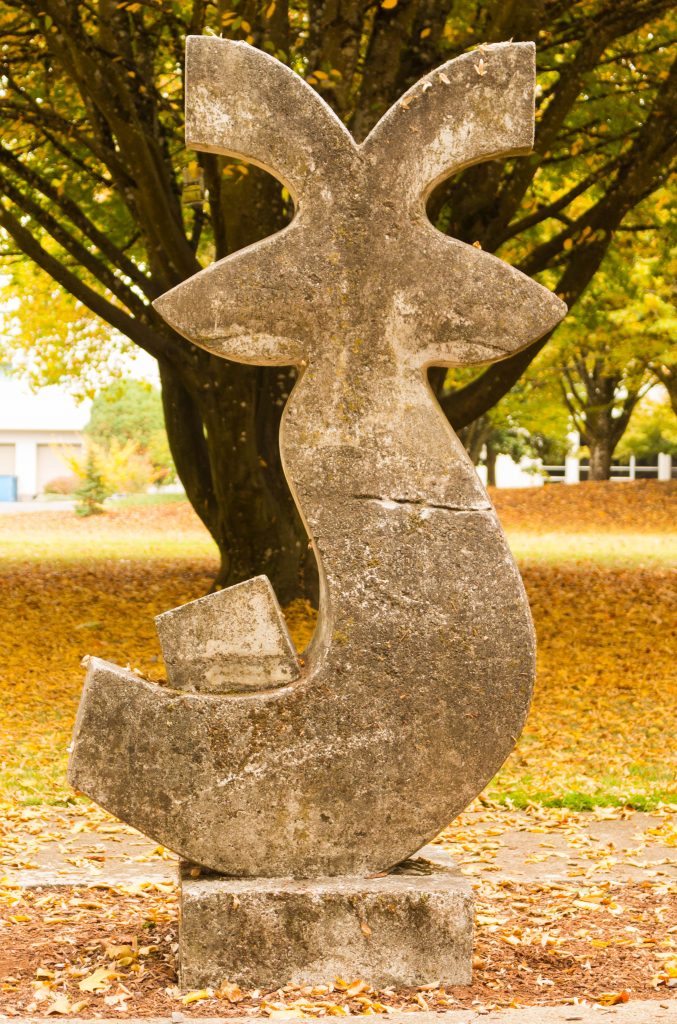 Chrys Weedon | Entertainment Editor
Located in a back corner of the Grove, surrounded by beauty bark and concrete, is Manuel Izquierdo's sculpture "Iberian Venus." The marble sand once covering its exterior is mostly eroded away, leaving smooth white patches in its curves and crevices. Moss and crumbling concrete remain.
Installed in September 1975, "Iberian Venus" was commissioned, according to library archives, by Western's student body. Funding was provided by what was then called the Associated Students of OCE, which would be equivalent to ASWOU now. The sculpture was supposed to include a reflection pool at its base, but upon observation, it doesn't appear to have one.
Manuel Izquierdo arrived in Portland, Oregon in the 1940s. Izquierdo was born in Madrid, Spain and travelled to Oregon as a refugee from a war-torn Europe. In his career, Izquierdo created 27 corporate and public commissioned pieces and has participated in 25 solo exhibitions. Izquierdo died from illness on July 17, 2009.
The library archive article titled "Outdoor Sculptures on Campus" reports some controversy among Western's students upon installation of the statue. It was argued by some students that the final sculpture did not resemble the original proposal approved by the committee.
Paula Booth, assistant art professor and director of the Cannon Gallery of Art in Campbell hall spent most of her interview brushing leaves, cobwebs and moss off the sculpture to the best of her ability, but there's only so much one can do if they're not trained in refurbishing art.
"It kind of breaks my heart, to be honest. I feel like it's so neglected, and it's by one of Oregon's most prominent sculptors," commented Booth.
In a secluded corner and blocked on three sides by a grassy slope, this sculpture doesn't stand out, especially now that its white marble sand coating has been reduced to nothing. It can't be easily seen from the surrounding sidewalks or roadways.
"Especially when you have art outdoors, you need to have it properly cleaned periodically, you need to have it fixed periodically," Booth remarked after examining the sculpture's deteriorating state. "It's completely not how the artist intended it to be."
Contact the author at howlentertainment@wou.edu
Photo courtesy of Ashlynn Norton