The Bandana Project at Western works to raise awareness about workplace sexual violence against farmworker women
Mirella Barrera-Betancourt | Staff Writer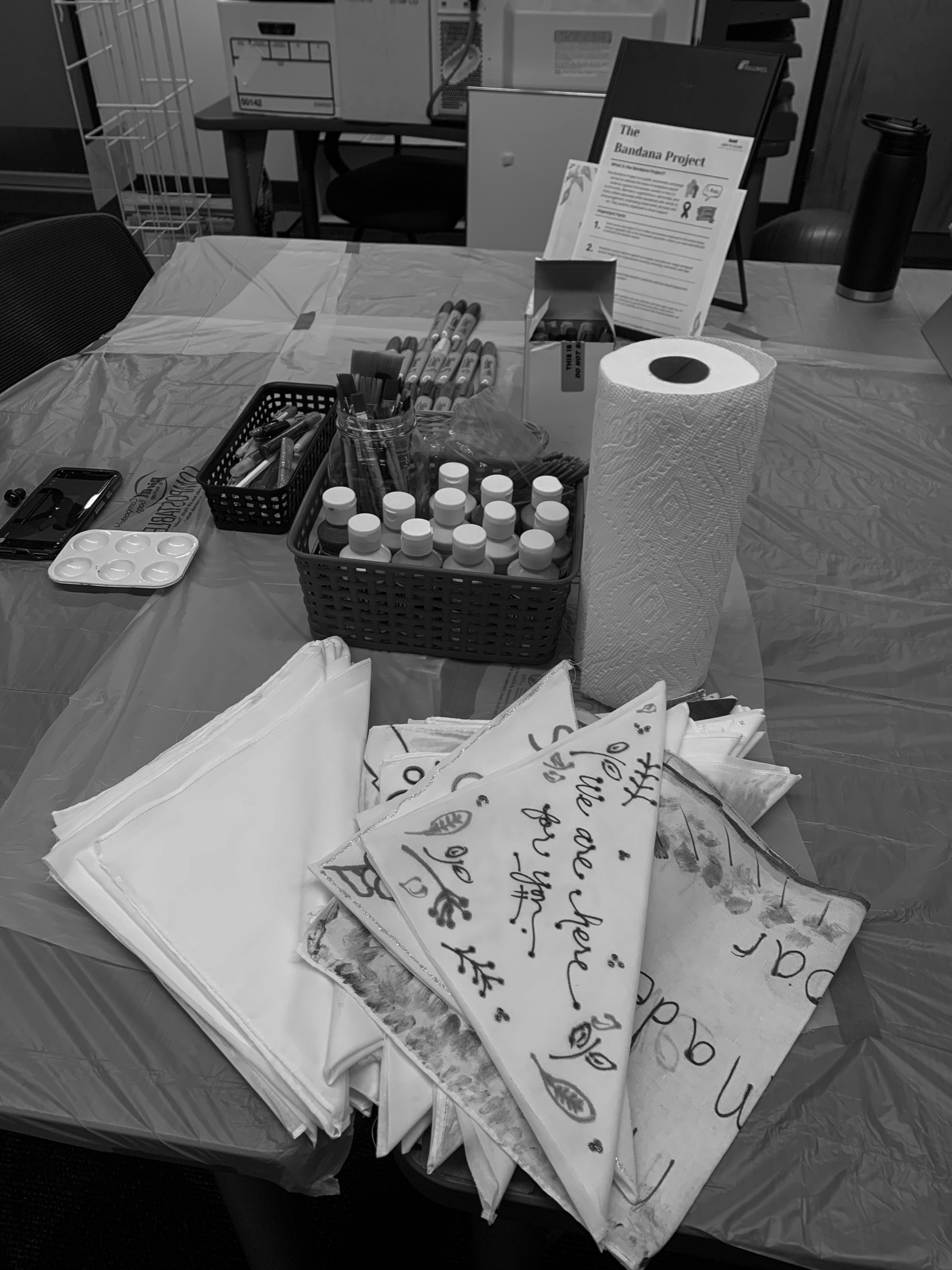 Contact the author at howlstaffwriter@wou.edu
Content warning: This article contains mentions of sexual assault.
April is designated as Sexual Assault Awareness Month, a month dedicated to raising awareness about sexual violence and how to prevent it. Sexual Assault Awareness Month gave rise to the Bandana Project, a public awareness campaign aimed to address the issue of workplace sexual assault in the United States, particularly among farmworker women.
Recently, Western joined universities across the country in raising awareness to protect farmworker women. Throughout the week of April 11 – 15, Abby's House set out white bandanas for students and faculty to decorate freely with powerful messages and words of love and encouragement.
Maria Marquez, Peer Educator at Abby's House, was in charge of bringing the Bandana Project to Western. 
"As a current member of the Dreamers community on our WOU campus, I was thrilled to organize and welcome the Bandana Project," said Marquez. "My purpose was to bring awareness to our marginalized communities and allow their voices to be heard."
The Bandana Project was created back in 2007 by Mónica Ramírez when she was directing Esperanza: The Immigrant Women's Legal Initiative of the Southern Poverty Law Center. Ramírez later founded Justice for Migrant Women, a stand-alone non profit organization now leading the Bandana Project.
Workplace sexual harrassment has long been an issue for farmworker women in the agricultural community. The white bandana first became a figure against sexual harrassment when farmworker women began wearing them to protect themselves against violence and harrassment in the fields. Today, they serve as a symbol of protest.
On why the Bandana Project is such an important project to commemorate, Marquez said, "WOU is in the early stages of becoming a Hispanic Serving Institution. I believe that it is important to consider our large population of undocumented and (Deferred Action for Childhood Arrivals) students on campus to discuss prominent and on going issues that they have to (endure). … Abby's House is here to celebrate, voice, and support women who have overcome such challenges."
Abby's House is a constant advocate for Sexual Assault Awareness Month. They will also be hosting Denim Day on April 27, an event created to show support to the victims of sexual assault who were told they were at fault for wearing what they did. Demin Day sends the message that anyone can experience sexual harrassment or assault regardless of what they were wearing.
To learn more about the Bandana Project, visit justiceforwomen.org.