Maps & Directions
Campus Parking
Parking Lots
Approximately 2443 individual parking spaces are available on the 157-acre Western Oregon University campus for the convenience of faculty, staff, students and guests.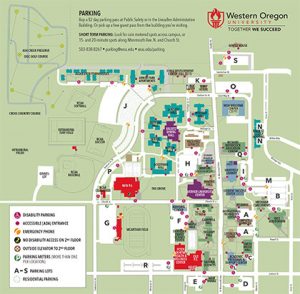 Fifteen paved lots, strategically located, are always open. Metered spaces for guests and short-term parking are marked in each major lot as well as many handicap spots. View the parking image, download the pdf, or checkout the campus map and select the Parking category in the legend to determine where the closest lot for your visit is located.
Parking is by permit and is enforced year-round. (Visit the Public Saftey Office's Parking Regulations page if you want to consult the full regulations.)
Free guest passes
If you're just visiting us for the day (or even a couple of hours), please pickup a guest pass from the department/organization you are are visiting. They are free of charge to campus visitors and can be used in any faculty, staff and commuter parking lot.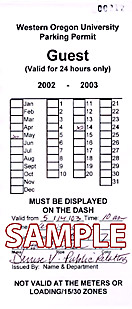 Contact Parking Services at 503-838-8267 or e-mail parking@wou.edu for additional parking options if you will be visiting us for more than a day or have other concerns.)