Faculty/Staff Information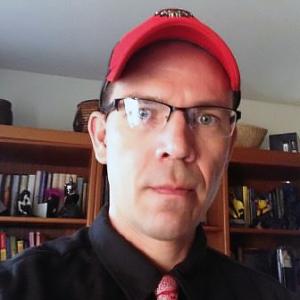 Gregory Zobel
(he/his/him)
Associate Professor, Education & Leadership
503-838-8728 | zobelg@wou.edu
RWEC 225

At WOU since
01/09/2012
Hobbies
Book collecting, thrift shopping, dog walking, and reading.
Office Hours
Mon
Tues
Weds
Thurs
Fri
9-2
Please email to arrange by appointment.
Course schedule
Fall 2023
| CRN | Course | Title | Times | Location |
| --- | --- | --- | --- | --- |
| 11344 | CSE606 | ED TECH FOR ESOL STUDENTS | - | ONLINE CRS |
| 10833 | CSE686 | EMERGING INFORMATION TECHNOLGY | - | ONLINE CRS |
| 11143 | CSE680 | COMMUNICATION THEORIES | - | ONLINE CRS |
| 11339 | CSE606 | IMPLMNTG VIDEO GM TCH IN CLSRM | - | ONLINE CRS |
Vitae
Education
Ph.D. in Technical Communication & Rhetoric, Texas Tech University, Lubbock, TX
M.A. in Literature & Teaching of Writing, Humboldt State University, Arcata, CA
B.A. in English, University of Oregon, Eugene, OR
Teaching focus
Graduate Writing
Instructional Design
Rhetoric
Accessibility
Usability
Teaching with Technology
Research areas
Research Interests:
Usability of Online Education
Video and Screencasting in Online Education
Usability Testing and User Experience
Accessibility
Complexity
Usability Testing Open Source Software
eLearning & Open Source Tools
Grant Writing
Research Methods Training in Technical Communication & Usability
Graduate Student Profess
Grants and funding
ASSETT Technology-in-Kind grant. Applied for and received ten Decks from Sol Republic. A Deck is a Blue Tooth enabled mobile speaker. The devices were requested to support creation of mobile audio kits and to get technology for teachers to test out in their classrooms. Value $2,000. October 2014.
Recipient with Dr. Mary Bucy, $500. Diversity Initiative Grant. We were awarded funds to bring to active women programmers who work in open source coding to speak about their work on campus. We had to return the award because we could not find two guest speakers within the short time frame. Spring 2014.
Applicant, AIC Grant, Requested $26,691.28. Awarded $1,624.00 to purchase a 13-inch MacBook Pro. Winter 2013.
Faculty Development Grant, $1,104. Category 1, Professional Travel to Conference— Official Capacity. Supports presentation at Digital Pedagogy Poster Session at the Conference on College Composition and Communication. Las Vegas. 13-16 March 2013.
Faculty Development Grant, $1,041. Category 1, Professional Travel to Conference—Official Capacity. Supports presentation at Symposium on Communicating Complex Information. Greenville, NC. 25-26 February 2013
Professional experience
Assistant Professor of Educational Technology, Western Oregon University, Monmouth, OR
Graduate courses taught
CSE 604: Portfolio
CSE 606: Web Based Web Site Design
CSE 617: Open Source Software
CSE 619: Big Thinkers
CSE 624: Internet for Educators
CSE 632: Cultural, Social, and Philosophical Issues in Educational Technology
CSE 667: Making Video Accessible
CSE 668: Creating Mobile Content
CSE 669: Screencasting: Basics & Best Practices
CSE 692: Learning Objects
ED 626: Instructional Design
ED 633: Research and Writing
LIB 686: Emerging Technologies
Undergraduate courses taught
ED 270: Technology for Teachers
Publications and Presentations
Zobel, G. Response to C. Duerringer's "Choosing a Committee" (2013). In R.Skinnell, J. Holiday, C. Vasset & T. Skeen [Eds.], What We Wish We'd Known: Negotiating Graduate School. Southlake, TX: Fountainhead Press.
Zobel, G.(2014) Editor-at-Large for Digital Humanities Now: http://digitalhumanitiesnow.org/. For a week at a time, I reviewed, voted, and helped determine which content was featured on the website. January 4-10, 2014; February 15-21, 2014; April 12-19, 2014.
Zobel, G.(2014)Editor. Data + Design: A simple introduction to preparing and visualizing information. One of 56 contributors who developed, authored, editing, and published this web-based, Creative Commons text in 2014. The publication was supported by Infoactive and the Donald W. Reynolds Journalism Institute. I was a volunteer editor. https://infoactive.co/data-design/titlepage01.html
Zobel, G. (2014). Seale's E-Learning and Disability in Higher Education: Accessibility Research and Practice. [Review of Seale's E-Learning and Disability in Higher Education: Accessibility Research and Practice. Routledge, Taylor & Francis Group: New York, 2014].Technical Communication, Vol 61(3).
Professional memberships
Association of Teacher Educators: 2013—now
Association of Teachers of Technical Writing: 2009—2013
Council for Programs in Technical and Scientific Communication: 2009—now
International Society for Technology in Education, 2012—now
User Experience Professionals Association: 2010—now
---
Did this faculty or staff member support your efforts to succeed? Give them a Student success shout-out.