Faculty/Staff Information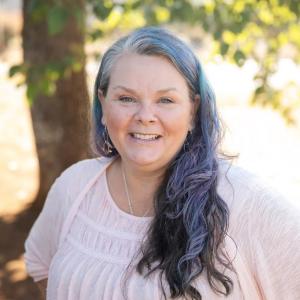 Shawn Sellers
(She, her, hers)
NTT Instructor, and Fabulous, Health & Exercise Science
503-838-8985 | sellerss@wou.edu
RWEC 237

Why I chose WOU
WOU because I can. Because our relationships with students are what sets us apart from the rest and is the backbone of our continued success!
At WOU since
09/29/2008
Hobbies
Crocheting with scrap yarn never or rarely purchased, driving my teen and tween around Salem, working on my house, choring, feminist book club, dancing in the halls with Loren Wisniewski, and wishing for a partner who will teach me how to stand-up paddle board.
Fun fact
What happens in Vegas does not actually always stay in Vegas. I learned so much there, and managed to retain that knowledge and brought it here with me.
Hometown
Salem
Favorite book/movie
Books: Eloquent Rage: A Black Feminist Discovers Her Superpower by Brittney Cooper, Ten Steps to Nanette by Hannah Gadsby, Inspector Gamache series by Louise Penny. Movies: I love comedies. Not so much slapstick, but smart comedy. I like movies, I like time to watch movies even more.
Office Hours
Mon
Tues
Weds
Thurs
Fri
10am-4pm
2-4pm
10am-4pm
2-4pm
By Appointment Only
Please email to schedule a virtual appointment.
Course schedule
Spring 2023
| CRN | Course | Title | Times | Location |
| --- | --- | --- | --- | --- |
| 30063 | HE351 | SCHOOL HEALTH PROGRAMS ELEM | - | ONLINE CRS |
| 30064 | HE366 | ALCOHOL, TOBACCO & OTHER DRUGS | - | ONLINE CRS |
| 30068 | HE420 | HEALTHY RELATIONSHIPS | MW 1200-1350 | RWEC 208 |
| 30065 | HE367 | HUMAN SEXUALITY | MW 1000-1150 | RWEC 208 |
What you will do and learn in my courses
I want folks to understand that higher education isn't just about a conveyor belt of information. Rather it should be an interuption to the conveyor belt of education, where we all stop to think, consider, and conduct ourselves with humility, curiosity, grace, and tenacity.
Education
2004-2006 Master of Education, Health Promotion
University of Nevada, Las Vegas
1998-2001 Bachelor of Science; Health Education, Community Services
Western Oregon University
1994-1996 Associate of Arts
Chemeketa Community College
Graduate courses taught
Undergraduate courses taught
Alcohol, Tobacco & Other Drugs
CPR & First Aid
Elementary and Middle School Health Programs
Healthy Relationships
Human Sexuality

Stress Management
Women's Health Issues
Professional memberships
· Certified Health Education Specialist (CHES), National Commission for Health Education Credentialing (NCHEC)
· Certified Prevention Specialist (CPS), Mental Health and Addiction Certification Board of Oregon
· Oregon Public Health Association: Addiction Prevention Section, Learning Committee
· Oregon Department of Education: Sex Ed Steering Committee
---
Did this faculty or staff member support your efforts to succeed? Give them a Student success shout-out.