Faculty/Staff Information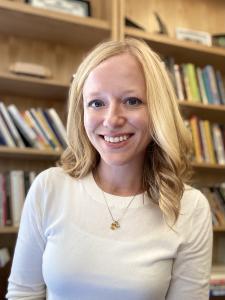 Dana Schowalter
(She, Her, Hers)
Associate Professor, Department Chair, Communication Studies
503-838-9240 | schowalterd@wou.edu
BELL 117

Why I chose WOU
I chose WOU because of the small class sizes. I enjoy knowing my students and doing everything I can to support them as full people in and out of the classroom.
At WOU since
09/16/2015
Hobbies
Talking about the feminist history of pockets, running, eating, gardening, being in to forest, and playing with my kiddo
Hometown
Green Bay, WI
Favorite book/movie
I've recently discovered the genre of feminist and queer romance novels!
Office Hours
Mon
Tues
Weds
Thurs
Fri
11-1
12-2
Additional appts: https://calendly.com/schowalterd/
Course schedule
Spring 2023
| CRN | Course | Title | Times | Location |
| --- | --- | --- | --- | --- |
| 31137 | COM410 | COMMUNICATION & EVENT PLANNING | - | HYBRD* CRS |
| 31071 | FYS207 | BORN THIS WAY? GENTCS & CULTR | MW 1000-1150 | BELL 336 |
| 31137 | COM410 | COMMUNICATION & EVENT PLANNING | R 1000-1150 | BELL 332 |
| 30788 | COM402 | RHETORIC, RACE, RESISTANCE | MW 1200-1350 | BELL 336 |
What you will do and learn in my courses
Each course I teach is unique, but in general, students tell me these things about my teaching style:
My face-to-face courses tend to be fairly hands on in the classroom. I tend to favor the learning we do together in the classroom over long outside assignments. All class sessions include questions and discussion, generally with the best friends you sit near in class.
My online courses tend to have two weekly assignments. One focuses on the weekly lesson and ensures comprehension of the main points. The second is often an application assignment where students apply or reflect on the things they learned.
My courses tend to center issues of social justice, especially around gender, sexual orientation and race.
In all of my courses, you'll hear about the feminist history of pockets. 🙂
Education
B.S. University of Wisconsin-Madison
M.A. University of South Florida
Ph.D. University of Minnesota
Teaching focus
Media Studies, Poltiical Communicaiton, Gender Communication, Social Change Movements, Racial Justice
Research areas
Feminist political economy of media, gender and global development, social justice and film
Awards and honors
2022 SafeZone Faculty Advocate of the Year
Advisor of the Year Nominee (2019, 2020, 2021)
CSCA Media Studies Interest Group Top Panel 2022
Undergraduate courses taught
COM 212: Advertising and Society
COM 236: Contemporary Issues in Media
COM 335: Gender and Communication
COM 342: Media Literacy
COM 402: Rhetoric, Race, and Resistance
COM 410: Communication and Event Planning
COM 415: Social Media Campaigns
COM 416: Communication and Politics
COM 430: Social Media and Culture
COM 435: Rhetoric of the Women's Movement
COM 436: Gender Theory and Activism
COM 442: Communication and Social Change
COM 444: Global Media
Current research
---
Did this faculty or staff member support your efforts to succeed? Give them a Student success shout-out.