Faculty/Staff Information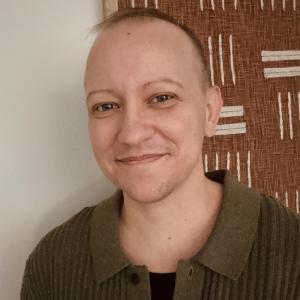 Kai Pfaff
NTT Instructor, Deaf Studies & Professional Studies
503-838-8322 | pfaffk@wou.edu
RWEC 150

At WOU since
09/16/2014
Course schedule
Spring 2023
| CRN | Course | Title | Times | Location |
| --- | --- | --- | --- | --- |
| 30531 | ASL203 | AMERICAN SIGN LANGUAGE VI | TR 0800-0950 | ONLINE CRS |
| 31105 | ASL325 | ASL LITERATURE | - | ONLINE CRS |
| 30535 | ASL303 | AMERICAN SIGN LANGUAGE IX | MW 0800-0950 | ONLINE CRS |
| 30529 | ASL103 | AMERICAN SIGN LANGUAGE III | MW 1000-1150 | ONLINE CRS |
Vitae
Education
M.A. in Deaf Education, Idaho State University, Pocatello, ID.
B.A. in Liberal Studies, Arizona State University, Tempe, AZ.
A.A. in General Studies, Community College of Spokane, Spokane, WA.
Professional experience
Kai Pfaff is currently a full-time ASL studies faculty member at Western Oregon University. He received his Bachelor's degree in Liberal Studies from ASU and Masters of Deaf Education degree from Idaho State University.
Over the years, Mr. Pfaff experienced various teaching positions in the Deaf Education field at different programs across the nation, including Washington School for the Deaf, Phoenix Day School for the Deaf, and Alabama School for the Deaf. He also taught ASL at Phoenix Community College and coordinated an ASL program for the local community in Arizona. In addition to working with Deaf and Hard of Hearing students, he worked as a research lab manager at Georgia Institute of Technology, collaborating with Gallaudet's Visual Language & Visual Learning (VL2) Organization.
On a personal note, he enjoys spending time with his family, hiking outdoors, learning new things, creating original artwork, and cooking up a storm in the kitchen.
Graduate courses taught
DHHE 643, DHHE 683, Portfolio, Supervised Field Work (student teaching)
Undergraduate courses taught
ASL 101, 102, 201, 202, 203, 301, 302, 303, 320
INT 460, INT 467
---
Did this faculty or staff member support your efforts to succeed? Give them a Student success shout-out.