Faculty/Staff Information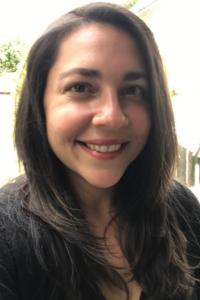 Jennifer Moreno
NTT Assistant Professor/Adjunct Instructor, Criminal Justice Sciences
503-838-9711 | morenoj@wou.edu
MA 204

At WOU since
01/04/2016
Hobbies
I love running, though I'm definitely a cross between a tortoise and a snail. Super spicy food is my absolute favorite. I'm a bit of a clean freak who can totally zen out with any organizing project. I'm a proud wife of a Salem police officer and a harried (but joyful) mom to two young boys.
Fun fact
I've had dinner with Supreme Court Justice Clarence Thomas.
Hometown
Sahuarita, Arizona
Favorite book/movie
My guilty pleasures are reading tween lit (Twilight Series, 5th Wave Series, Hunger Games Series, etc) and bingeing Marvel films.
Course schedule
Fall 2022
| CRN | Course | Title | Times | Location |
| --- | --- | --- | --- | --- |
| 10637 | FYS207 | SUPERHEROS OR SUPERCRIMINALS | M 0800-0950 | HWC 301 |
| 10594 | CJ213 | INTRODUCTION CRIMINAL JUSTICE | MW 1000-1150 | HWC 301 |
| 10593 | CJ213 | INTRODUCTION CRIMINAL JUSTICE | MW 1200-1350 | HWC 301 |
Areas of responsibility
NTT Assistant Professor/Criminal Sciences Division
Criminal Justice Advisor
Criminal Justice Planning Committee Chair
Criminal Justice Budget Committee
Campus Learning Partner: Criminal Justice Floor
What you will do and learn in my courses
As a professor, Jennifer strives to integrate her practical police experience into her teaching and to explore ongoing issues in the criminal justice system. Jennifer's teaching philosophy focuses on the application of criminal justice theory to the current happenings in the criminal justice system. Her classes incorporate "real life" trials, stories and social justice movements to demonstrate the relevance and importance of a diverse criminal justice academic foundation in developing an understanding of the American criminal justice system.
As an advisor, Jennifer serves as a professional resource for students pursuing a criminal justice career. She assists students in identifying and merging their personal and academic goals in pursuit of comprehensive WOU experience to carry with them into the criminal justice field.
Education
Juris Doctorate, Creighton University School of Law, Omaha, NE, 2004-2007

Legal foundation including criminal law, evidence, criminal and civil procedure, legal interviewing and writing, constitutional law, juvenile law
Mediation certification from the State of Nebraska Office of Dispute Resolution.

Bachelor of Science, with Honors, Justice Studies, Arizona State University, Tempe, AZ, 2001-2004
Teaching focus
American Court Systems
Policing
Criminal Law
Criminal Procedure
Research areas
Gender Issues In Policing

Reproductive Issues
Physical Disparities in Training & Patrol

Emotional Intelligence/Trauma Support for Law Enforcement
Online Pedagogy
Professional experience
Western Oregon University, Monmouth, OR

NTT Assistant Professor –Criminal Justice Sciences Division, July 2019- present
NTT Instructor –Criminal Justice Department, January 2016-July 2019

Pioneer Pacific College, Springfield, OR

Adjunct Instructor—Criminal Justice, August 2015-March 2016

Sahuarita Police Department, Sahuarita AZ

Police Officer –Sahuarita Police Department, October 2007-January 2017

Jennifer worked predominantly within the law enforcement field, which included ongoing advanced officer training, several specialty certifications and special assignment details including:

AZ POST General Instructor
IPMBA (International Police Mountain Bike Association)
NASRO (National Association of School Resource Officers)
BOMAC (Critical Incident training)
Certified HGN (Horizontal Gaze Nystagmus)
Advanced Field Sobriety
Off-Duty Coordinator
Special Events Coordinator
Administrative/Grants Officer
Training Coordinator
School Resource Officer
Public Information Officer
Graduate courses taught
Theory of Criminal Law (CJ618)
Undergraduate courses taught
American Courts (CJ252)
Criminal Law (CJ352)
Criminal Procedure (CJ452)
Parole and Probation (CJ454)
Police and Community (CJ331)
Ethics and Leadership in Criminal Justice (CJ219)
History and Development of American Law Enforcement (CJ212)
Publications and Presentations
Moreno, J. (2019, February) Policing Maternity: An appraisal of the legal and logistical complexities regarding pregnancy in the line of duty at the Western Society of Criminology Conference, Honolulu, Hawaii.
Moreno, J. (2018, February) Media Management: Using Media and Visual Aids to Promote "Real-World" Criminal Justice Connections at the Western Society of Criminology Conference, Long Beach, California.
Professional memberships
Western Society of Criminology, member
Oregon Association of Criminal Justice Educators, member
Oregon Women in Higher Education, member
---
Did this faculty or staff member support your efforts to succeed? Give them a Student success shout-out.