Faculty/Staff Information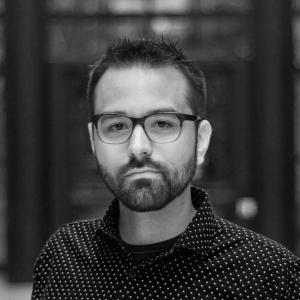 Kellen King
NTT Assistant Professor, Percussion, Music
503-838-9448 | kingk@wou.edu
SH 105

At WOU since
09/16/2019
Office Hours
| Mon | Tues | Weds | Thurs | Fri |
| --- | --- | --- | --- | --- |
| 2:00-3:00pm | | 2:00-3:00pm | | |
Course schedule
Winter 2021
| CRN | Course | Title | Times | Location |
| --- | --- | --- | --- | --- |
| 20466 | MUEN141 | PERCUSSION ENSEMBLE | TR 1530-1650 | SH 123 |
| 20494 | MUEN541 | PERCUSSION ENSEMBLE | TR 1530-1650 | SH 123 |
| 20581 | MUP425 | INSTRUMENTAL | - | --- --- |
| 20583 | MUP125 | INSTRUMENTAL | - | --- --- |
| 20582 | MUP625 | INSTRUMENTAL | - | --- --- |
| 20447 | MUS101 | POP MUSIC IN AMERICA | - | ONLINE CRS |
| 20584 | MUP225 | INSTRUMENTAL | - | --- --- |
| 20576 | MUP325 | INSTRUMENTAL | - | --- --- |
| 20634 | MUP300 | NON-JURIED | - | --- --- |
| 20481 | MUEN341 | PERCUSSION ENSEMBLE | TR 1530-1650 | SH 123 |
Areas of responsibility
Dr. Kellen King is currently Assistant Professor of Music and Director of Percussion Studies at Western Oregon University. He directs the WOU Percussion Ensemble, oversees large ensemble percussion sections, teaches applied lessons, and lectures a variety of music courses. He has performed at PASIC, TMEA, MMC, and has been featured as a guest artist at a number of institutions. Kellen is an avid educator, researcher, and well-versed performer in classical and contemporary percussion, having spent most of career focusing on solo, chamber, and electroacoustic music. As an educator, Kellen has previously instructed at The University of Texas at Austin, Ithaca College, and Cornell University.
Kellen is currently the Front Ensemble Arranger for Genesis Percussion Independent World ensemble. Additionally, he has served as the front ensemble coordinator at Leander High School (6th place Bands of America Grand National Finals, 2016) from 2015-2019. Kellen has taught and arranged music at an array of music organizations across the United States; teaching elite competitive marching band, applied lessons, steel pan ensembles, jazz ensembles, masterclasses, and chamber music.
Kellen is an artist and clinician for Innovative Percussion, Black Swamp Percussion, and Zildjian.
Education
The University of Texas at Austin—D.M.A. Percussion Performance
Ithaca College—M.M. Percussion Performance
Western Michigan University—B.M. Music Education, B.M. Music Performance
---
Did this faculty or staff member support your efforts to succeed? Give them a Student success shout-out.