Faculty/Staff Information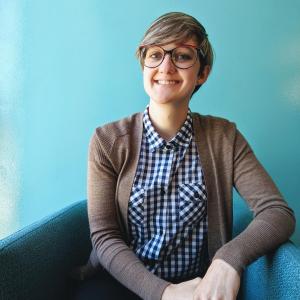 Kathleen Kenyon
(She,they/her,their/hers,theirs)
Mx., Deaf Studies & Professional Studies
503-838-9415 | kenyonk@wou.edu
RWEC 158

Why I chose WOU
WOU is a close-knit environment with a dedicated group of people working hard towards positive change for their students and for Oregon. All I want in a workplace is the freedom to work hard for what I believe is good and right. WOU is that place and so much more. I am encouraged and welcomed to contribute positively, passionately, and openly to my field and the academic community at large. Proud to be a Wolf!
At WOU since
01/07/2019
Hobbies
Sewing, biking, learning new things (any things!), knitting, getting out with my family and doggos.
Fun fact
I am "recognized" every where I go by people I have never met. I must have "one of those faces," or so people tell me! To date, I have seen or met THREE other humans in the world who look eerily like me.
Hometown
Syracuse, NY
Favorite book/movie
Movie: V for Vendetta
Office Hours
Mon
Tues
Weds
Thurs
Fri
10am-12pm
12pm-3pm
Also by appointment
Course schedule
Summer 2020
| CRN | Course | Title | Times | Location |
| --- | --- | --- | --- | --- |
| 1386 | DHHE651 | LAW & ETHICS IN DEAF EDUCATION | - | ONLINE CRS |
Areas of responsibility
Deaf and Hard of Hearing Education program
Full-time Instructional Faculty
Assessment Coordinator
Clinical Placement Coordinator
Clinical Supervisor
Education
National Technical Institute for the Deaf at Rochester Institute of Technology
MS in Secondary Education for Students who are Deaf and Hard of Hearing
State University of New York at Oswego
BS in Secondary Education, content: English Language Arts
BA English Literature
Teaching focus
Deaf Education: pedagogy, methods, and clinical practice
Graduate courses taught
ED 611 Theories of Teaching and Learning
SPED 646 Special Education Law
DHHE 629 Advocacy in Deaf Education
DHHE 630 Introduction to Research in Deaf Education
DHHE 643 Instructional Methods and Strategies in Deaf Education
DHHE 644 Curriculum Development and Methods in Deaf Edcuation
DHHE 645 Language and Literacy Development in Deaf Education
DHHE 646 Assessment Principles and Practices in Deaf Education
DHHE 647 Classroom and Behavior Management in Deaf Education
DHHE 651 Law and Ethics in Deaf Education
DHHE 654 Case Management for Itinerant Teachers of the Deaf
DHHE 655 Technology in Deaf Education
DHHE 656 Educational Environments for Itinerant Teachers of the Deaf
DHHE 639/640 Student Teaching I and II
Professional memberships
National Council of Teachers of English (NCTE)
---
Did this faculty or staff member support your efforts to succeed? Give them a Student success shout-out.