Faculty/Staff Information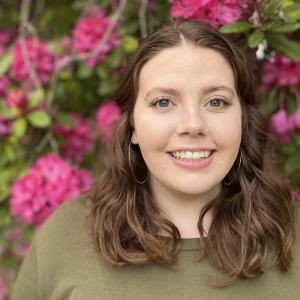 Olivia Flores
(she/her/hers)
Pre-Education Advisor & Graduate Programs Advisor, Education & Leadership
503-838-8675 | floreso@wou.edu
RWEC 164

Why I chose WOU
I attended WOU for my undergraduate degree and loved my experienced. So when I had the opportunity to work here I took that chance. I love that at Western you can really get to know the students that you work with.
At WOU since
01/02/2019
Hobbies
Reading, tennis, camping, travel, gardening, coffee drinking
Fun fact
I was once in the Macy's Thanksgiving Day Parade!
Hometown
Grants Pass, OR
Areas of responsibility
Pre-Education Advisor
I get the pleasure of advising students who are Pre-Education majors, primarily those who are Freshman and Sophomores. I work with these students to help them be empowered to take control of their learning and take advantage of all the things that WOU has to offer. I meet with the students once a term to help them plan out their classes and answer any questions they may have. Along with this, I guide these students through the process of applying to our Professional Teaching Licensure Program.
Graduate Programs Advisor
Another role that I have at WOU is that I also have the privilege of working as an education graduate advisor. What that means is that I help inquiring graduate students learn about the various graduate programs that WOU has to offer in the field of education. I work with students to help them choose which program is best for them, along with guiding them through the application process.
Need to schedule an appointment? Please do so by following this link- www.calendly.com/wouflores
Education
Western Oregon University
Bachelor of Science in Early Childhood / Elementary Education with Honors
Concordia University
Masters of Education in Curriculum and Instruction with a focus in Methods and Practices
Awards and honors
WOU Staff Advisor of the Year (2021)
Western Oregon University Honors Program Graduate (2018)
Peer Mentor of the Year (2016)
Professional memberships
National Society of Leadership and Success
National Education Association
Oregon Education Association
---
Did this faculty or staff member support your efforts to succeed? Give them a Student success shout-out.