Faculty/Staff Information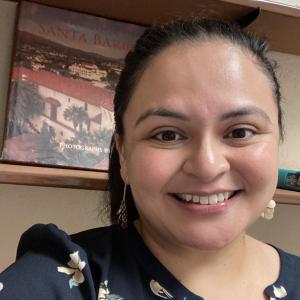 Kathy Espino Perez
Assistant Professor, Psychological Sciences Department
503-838-9424 | espinoperezk@wou.edu
TODD 332

At WOU since
07/01/2019
Office Hours
Mon
Tues
Weds
Thurs
Fri
2:00 - 4:00 PM
12:30 - 1:30 PM
2:00 - 4:00 PM
Also available by appointment.
Course schedule
Winter 2020
| CRN | Course | Title | Times | Location |
| --- | --- | --- | --- | --- |
| 21659 | PSY301 | INTRODUCTION RESEARCH METHODS | MW 1000-1150 | BELL 108 |
| 21452 | PSY334 | SOCIAL PSYCHOLOGY | TR 1200-1350 | BELL 336 |
| 21451 | PSY334 | SOCIAL PSYCHOLOGY | MW 1400-1550 | BELL 331 |
Education
University of California, Santa Barbara
Ph.D. in Social Psychology
Advisor: Brenda Major
Dissertation: "The Impact of Intergroup Suspicion on Ethnic Minorities' Sense of Identity Compatibility and Belonging at University"
California State University, Northridge
M.A. in General Experimental Psychology with an emphasis in Social Psychology
Advisor: Debbie S. Ma
Master's Thesis: "The Role of Prototypic Physical Features in Racial Identification"
California State University, Northridge
B.A. in Psychology with a minor in Chicano Studies
Cum Laude
Undergraduate courses taught
Introductory Psychology
Social Psychology
Introduction to Research Methods
Current research
Our nation is becoming increasingly diverse. Recent projections estimate that racial/ethnic minorities will compose the majority of the U.S. population by 2050 (Colby & Ortman, 2015). The bulk of my work examines how the increasing level of diversity in the United States may influence cross-race interactions, the racial categorization of racially ambiguous group members, and the social perception of individuals who possess multiple social identities. I am seeking research assistants for my lab in Fall 2019; please email me at espinoperezk@wou.edu for more information!
Publications and Presentations
Espino-Pérez, K. Major, B., & Malta, B. (2018). Was it race or merit?: The cognitive costs of observing the attributionally ambiguous hiring of a minority. Cultural Diversity and Ethnic Minority Psychology. (link)
Chen, J.M., Geerling, D.M., Norman, J.B., Espino-Pérez, K., & Gable, S.L. (under review). In good times and bad: Social support from faculty and peers predicts STEM Doctoral students' outcomes.
Prather, A.A., Gordon, A.M., Dover, T., Espino-Pérez, K., Small, P. & Major, B. (under review). Impact of perceived and anticipated discrimination on global sleep quality among Latinx young adults.
Kiang, L., Espino-Pérez, K., & Stein, G. (under review). Discrimination, skin color satisfaction, and adjustment among Latinx American youth.
Kunstman, J.W., Fitzpatrick, C.B., Moreno, R., Bernstein, M.J., Hugenberg, K., Semko, S., Major, B., & Espino-Pérez, K. (under review). Suspicion in the classroom: Suspicion of instructor motives undermine classroom dynamics for Black college students.
---
Did this faculty or staff member support your efforts to succeed? Give them a Student success shout-out.