Faculty/Staff Information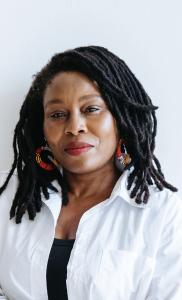 Vivian Aseye Djokotoe
Professor, Division Chair, Criminal Justice Sciences
503-838-8358 | djokotoev@wou.edu
MA 228

At WOU since
09/27/1996
Office Hours
Mon
Tues
Weds
Thurs
Fri
Admin hours
1:00PM - 2:00PM
Admin hours
1:00PM - 2:00PM
Admin hours
I have virtual office hours via email all week. No weekends.
Course schedule
Spring 2023
| CRN | Course | Title | Times | Location |
| --- | --- | --- | --- | --- |
| 30823 | CJ407 | SENIOR CAPSTONE SEMINAR | - | ONLINE CRS |
Areas of responsibility
DIVISION CHAIR OFFICE HOURS: MONDAY - FRIDAY 10:00 AM - 3:00PM
OPEN HOURS FOR CJ FACULTY: WEDNESDAY 10:00AM - 12:00PM
STUDENT OFFICE HOURS: TUESDAYS and THURSDAYS 1:00PM - 2:30PM
Teaching focus
Statistics, Research Methods,Juvenile Justice, Restorative Justice, and Community Crime Prevention
Research areas
Researches risks and protective factors for family and youth violence prevention, and restorative justice in criminal justice, specifically on cross-cultural research on indigenous groups in Ghana, Native Americans and Aboriginals in Canada.
Grants and funding
Grant from the Canadian Government to conduct restorative justice research in Canada.
Professional experience
Worked with street children through a UNICEF program in my native country Ghana prior to moving to the United States, and spent seven years working at Trillium Family Services, a residential facility for at-risk youth prior to working here at WOU.
Awards and honors
Winner of Western Oregon University Pastega Award for Excellence in Teaching 2017
Current research
Comparative Restorative Justice Practices
Crime, Justice, and Corrections in Legally Pluralistic Cultures
Publications and Presentations
Publications:
Publications on issues isurrounding women and children's lives, and foreign aid in Africa. Some publications appear under previous last name "Amantana"
Author of the Book:
Amantana, Vivian, (2012) A Sociological Study of Street Children in Ghana: Victims of Kinship Breakdown and Rural Urban Migration. Edwin Mellen Press, NY
For more information regarding Dr. Djokotoe's book, please visit: http://mellenpress.com/mellenpress.cfm?bookid=8429&pc=9
---
Did this faculty or staff member support your efforts to succeed? Give them a Student success shout-out.