Faculty/Staff Information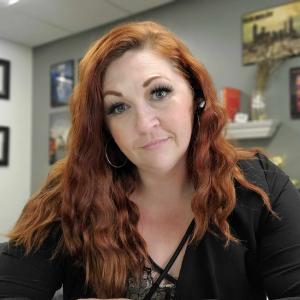 Amanda Bales
(she, her, hers)
Mailroom Specialist, Facilities Services
503-838-9473 | balesa@wou.edu
WELCOME CENTER

Why I chose WOU
It's a family tradition (2nd generation graduate!)
At WOU since
05/15/2000
Hobbies
Bringing down the patriarchy through passive aggressive memes and sarcasm. Also graphic design (kinda) and apparently I really like fishing tackle.
Fun fact
I know where everyone gets their mail and which department they belong to.
Hometown
Independence
Favorite book/movie
Shaun of the Dead (2004) Ready Player One" by Ernest Cline Magic 2.0 series by Scott Meyer
Areas of responsibility
Stacking boxes, sorting mail, dream analysis, low key clairvoyant, literally reading between the lines, telling people where ITC rooms 001-009 are, inserting "The Office" quotes into as many spaces as possible (#twss), constantly preparing for the zombie apocalypse, explaining that "FedExing" something is not "overnighting" it, knowing where everyone who works at WOU is located (or at least where they get their mail).
Education
BS in Psychology, MS in Counseling Psychology... and I work in Mail Services. So... there ya go kids... follow your dreams.
Professional experience
"I have no idea what I'm doing, but I know I"m doing it really, really well." -Andy Dwyer P&R

Also, I'm really good at playing Sims.
Awards and honors
Stampies Awards 2014, 2015, 2016, 2017, 2018, 2019
Campus OTM Winner 2019
---
Did this faculty or staff member support your efforts to succeed? Give them a Student success shout-out.