About CECLC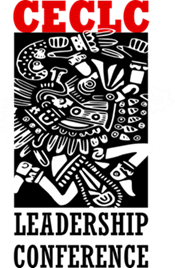 Welcome to the César E. Chávez Leadership Conference (CECLC). 
CECLC began in 1990 as a gathering of Hispanic high school students from Portland Public Schools. The first event took place in early February at Montgomery Park. The day before the conference, a snow storm hit the Portland  metropolitan area which resulted in the closing of the schools and the cancellation of bus transportation. By midmorning, on the day of the event, a determined group of PPS students found their way to the conference site. They were not to be deterred.
Through the efforts of Sonny Montes and Jose Romero  and a partnership with Hispanics in Unity for Oregon  (HIUFO), the conference was established. 
Since 1990 the César E. Chávez Leadership Conference has been a volunteer driven event that has been organized by what is now a nonprofit group called CECLC Inc. CECLC Inc. is governed by an executive board and planning committee. The committee members include volunteer representatives from school districts, community organizations, local businesses, colleges and universities. They are responsible for organizing, planning and implementing the conference each year.
In 2007, the César E. Chávez Leadership Conference moved from the Portland area to being hosted on the Western Oregon University campus. That same year the ECMC Foundation, whose mission is to inspire and to facilitate improvements that affect educational outcomes —especially among underserved populations, became a key sponsor. In 2017, CECLC, Inc. decided to strengthen their partnership with Western Oregon University and make WOU their permanent conference site. Western Oregon University has not only hosted this event for several years, but they have dedicated staff time, campus resources and student volunteers to help ensure that CECLC Inc. and the César E. Chávez Leadership Conference is able to continue their mission; to instill in our Latino/a youth, the value of education; which nurtures mind, body and spirit in order to develop a social consciousness that empowers them as leaders for social justice and civic responsibility in the greater community. 
You can contact the Board of Directors to provide comments, to report concerns, or to ask a question, at the following email address: ceclc@wou.edu.