Joey Gibson comes to Western's campus, creates controversy over safety
College Republicans Club event sparks debate at Western
This piece was co-reported on by News Editor Bailey Thompson and Editor-in-Chief Caity Healy.
.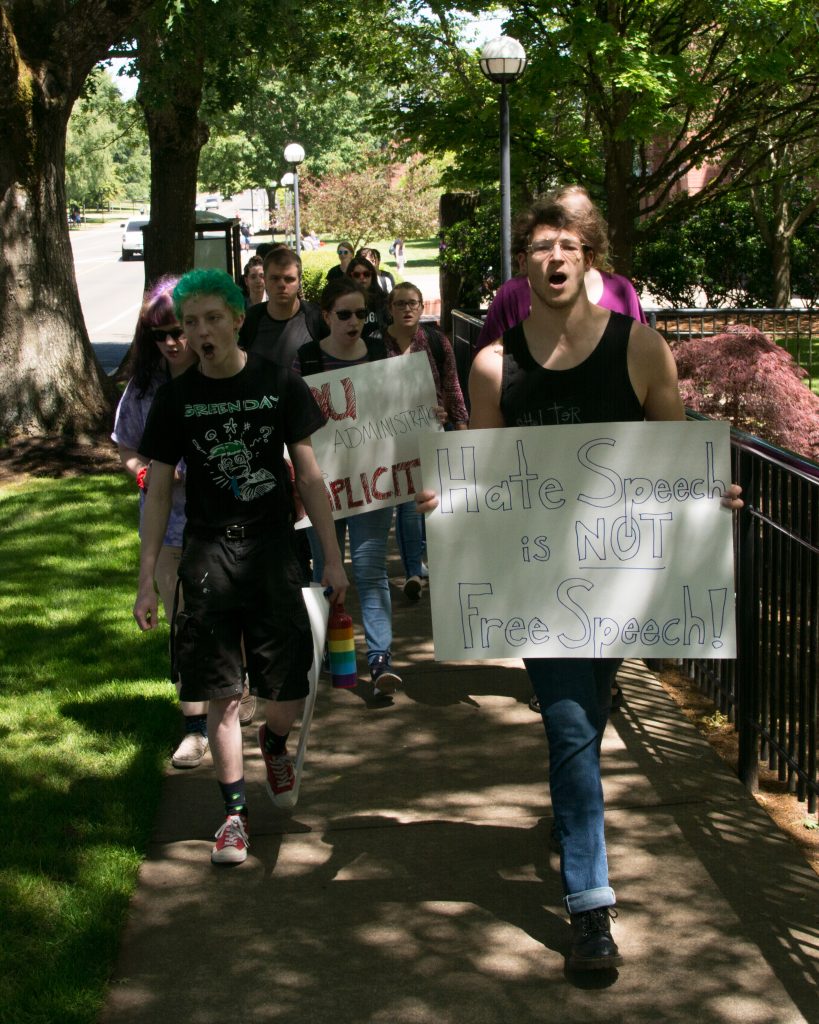 Bailey Thompson | News Editor
On Tuesday, June 4, the College Republicans hosted conservative activist Joey Gibson in the Willamette Room of the Werner University Center. Although this speech was eventful enough on its own, heated discussion and action surrounding the event happened well before it even took place.
For many students, the first time they were made aware of this event was through the sharing of a tweet and email template posted by Mykenzie Gabriel, a junior education major. The email template that Gabriel shared encouraged Western students to make their voices heard if they disagreed with the fact that Gibson was being brought to Western's campus. When asked what inspired this action, Gabriel had a clear response.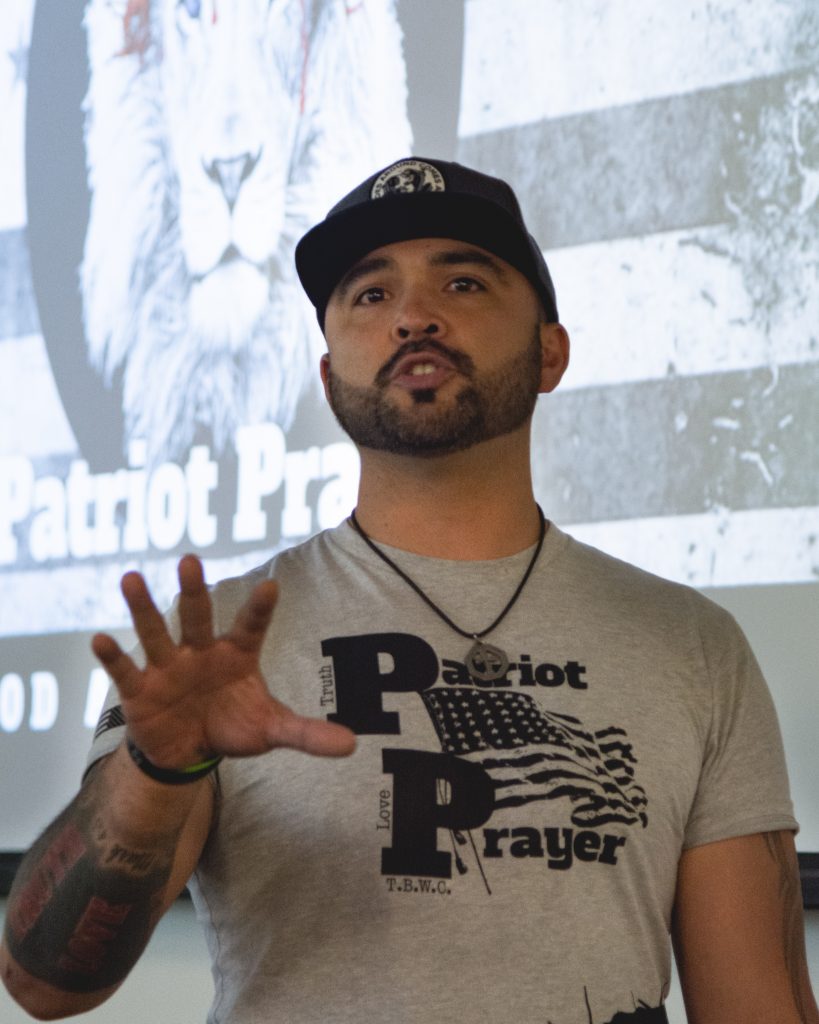 "When something's going on that has potential to hurt a chunk of the population, if you know about it then you have a responsibility to speak out against it and show the people who could potentially be impacted that they're not alone in this," said Gabriel.
With this post, along with others that were similar, being shared rapidly by Western students and other members of the community, a campus-wide controversy arose — should Gibson be allowed to speak, or should Western's administration disinvite him due to fear of violence breaking out on campus?
When asked about the motivation to bring Gibson to campus, Dakota Perkins, the president of the College Republicans Club and a sophomore international business major, shared her take on the events leading up to Gibson being invited to speak.
"We had the exec members … do their own separate research and come up with their own conclusion. And a lot of social media does have those neo-Nazi and white supremacist tag on his name, but if you really look at it, those people are actually protesting his events," said Perkins. "Some of (the sources) do say that they are a part of him, but that just depends on what media outlet you look at, honestly. But everyone did their own research, and we all agreed yes."
Perkins also shared a bit about the topic Gibson was scheduled to speak about.
"He is speaking on the issue of first amendment, which you know is free speech, and how hard it is. And the pushback we're receiving from ASWOU and the students just further proves our point," said Perkins. "I know that they're saying he's a bigot or that he's made racist comments, but there isn't any proof that he actually has in any audio or any writing."
In response to the concern that some people had for safety, Perkins stated that Campus Public Safety would be present and that the Monmouth Police Department was aware of the event happening on campus, just in case.
"I know that is a concern. I've seen that … If they're so concerned about their safety that they don't want to go or don't feel safe to go, then don't go. There are other events," said Perkins. "The way I see it is, would you go down a dark, sketchy alley if you knew something bad was going to happen? Probably not. So, don't go down the alley. And, if you think something bad is going to happen at the event, then don't go to the event."
When Perkins was subsequently asked if she expected anything bad to happen, she responded, "Possibly. Who knows? The way I see it is don't cause an issue until there is one. So, going into the event worrying about not-so-peaceful protests or an issue like that is unnecessary because we have it figured out."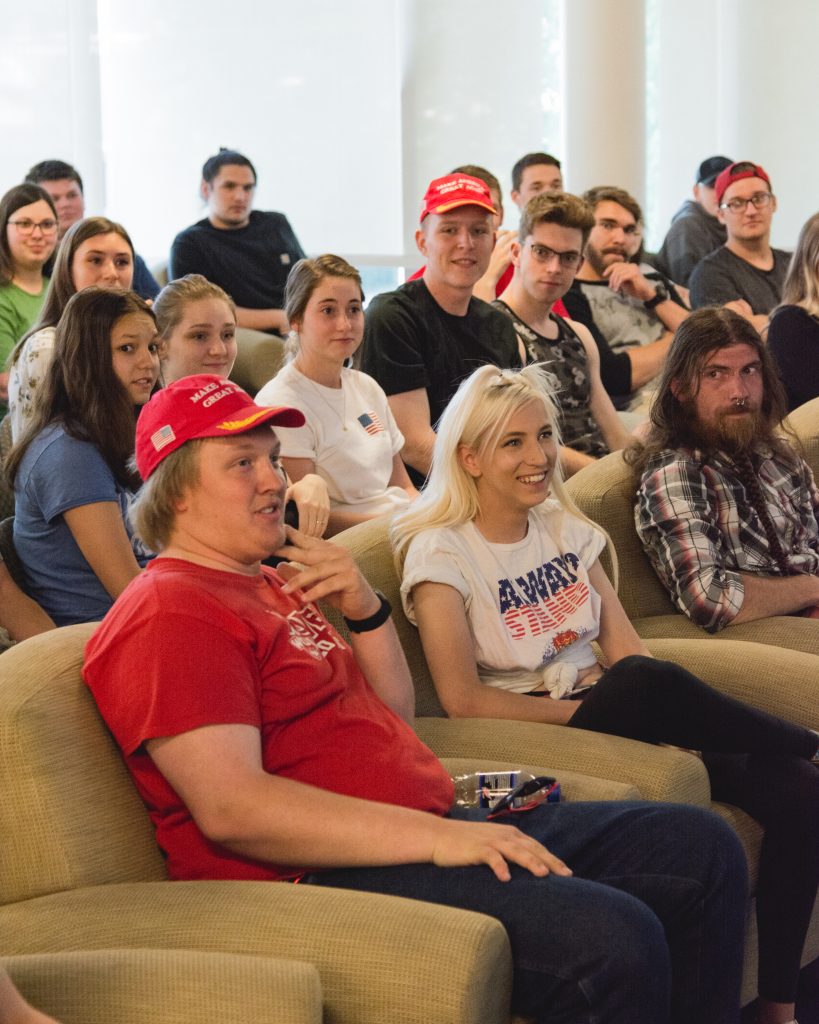 Another individual that affirmed Gibson's right to be on Western's campus was President Rex Fuller, who released an initial statement to all Western students on May 30 which discussed the need to allow Gibson on campus because of laws regarding free speech. On June 3, President Fuller expanded upon his initial statement by addressing the process that the College Republicans had to go through to approve the event and the safety precautions that were being taken in light of student concerns.
"The campus is running its normal protocol for protection every day. And I think the student body has reached out and asked students to consider attending alternative events," said President Fuller. "As my letter makes clear … College Republicans invited the speaker, and any student club has the ability to host events so long as the university can assess the overall caliber of those events with regards to use of space and facilities."
President Fuller also wanted to clarify that the students who had reached out were being heard.
"Many people from campus met and talked regularly about today's event. We do not take your concerns lightly and are doing our best to manage the situation for all," said Fuller. "Please note, legally we must reserve space for clubs that request it. Providing a space for free speech does not imply endorsement of that speech."
Many students were not content with Fuller's words, however. One such student was Nathan Soltz, the ASWOU Senate President. After describing how other members of ASWOU had met with President Fuller without changing his mind about the event, Soltz stated his disappointment in President Fuller at not being willing to take certain safety precautions.
"(President Fuller) outright refused to record the event to hold both Joey Gibson and attendees accountable for anything that might happen. Because the Administration refused to do anything to keep our students safe, or even deplore bigotry and violent actions, the branch heads decided that we needed to send out the statement encouraging people to stay away from the WUC," said Soltz.
ASWOU sent two all-student emails to the community — on May 31 and June 3 — both of which denounced the presence of Joey Gibson at Western.
"This speaker preaches abhorrent views and fosters an unproductive approach to political discourse centered on the violent suppression of marginalized communities and competing voices," read their letter sent out in the May 31 ASWOU email.
In response to this, Gibson recorded himself leaving a message for Soltz on his ASWOU answering machine, which he then posted on YouTube.
"I think you need to consider the consequences of lying about a public figure," said Gibson over the phone in the May 31 YouTube video. "You have to understand that, not only is it morally wrong, legally it's putting yourself in a bad position … You're one of those white people running around and calling minorities racist, aren't you?" In reality, however, Soltz is Hispanic, Asian-American and Jewish.
Soltz, in return, shared what it was like to have received this call.
"I certainly wasn't expecting to get a call from Joey Gibson, but in hindsight, it shouldn't have surprised me since he has a history of publicity stunts like this and publicly threatening people who call him out on his actions," said Soltz. "While Joey Gibson is an awful person, I'm not scared of him."
Soltz added to this by saying that the thing which was most upsetting to him was the seemingly apathetic response of the administration to the safety of the students.
"It was just more superficial platitudes designed to evade the issue while making it seem like the Administration actually cared … The Administration and the student government should be able to work together on things, most basic among these is keeping students safe and yet, time and time again, the Administration refuses to even do this, so ASWOU is put in a position of having to pick up the slack," said Soltz. "While I am extremely glad that there were no physical altercations, the fact that this wasn't just a possibility, but a likelihood and the Administration still did nothing is absolutely reprehensible."
Soltz shared that, even though the event was allowed to be held in this instance, he has hopes of change being made in the future to ensure student safety.
"While ASWOU has no interest in censoring people with potentially radical views one way or another and will take strong stances on competing with people who preach views we disagree with, the new ASWOU Government will look into amending our Statutes for Chartered Organizations to ensure that clubs do not use student fees and resources to host guests who pose a threat to our students," said Soltz.
Leading up to the event, students had a number of different ways that they dealt with their stress and frustration: some went to different events on campus, and others protested.
"We're hosting a Stress Relief Night. There's going to be coloring, board games, we'll have a movie playing, music, things like that … It's now going to be a joint event with the Writing Center because they have a very large space," said Susannah Doepkin, Stonewall Center Coordinator and one of the Stress Relief Night's organizers. "We're really trying to emphasize positivity and a sense of community."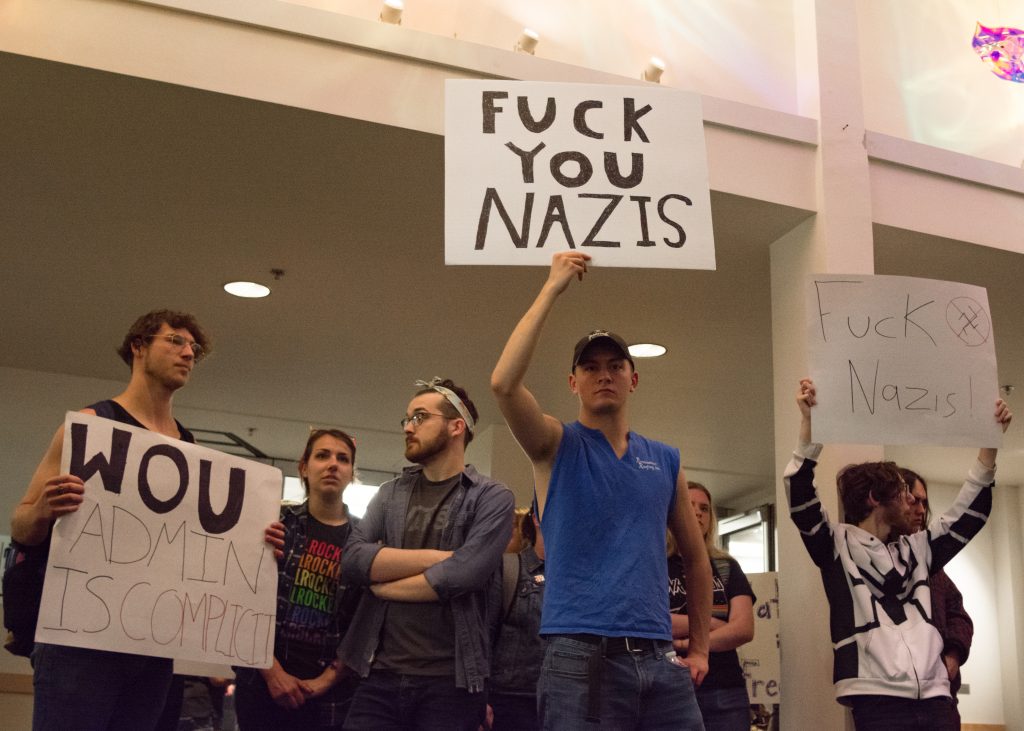 Another thing that a number of students did on the day of the event was protest outside of the Administration Building and, later, the Willamette Room. Tyler Martin, a sophomore theatre major, shared what inspired him to organize this protest.
"The College Republicans are bringing the leader of a hate group, they're paying him to come speak at a club-sponsored event on campus, and … someone approved that," said Martin. "And that is completely unacceptable. It's totally unacceptable to have a violent activist from any political perspective come and speak in the middle of a college campus because that is an automatic safety concern for students."
Martin also shared the goals that the protesters had.
"Our three goals are to let admin and the College Republicans know that this is not acceptable — this is not an acceptable use of our tuition money. We want to let the College Republicans know that they are on thin ice, and we want to let the students know that the College Republicans are associating themselves with a known hate group," said Martin.
When it came time for Gibson himself to speak, he opened his talk by asking questions of the audience — a packed room with some people there to support, some to protest and others just to watch. Meanwhile, there were also people directly outside the room, protesting or waiting for there to be enough room to come in.
"Is there anybody in this room that's racist? Don't be shy. Promise?" said Gibson. When nobody raised their hands, Gibson's question changed to "Is there anybody in this room that's been called racist before?" This time, a number of hands went up from the crowd.
"My entire life, I've never had a racist bone in my body … I've actually been a victim of racism three different times," said Gibson. He then described a situation where someone beat him up because they mistook him for being black and he did not correct them.
With this established as a reason why he did not believe himself to be racist, Gibson launched into one of his major points: the government is corrupt and cannot be trusted.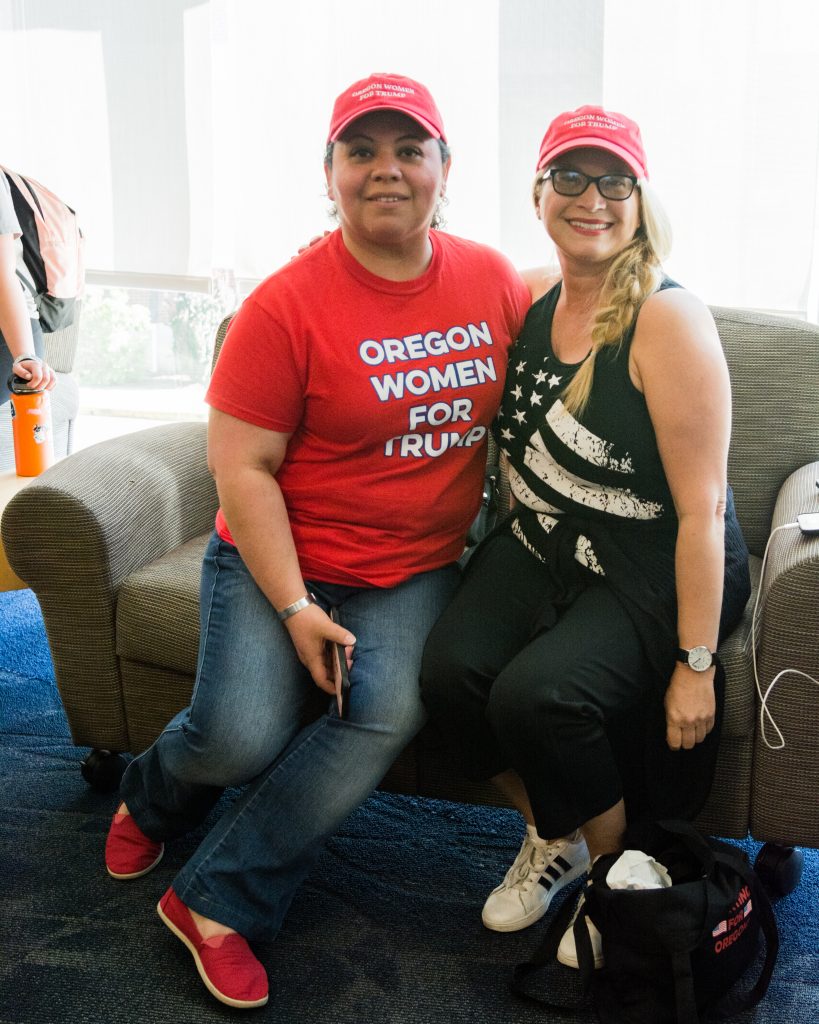 "Yes, racism is bad. But it's being used as a tool to silence you. How many people told you not to come here today and to listen to what I had to say because I'm racist? It should be all of you because they sent an email out to every single one of you," said Gibson.
Gibson also described the corruption he perceives in the United States government.
"Most of the establishment, 99.9% of them, are corrupt in D.C. They don't care about you guys," said Gibson. "They act like they fight on camera, but behind the scenes they go have beers and they laugh about how they're screwing over the American people."
Addressing the connections that a number of people make between him and neo-Nazis, Gibson stated that his "freedom first" ideology is what disproves this notion.
"Everything isn't racist, I promise," said Gibson. "I'm so much not a Nazi, and I'm so much not a fascist. I'll tell you why: because I believe in freedom. Did Hitler stand up for free speech ever?"
In reference to an audience question about the type of following that Gibson has, he conceded one point while taking a stand on another.
"What we do have, it's not a racist following. There's people who want blood, and they started coming to the rallies specifically because they wanted blood, and that is true. That is very true… I don't have a bunch of white supremacists because look at what I preach. Look at the color of my skin. The truth is they say that Proud Boys are white supremacists, but half of them are people of color," said Gibson.
When another audience member asked him his opinion about college students, he declared that many of the issues he saw with the younger generation were the result of too many liberal professors.
"College students are becoming soft, they're becoming weak, they're becoming afraid of hearing different opinions — they only hear one side of it — so yeah, I think it's becoming hard for students to think freely," said Gibson.
Gibson also addressed a variety of other topics, ranging from his opinion on President Trump to gun control and religion. He concluded his talk with a half an hour of question and answer time with the audience.
To view the initial statement that President Rex Fuller released, as well as the statements that ASWOU released, visit this link.
Contact the author at howlnews@wou.edu
Photos by Paul F. Davis