Home » Visiting International Scholars
Menu
Staff
Writing Center Visiting International Scholars Program
The Writing Center Visiting International Scholars Program provides visiting international scholars with the opportunities to observe and participate in writing classes, seminars, workshops, tutorials, and other writing-related activities. Through this program, the visiting scholars gain a comprehensive understanding of writing-centered pedagogy in American colleges.
Visiting International Scholars Archives
Zhan Ding, 2017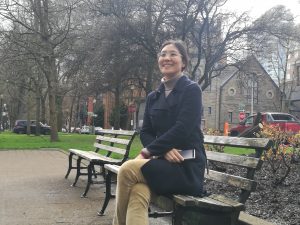 I come from Xuzhou, Jiangsu Province, and I teach in a high school. I really appreciate such a great chance to study in WOU for one year as a visiting scholar. The campus of WOU is quiet and beautiful. Large and flourishing trees, fresh and clean air, well-designed brick buildings, blooming flowers and manicured lawns along the roadside, … Occasionally, lovely squirrels frolic under the tree; friendly people always wear smile on their faces and warmly greet each other. Achieving mutual understanding and love, men and nature have been in real harmony, all of which left me a deep impression.
It is the luckiest thing for me to study in Dr. Schmidt's classes. Observant and flexible, she is one of the Americans who act mostly like Chinese people I have ever seen. She is a beautiful, confident, efficient and considerate lady. She is always able to anticipate where is going and what others need, and then gives her hands. I love her big blue eyes full of wisdom and her fast speech. Few cannot be touched by her sincere smile, I think. Under her guidance and encouragement, I came to love writing in English. Every Friday's "flash fiction" also became one of my favorite activities. Another professor I admire and appreciate is Dr. Paraskevas. She is an elegant and scholarly professor. I learnt a lot from her English linguistic classes. I know how to analyze linguistic features of texts in various registers and genres, how to explain the choice of linguistic features in writings, and how to define grammatical structures, which is very helpful to my future pedagogy. Xinjie Luo is a very kind person I need to thank as well, whether in sharing flash fictions or in life. He gave me lots of assistance.
There are various school activities in WOU to meet our entertainment needs. Both diversified art exhibitions in Hamersly Library and a variety of concerts in Smith Recital Hall increase our artistic accomplishment. Chinese New Year Gala and annual International Night offer us multicultural feasts. It is hard to not fall in love here.
______________________________________________________________________________________________
Haifeng An (Andy), 2017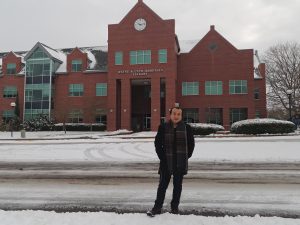 My name is Haifeng An, a teacher of printing making from Guangxi Art University, China. My main purpose to visit WOU this time is to improve my professional skills in printing making. However, I felt fortunate to gain a chance to listen to Katherine's writing classes. The whole year of study is full of gains and delightfulness, which I believe to be my foreseen fortunes。
In account to Katherine's encouragement and enthusiasm, I found my own path to writing. As a motivation, I wrote my first long English composition and later shown in my art show. It's an honor for me to have the composition published by the WOU newspaper as the cover article, because I think it makes my art works easier to understand. During the 2017 spring term, I am thankful to participate in flash fiction activity by Katherine's invitation. Since I had a wretched English base, I thought the activity would be a huge challenge. However, under Katherine and Xinjie's assistance, I made it to the end. I never anticipate myself to write so many short English fictions and this activity not only improved my knowledge in writing, but also cultivated my proper study behaviors.   
To summarize, Katherine's class is an unexpected delightfulness to my visit here at WOU, and I believe it would be my lifetime wealth. All regards to Katherine and Xinjie.    
_______________________________________________________________________________________________
Qunxia Cen (Sophia), 2017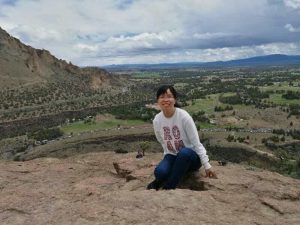 I come from Zhejiang University of Finance and Economics in Hangzhou, China. I have been teaching English courses like translation, English listening and speaking, the contrastive study of English and Chinese for 22 years, and my research interest is English translation of Modern Chinese female writers. Studying in WOU is a good opportunity for me, and I do appreciate the all-English environment, getting various things done in a language different from our mother tongue, attending courses in writing, linguistics and education, and enjoying the teaching styles featured by constant involvement of students.
I particularly appreciate the sharing of flash fiction in the writing center. Picking up the pen (using the keyboard actually) to produce one's own story, and in another language! It gives me a fresh feeling, and I find to my joy that I can! I use English to express my personal feelings and views on cultural differences, etc. And we share the writing, appreciating the beauty of English and learning from each other. It makes me extremely happy!
______________________________________________________________________________________________
Achang Su, 2016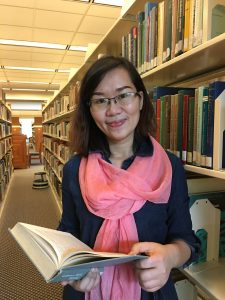 My name is Achang Su. I'm from Guangxi Arts Institute. I mainly teach Art history. I'm very interested in western art and history. As a visiting scholar, I am projected to learn, lecture or perform research on a topic I am valued for. I am grateful that I am able to visit Western Oregon University on the Visiting Scholar Program.
I think the purpose of a visiting scholars program is that scholars can communicate with professors here in the U.S., such as my mentor Dr. Michael R. Freeman from the art department. We learn from each other, I also introduce different culture to the U.S. students. Hence, in addition to conducting my own research, I am often expected to actively participate in a number of productive institutional activities.
Also, I want to show my deep appreciation to the writing center department especially Xinjie Luo. Xinjie helped me a lot in the translation part of my presentation during my research and study, and I also want to thank WOU for providing such a good opportunity of researching.
_____________________________________________________________________________
Cheng Yan, 2015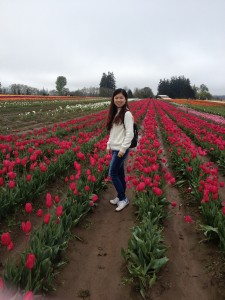 My name is Cheng Yan. I am from Chengdu, China, known as the hometown of the panda. I work in Chengdu University of Information Technology as an English teacher. But I am also a translator and interpreter, and that's why I am greatly interested in American Culture. I am grateful that I am able to visit Western Oregon University on the Visiting Scholar Program.
Here I sit-in on a number of courses, which benefited me greatly in teaching, writing and researching. I am paired up with an English conversation partner who helped me with my spoken English and enabled me to learn about American culture in an interesting, experiencing and interactive way. The Writing Center also provides one-on-one writing tutoring to me. The teacher who tutored me is Luo Xinjie. He is the best tutor for me because he is proficient in both Chinese and English and able to help me improve an English translation of a Chinese document.
My extracurricular life here in Monmouth is rich and diverse. I participate in various activities on campus, make use of the enormous university library and hang out with my classmates. And I have made friends with local people in Monmouth, who are nice and hospitable beyond my imagination. They invite me to their homes, cook American food for me, take me on various day trips, and answer my endless questions about America!
---
Wang Jing, 2014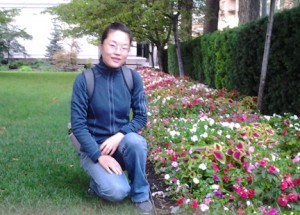 I'm from Shenyang Aerospace University. I mainly teach intensive English course, English listening course and cabin English course. I'm very interested in applied linguistics and English translation. As a visiting scholar, I am projected to learn, lecture or perform research on a topic I am valued for.
I think the purpose of a visiting scholars programs is that scholars can contribute to and enrich the community's intellectual and research endeavors and international projection. Hence, in addition to conducting my own research, I am often expected to actively participate in a number of productive institutional activities.
E-mail me at wangji@wou.edu.
---
Chang Lanhua (Allen), 2014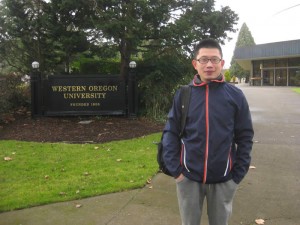 I'm from Xianda College, Shanghai. I've been teaching English for 9 years and I mainly teach integrated English course and E-C translation course. I'm very interested in TEFL and English translation. As a visiting scholar here at WOU, I want to know more about the language teaching methods and teaching style in America. I hope this valuable academic and cultural experience enables me to gain more insight into English teaching in China.
I was brought up in East China's Anhui Province and now I have lived in Shanghai for more than 10 years. This is the first time that I've travelled so far away from China and I miss my family a little bit, especially my two-year-old daughter who seems to have already forgotten about me
---
Miao Jia (Delia), 2014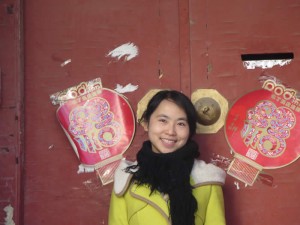 I am from Zhejiang University of Finance and Economics, which is located in Hangzhou city, Zhejiang Province. It is a picturesque city which is only 50 minutes' train from Shanghai. I have a seven year old daughter and she will arrive here this Sunday. I am expecting for that. Hopefully we'll stay here for a year.
In my university in China, I have been teaching the English majors Comprehensive Reading, translation theories home and abroad, English Phonology since 2004. My research field is translation, and specifically corpus-based translation studies. I am also interested in linguistics and English teaching strategies. I like to listen to the lectures here which really benefit me a lot.
E-mail me at deliamiao@aliyun.com.
---
Chanjuan Chen (Jessica), 2014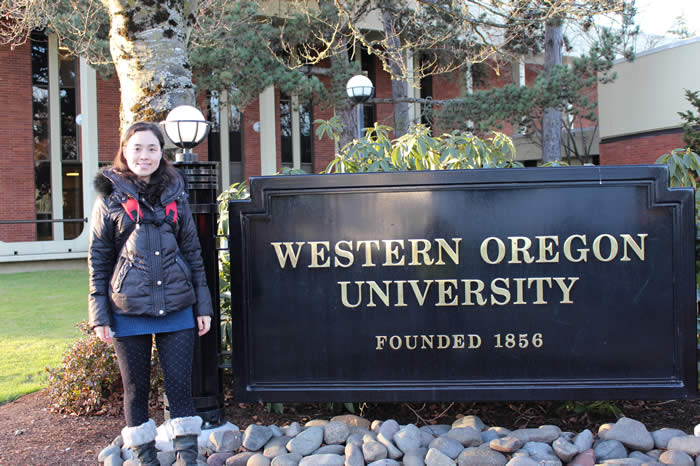 I have been teaching English since I was a postgraduate in 2003, thus having a relatively sufficient amount of teaching experience. When I was a postgraduate, I work part time in many language training schools as an English teacher and gained popularity for my effective teaching. At that time, the students were mainly from elementary, middle and high schools. Now I'm working in Xianda College, SISU.
This time, my colleague, Allen, goes with me to WOU as visiting scholars. I take great interest in the teaching of English grammar, writing, reading and some fundamental knowledge of linguistics. And these days I attend some courses and talk with the faculty and students in WOU, which is such an interesting experience that I really derive a lot of fun from that. Incidentally, I gain a better understanding of higher education in the United States and a better knowledge of American people, cultures, customs and so forth. What's more, I am astounded by the varieties of materials and data in the school library.
As for me, after I became a teacher, I've been quite talkative although when I was a student, I was very quiet. That's an interesting change for me. Teaching, to some extent, helps to fulfill my potential, which is beyond my expectation.