Faculty Resources
Resources for You
Assignment Design
Giving students a well-designed assignment is a key aspect to receiving quality papers from your students. We offer services that help you develop, define, and/or revise writing assignments; consult with you on course writing objectives, writing assignments, in-class heuristics, and grading tools; and even offer workshops related to the writing of international students and English Language Learners.
Writing Intensive "W" Course Design
Writing intensive courses should incorporate both formal and informal writing in their curriculum. Students in W courses should be encouraged to engage in informal, exploratory writing: writing that allows them to analyze different viewpoints and deepens their understanding of the subject matter. Writing intensive courses allow students to recognize the inherent characteristics of a particular discipline's genres. In a W course, the goal is to create as many opportunities to write (e.g., exploratory writing-to-learn using informal formats, and writing-to-show-knowledge in formal assignments), to receive feedback from their peers and their instructors during the writing process, and to demonstrate the requirements of writing in a particular discipline.
Manuscript Preparation
As both an instructor and researcher, you will most likely be producing works for publication throughout your career. The Writing Center offers one-on-one support for faculty in preparing and readying your manuscripts for publication. We offer a broad range of services, from content revision to citation management; please feel free to make an appointment with us if would like help in any step of the process.
Resources for Your Students
In-Person & Online Sessions for Free
At the Writing center, we offer both in-person and online services, so as to accommodate the diverse group of students we have in attendance here at WOU. In-person tutoring sessions give the students the opportunity to work face to face with one of our trained tutors, which can allow for an in-depth analysis of the students' works and insightful feedback on what can be improved. Live online tutoring sessions offer the advantage of accommodating students that may not have the flexibility to attend an in-person tutoring session; students are able to chat one-on-one with a trained tutor and receive detailed feedback on their assignments in real-time. Instructions for scheduling both in-person and online appointments can be found here.
The "Golden Ticket"
At the end of each session, the tutor provides the student-writer with a gold-colored confirmation slip to serve as proof of her/his visit. While most students are not required by their instructors to seek writing assistance, they often choose to attach the slips to their final papers as evidence of their investment in your assignment.
Learning Versus Communicating: There is a Difference
Writing to Learn
Students can learn a great deal by writing – about themselves and about course content. Providing frequent ungraded opportunities to write allows students to work through ideas, explore concepts, and generate opinions before responding to a graded assignment. Note-taking, outlining, free-writing, and journaling are all ways that students use writing to examine topics, learn, and remember.
Writing to Communicate
By writing, students learn the conventions and rhetorical practices of your discipline. Helping students develop proficiency as writers contributes not only to learning what is expected in the discipline, but also to developing skills that enrich self efficacy. Providing students with opportunities to write allows them to convey concepts being learned and show their developing skills in critical thinking.
What Your Student Sees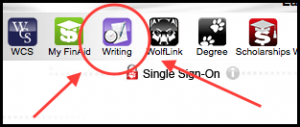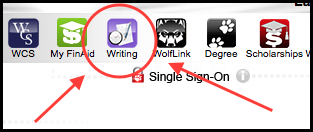 When your student goes to the WOU portal page to make an appointment, this is the link he or she will click to be connected to the appointment website.

Quick Links
Syllabus Statement
If you wish to add a section about the Writing Center in your syllabus, a statement can be found here.
Plagiarism
Plagiarism is a topic of ongoing concern within the WOU community. A link to the WOU Code of Student Responsibility can be found here. The Writing Center is currently revising a statement on plagiarism to include in your syllabus.
Writing-Related Pedagogical Sources
If you are interested in learning how to better tailor writing assignments to students, a document outlining writing sequencing and scaffolding can be found here.
If you are interested in creating more effective grading rubrics for writing assignments, several templates can be found here.