Why I love WOU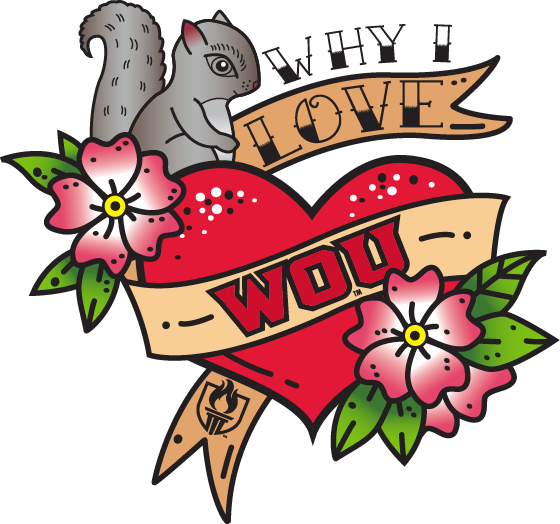 2nd Why I Love WOU video contest
Why I Love WOU video contest
Vote and help someone win a $3,000 scholarship
Vote for your favorite video
Voting closes at 5pm Pacific Time on Monday, May 17. The video with the most votes will be the grand prize winner, and that video creator will receive a $3,000 scholarship.
What is this contest?
Students have the chance to win up to $4,000 in scholarships for the 2021-22 year by submitting a 15-45 second video telling us why you love WOU.
Judges will score all entries and the entries will be narrowed down to 10 finalists. Each of the 10 finalists will receive a $1,000 scholarship. The 10 finalist videos will go to public voting and the video with the most votes will receive an additional $3,000 scholarship as the grand prize (for a total of $4,000 in scholarships).
When is the contest happening?
2021 contest timeline
April 5: Contest opens and entries accepted
April 18: Last day to submit entries
May 7: 10 finalists revealed and grand prize voting opens
May 17: Public voting ends
What are the rules?
We've detailed all of the rules for you here. Please read them carefully before submitting your contest entry.
Are there resources to help me with my video?
The Digital Media Center in Hamersly Library has equipment and software available to help you edit your video, record audio, and even a space to record video. The library also has equipment available to rent if your plans involve more than a smartphone.
Do you have tips for making a strong video?
In the first round of judging, all videos will be scored in three areas: video quality, quality of the message and content, and overall quality. The judges will be considering the following:
Video quality: This score encompasses the more technical side of the video, such as sound, clarity of the picture, editing (if applicable), etc.
Creativity: How creative the judge finds the video, its style and content. Whether it uses multiple shots/scenes, campus footage, creative story telling, etc.
WOU message: The quality and content of the message about why they love WOU.
Looking for inspiration? Check out the 2019 finalists.
Where does the scholarship prize money come from?
The scholarship prizes for this contest come from donors who generously give to the WOU Foundation. We're grateful to all donors who help us provide scholarships to WOU students. You can learn more about the WOU Foundation
here
.
Why is the prize a scholarship?
We've heard from students that having access to scholarships is important and can make WOU more accessible. Scholarships can make a positive, long-term impact on a college career. We developed this competition to reward creativity and hard work, which are elements not typically rewarded in scholarship processes. Plus, this specific scholarship program has a low barrier to entry which makes it broadly available to all students.