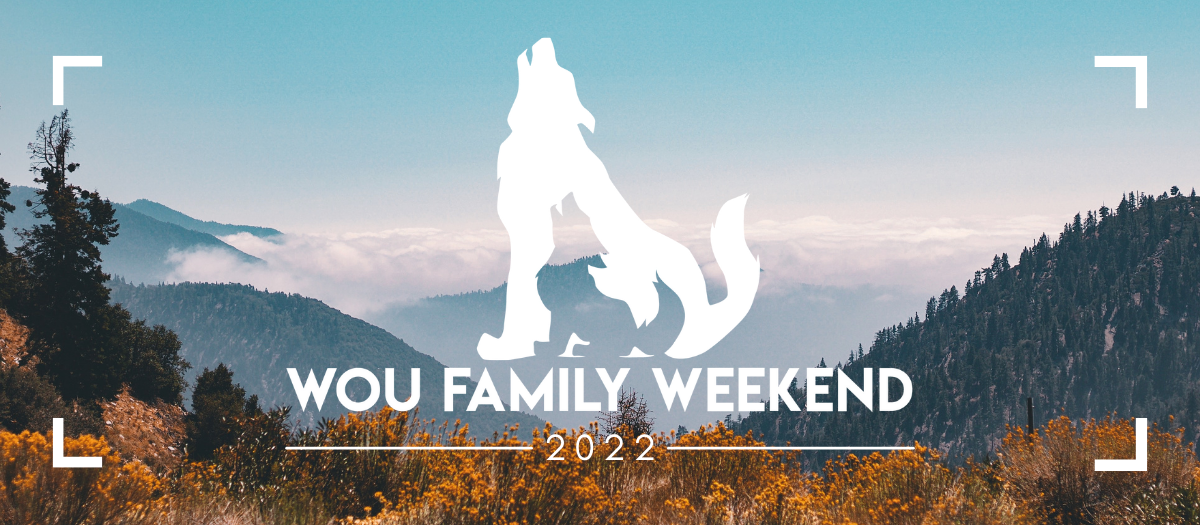 November 11th-12th, 2022 at Western Oregon University
This weekend offers a few facilitated activities for families to come to campus and enjoy with their students! The following events are hosted by Student Engagement and the Student Activities Board! All events are free for families and WOU students! All Wolves are family so we encourage students to bring their roommates and friends as well!
There is no registration, this event is open to all that are accompanied
by a current Wolf!
Friday November 11th
Campus Olympiad
THEY improv will be hosting a full scale family game night. This will include activity relays, minute to win it, and so many more fun ways to collaborate as a family!
7-8:30pm
Saturday November 12th
VRC Ruck n' Run 5k
Sign up here to participate in the Run
, donations are not required to sign up but a $20 donation will get you a 5k long sleeve!
9am on the WUC Plaza
Hosted by the Veterans Resource Center
Questions? Contact wouveterans@wou.edu
Murder Mystery
Who killed who?? Come team up to find out what happened when the lights went out!
6-8pm
WUC Pacific Room
Hosted by the Student Activities Board
** This is a free event, no food included. You can purchase food through the on campus dining hall or venture to one of our favorite local places, all listed in the guide to Monmouth!
Are you interested in some WOU merchandise? The Wolfstore has a 15% off coupon available for Family Weekend that can be used on WOU imprinted merchandise on Friday from 830am to 5pm and Saturday 830am to 230pm. Pick up coupons at the Werner University Center Information Desk on Friday or Saturday or from the Family Weekend event on Friday night.
Guide to Monmouth & Independence
We have linked a series of guides below for you and your family to curate the perfect weekend! The experts say it best, check out each guide that highlights activities, eats, and more in the area!
Travel Oregon's guide to Monmouth! Linked here!
Intentional travelers complete guide to Visiting Monmouth! Linked here!
New Student and Family programs Welcome to Monmouth and Independence! Linked here!
Monmouth independence Chamber of Commerce! Linked here!