Home » Rehabilitation and Mental Health Counseling
Menu
Rehabilitation and Mental Health Counseling
Rehabilitation Mental Health Counseling (RMHC)

The Deaf Track program will be offered online with brief residency beginning Fall 2020!!! Applications will continue to be accepted after the April 1st deadline until the slots are filled.

Western Oregon University has been offering the Rehabilitation Counseling: Deafness (RCD) on campus since 1974 and beginning Fall 2019, this program will be converted to the online format to better serve our students nationally.  This new online/hybrid program is designed for three-year (90 quarter credits) to prepare students to work in a variety of professional areas such as state vocational rehabilitation, community mental health, and other partnering agencies. 
Applicants must have a Bachelor's (B.A. or B.S.) degree and be proficient in American Sign Language.
Federal scholarship support is available (contingent upon continued federal funding) to qualified students to help cover the cost of tuition.
Individuals who are Deaf, hard of hearing, deaf blind, or members of traditionally underrepresented groups are strongly encouraged to apply.
All of our students who have graduated have gotten full time jobs within 6 months after graduation. Some were offered a permanent position during the internship.
If you are interested in the program, please have your application submitted as soon as possible. Also, please send me an e-mail expressing your interest, so I can have it in my file. We are only accepting 12 seats in the Fall 2020 cohort.
A few things about this program. This program starts in the Fall of 2019 with online courses during fall, winter, and spring terms. Students will have two face to face courses for two weeks during July 2020 and 2021, and then the students will continue with the online format for a portion of the summer. Internships will occur during Winter and Spring of 2022, and then graduation during June of 2022.
The first thing you will need to do is apply into graduate college. Once you have applied into graduate college and have been accepted, you will be given a program application. Part of your program application is providing us with your sign language proficiency results. We require you to have an Advanced score on your RRCD Sign Language Proficiency Interview. You can get your SLPI set up with RSLA ASL Coordinator at rsla@mail.wou.edu. ASLPI is another test you can take and a score of 3.0 will be required upon graduation.
To visit the RMHC on WOU's Graduate Program
To apply into the graduate school 
Before you apply, please e-mail Dr. Thew Hackett and let her know any questions you may have. Also, let her know of your intent to apply in this program, or in future cohorts.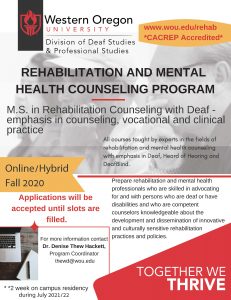 Download Flyer in PDF format
Download Poster in PDF format
Download Postcard in PDF format
Download Brochure in PDF format
If you have any questions, please contact
Dr. Denise Thew Hackett, Associate Professor
Program Coordinator RMHC Program
thewd@wou.edu

 

| 503-715-0755
Konnie Sayers, Grants and Contracts Technician
Research & Resource Center with Deaf communities
sayersk@wou.edu

 | 503-838-8444