The TOGETHER WE graphic treatment is a complement to the WOU standard Graphic Identity Guide and should be used for 2017-18.
Colors
The TOGETHER WE design heavily utilizes colors from WOU's current university graphic standards. However, WOU gray should be used more frequently for large color elements.
Typography/Typeface/Fonts
Typography is important in conveying message and overall look. The university's standard typefaces have been chosen for readability and ability to pair with the university's logos.
Primary: Avenir (Lt Std) [Arial is an alternate]
Secondary: Minion [Garamond is an alternate]
Avoid: most script typefaces
The Tagline
The TOGETHER WE SUCCEED tagline should appear on all materials. There are two primary options to add the tagline to your design: 1. As part of the primary university mark, 2. Using the corner sticker – see below.
University mark and tagline
The primary university mark has been adapted to include the TOGETHER WE SUCCEED tagline. The tagline should never be manually added. Always use a downloaded version.
Colors: multiple options exist
Note: The primary logo is only directly paired with TOGETHER WE

 

SUCCEED
For use of additional taglines, use the standard university or your department-specific logo and a corner sticker (below).
The university's graphic standards should always be applied.
Corner Sticker – main graphic element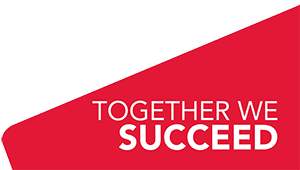 Size and position
Color portion must be a minimum of 2 inches wide
Must be in the bottom right corner – bleed preferred, not required
When a bleed is not an option, position as close to printable edge as possible (1/4 inch margin suggested)
Color options
WOU Red or full black ONLY
Text options (no other phrases should be used in the corner sticker)
TOGETHER WE

 

SUCCEED

 

(standard)
TOGETHER WE

 

ACHIEVE
TOGETHER WE

 

LEARN
TOGETHER WE

 

ENGAGE
TOGETHER WE

 

LEAD
TOGETHER WE

 

THRIVE
Other details:
Safe Zone: ¼ inch
Text should match angle when possible
Photography
Heavy use of photography is encouraged, specifically highlighting people.
General notes
To ensure proper usage of the brand and graphic treatment, templates can be found in our

 

Downloads.
Request graphic design support by completing the "Work Request Form" at

 

wou.edu/marcom. Select "graphic design" from the drop down.