The End of the Year

END OF YEAR CHECK-OUT PROCEDURES:
WITH THE END OF THE 2019-2020 ACADEMIC YEAR, THE ARBOR PARK COMPLEX WILL CLOSE AT 4:30 PM, FRIDAY, JUNE 13, 2020. VALSETZ DINING HALL WILL CLOSE AFTER LUNCH ON FRIDAY, JUNE 12.
---
NOTE:  Our apologies – There will be no extra room for you to stay late so . . . 

SIGN-UP TO CHECKOUT AT LEAST 24 HOURS BEFORE YOU PLAN TO LEAVE!
ARBOR PARK:


Sign up for Express Checkout with an RA or AD.

NOT SURE WHAT TO DO?  CONTACT YOUR RA/AD
WHAT IS AN EXPRESS CHECK-OUT? It starts with an RA or AD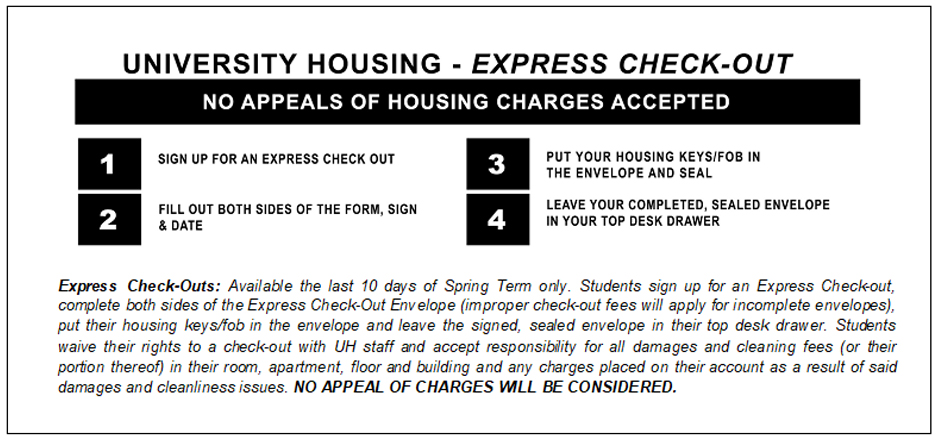 Do you have ReWOUsable Tokens?  Leave them in your Express Check-out envelope!
ALSO – Please consider donating your Non-perishable food to the Food Pantry – Receptacles are located in your halls.
– Thank You!
---
HAVE MEAL PLAN MONEY LEFT OVER?
Finally, you could consider donating un-used food dollars to the WOU Food Pantry.   Contact Campus Dining
good luck on your finals!
QUESTIONS? – CONTACT UNIVERSITY HOUSING.
---
CONTACT US
University Housing
(503) 838-8311
 | or
e-mail:
housing@wou.edu
  |
Location:
 Ground floor of Ackerman Hall