Valsetz Food Court

VALSETZ FOOD COURT
  

"Dedicated to our customers' satisfaction

"
Welcome to The Valsetz Food Court
If it is variety you are seeking – along with great flavor and attention to sound nutrition, you have arrived! Take a look below at what we have to offer you – you won't be disappointed!
THE VARIED CONCEPTS OF VALSETZ
The options available at the Valsetz Food Court are tantalizing and varied.
Please see the Valsetz Menu above for hours of operation for the Valsetz Dining Complex.
Worried about possible Allergens?  

Please see the allergens listed on our digital media players in the food court inform your dining choices throughout the year. 
While every effort is made to list allergens for any given item, you know best what you can and cannot eat.
Please remember to be thoughtful in your dining choices – especially if you are an individual who must be mindful of
allergens and sensitivities. If you are uncertain about a certain food choice, please ask a Campus Dining staff to
check on an item before consuming it. We are here to help!
---
INTRODUCING:
THE CULINARY SPOTLIGHT STATION AT VALSETZ FOOD COURT
Campus dining strives to create options that bring our students and cooks a little closer to home. We also want to foster an environment that includes our students in the meals they select here in Valsetz. YOU are invited and encouraged to send in your favorite recipe to potentially be selected as a meal for the week at the culinary spotlight station.
---
Want to add money to your residential meal plan?
You have 4 options. $20 minimum:
TALK TO A CASHIER IN THE VALSETZ FOOD COURT. 

Add money to your account here with CASH OR CHECK ONLY.

USE THE WOU PORTAL. Login to the WOU Portal. Look for the "Add Money to Meal Plan" link under the MY Programs section.
Here you can charge a minimum of $20 and up to $100 to your Wolf Web account for food per term. Funds will be available
for purchases within 15 minutes after the transaction is made online. Once your total charges online reach the $100 per
term maximum, you will be unable to charge any more that term online until you pay for those charges. To pay off the
charges, go to your Wolf Web account and pay online or go to the cashier's office, located in the Administration building.
STOP BY OR CALL THE CAMPUS DINING OFFICE – 503-838-9400. Located in the South Sister Annex, lower floor of the Valsetz Dining Complex.
Add money to your account anytime 8:00 am – 5:00 pm, M-F. Check, Debit/Credit cards or exact cash are all accepted.
CALL OR COME BY THE UNIVERSITY HOUSING OFFICE – 503-838-8311. Located on the ground floor of Ackerman Hall. Add money to your account anytime
8:00 am – 5:00 pm, M-F. Check, Debit/Credit cards or exact cash are all accepted.
FOR WOLF BONUS ACCOUNTS: Please use option # 3 or 4 above.

---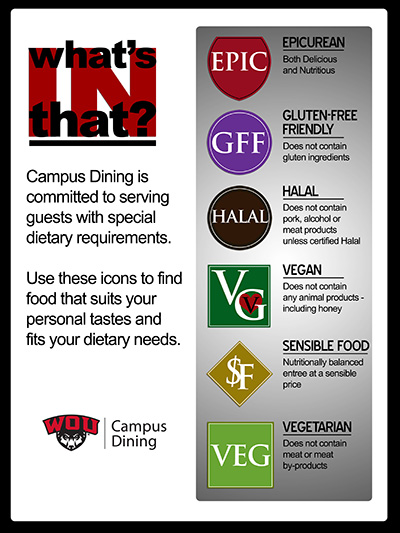 Campus Dining is committed to serving our guests with special dietary requirements. We have set up an ICON system to help you locate food that suits your personal tastes as well as your dietary requirements.
Look for these symbols to guide your dining selections to suit your dining requirements!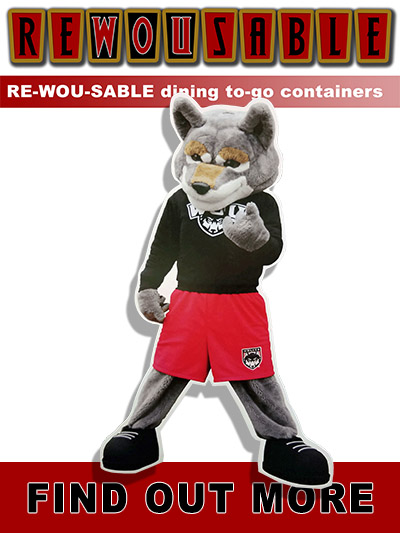 JOIN WOLFIE! Find out more about Campus Dining's ReWOUsable Container Program and do your part to save our precious resources.
---
Special Medical Diets

Do you have special medical dietary needs?
Campus Dining understands, and takes very seriously that dietary restrictions are the daily reality for many people.  Friendly staff are here to help you, and answer questions. Please consult the Director of Campus Dining for special needs.
Appointments are scheduled at the Campus Dining Office located in the South Sister Annex, on the lower floor of the Valsetz Dining Complex. Campus Dining is open 8:00 am – 5:00 pm, Monday – Friday. Call 503-838-9400 or email: dining@mail.wou.edu
---
CONTACT US
Campus Dining
(503) 838-9400
 | or
e-mail: dining@mail.wou.edu
  |
Location:
 South Sister Annex, Ground Floor - Valsetz Dining Hall