Alumni Spotlight on Jordan Werner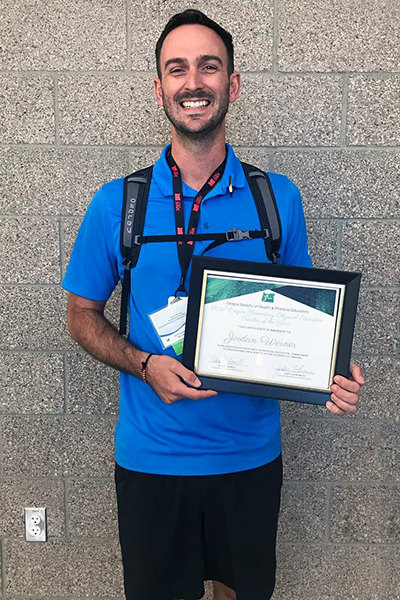 Jordan Werner is a PE teacher and two-time WOU alum – after completing his B.S. in Exercise Science, he went on to get his master's in teaching. Jordan has been in his current position at Riverside elementary for the past 6 years. He was recently recognized as a Teacher of the Year by the Oregon Society of Health & Physical Educators (SHAPE).
Did you always want to be an elementary PE teacher?
Teaching elementary was actually my second choice going into my student teaching experiences. I initially wanted to teach at the high school level because I thought I would relate better with the older students and would be able to teach them more material.
After spending time teaching at all levels, I felt that elementary was the best fit for me because the content has such a large impact on how students will move for their entire lives. Plus, I get to feel like a cross between a celebrity, a mentor (to 450 kids), and a kid myself.
What does a typical day at work look like?
My day starts out at 7:15 a.m. with checking emails, planning, and setting-up the gym up for the day. The first 30-minute-long class arrives at 8:15, and the last class finishes at 2:15 p.m. After the kids leave, I tear down the gym setup and prepare for the next day.
I try to make a point to reflect on my lessons at the end of the day – what went wrong and how I can improve. Because I coach football in the fall and track and field in the winter and spring, I typically leave school around 3:00 p.m. to head to my coaching responsibilities, getting home around 6:30 p.m.
What do you enjoy most about your job?
Definitely the relationships I build with my students. I'm lucky enough to get to work with every student over the span of six years (K-5). These relationships are critical to the students' success because if I don't have that connection, then I can't teach effectively.
I'm also proud that I've been able to bring a lot of opportunities to my students through grant writing and advocating. When I started at Grants Pass six years ago, the students had a traditional physical education experience with chasing/fleeing activities, kick ball, dodge ball, and a couple single sport units.
The program has now shifted to a comprehensive approach that includes yoga, aerobic dance, speed skating, skateboarding, uni-cycling, disc golf, and two "Teaching Games for Understanding" units (net/wall, invasion games) that add experiences in seven different sports. I have received over $30,000 in grants and donations to make these opportunities possible for my students, and I'm on track to receive another $10,000.
How did your time at WOU help prepare you?
The work experience I received in the PETE (Physical Education Teacher Education) program is what set me on my path to be the educator I am today. Being exposed to a classroom setting and working with children at such an early stage in my coursework gave me the experience I needed to start my master's in teaching program with confidence.
My classes complemented the hands-on experiences, giving me the tools to teach each student effectively and creatively, while maintaining an evidence-based practice. I learned how to create a healthy gym setting, construct a curriculum, assess movements and understanding of concepts, and the power of reflection and self-assessment to better my craft. I also gained relationships with peers and professors that I still value dearly to this day.
What advice do you have for current students or recent grads?
I would encourage everyone to challenge themselves. Within the realm of education, this means setting goals and making moves to achieve them. I was once told by a mentor that "Ideas are great, but without action they will never be seen." I feel that this is a very powerful statement – specifically for physical education – because of the philosophical shift towards teaching physical literacy. There are so many ideas, but if we don't move on them, our field will continue down the path of the past. Once you have your idea and your passion, pursue it with reckless abandon and see where it takes you.