BA/BS IN AMERICAN SIGN LANGUAGE/ENGLISH INTERPRETING
About Interpreting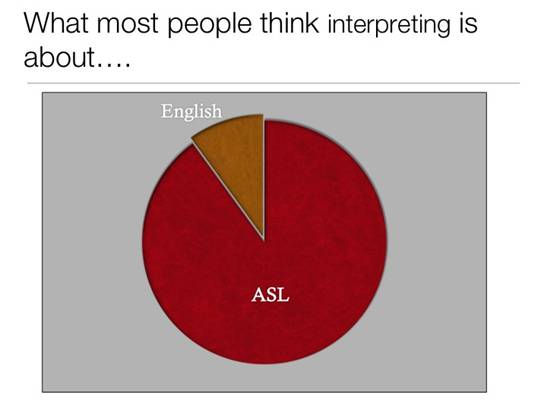 Interpreters are professionals who interpret between people who do not share a common language. ASL/English interpreters are professionals who are proficient in both ASL and English as well as in the process of interpretation. They work in a variety of settings including business, education, social service, government agencies, the justice system, medical/mental health environments, and video relay services/video remote interpreting.
Today's interpreters work with a variety of deaf consumers: those who acquired ASL as their first or second language, those who communicate through a form of ASL influenced by English, and those who use a contact variety of English and ASL. Interpreters also work with a variety of hearing consumers, from those who are familiar with American deaf culture and the process of interpreting to those who are communicating with a deaf person for the first time.
Nationwide, the need for qualified interpreters exceeds the supply and the demand for interpreting services continues to rise. Graduates of the WOU program become professionals who provide direct interpreting services to meet this demand, work as effective members of service delivery teams, and participate in state and national professional development organizations.
For more information visit DiscoverInterpreting.org
 National Certification
NIC Examination Eligibility Requirements (per www.rid.org)
EXAMINATION ELIGIBILITY REQUIREMENTS

Minimum Age
18
Hearing Status
The NIC examinations were designed to evaluate hearing interpreters.
Education
(as of July 1, 2012)
A minimum of a bachelor degree in any field of study recorded in the candidate's RID account BEFORE TESTING. This applies to ALL NIC Interview and Performance Exam candidates, including those who already hold RID certification.

OR

An approved Educational Equivalency Application recorded in the candidate's RID account BEFORE TESTING. This applies to ALL NIC Interview and Performance Exam candidates, including those who already hold RID certification.
(Information about the updated 2012 Alternative Pathway is available on the RID Educational Requirements page.)

Certification Timeline
Candidates must pass NIC Knowledge Examination before taking the NIC Interview and Performance Examination.  Both exams must be passed within a five year period.  If both exams are not passed within a
---
| | | | |
| --- | --- | --- | --- |
| | Erin Trine Program Coordinator & Instructor ASL/EI Program trinee@wou.edu | 503-838-8730 | | Kathy Heide Administrative Program Assistant Division of Deaf Studies and Professional Studies heidek@wou.edu | 503-838-8322 |